STUDIOVÁ ALBA:
Z albové Top 20 podle BBC, která pořadí sestavila z pětadvaceti žebříčků nejlepších desek roku 2016 (Billboard, Rolling Stone, NME…), jsem slyšel všehovšudy tři kusy. A ani pohnuté okolnosti nepomohly rozlučkovým dílům Davida Bowieho (Blackstar) a Leonarda Cohena (You Want It Darker), ani ještě mrazivějšímu titulu Skeleton Tree od Nica Cavea do osobní dvacítky nejvydařenějších alb právě uplynulého roku (řazených abecedně).
Black Dawn (Cactus)

Nejvzácnější ze severoamerických sukulentů v plné parádě. Sehraný kvintet Appice, McCarty, Bremy, Kunes, Pratt připravil osm zbrusu nových skladeb, které doplnila dvojice dříve nevydaných songů původní sestavy z bicmenova archivu: "Práce na novém albu nám vlila do žil novou energii." Možno ji cítit z každého ostnu.
Blue & Lonesome (Rolling Stones)

Stalo se, přestože bych ještě před prvním poslechem uvěřil spíš prospěšnosti neziskových organizací, užitečnosti čerstvě zřízeného cenzorního úřadu a snad i rozluštění záhady Hory mrtvých (Холат-Сяхыл), než zařazení Rolling Stones do vlastního seznamu L. P. 2016.
Braver Than We Are (Meat Loaf)

Jim Steinman + Meat Loaf = spojení, které spolehlivě funguje navzdory stárnoucímu hlasu, jemuž je materiál přizpůsoben. Nic to, že jedinou připomínkou nedostižné netopýří trilogie je dvanáctiminutový tercet Going All the Way Is Just The Start.
Autorkou působivého obalu je osvědčená Julie Bell, na jeho zadní straně pobaví hláška: "This record is explicit and politically incorrect."
Eyes Wide Open (Aynsley Lister)

Čtyřicetiletý anglický bluesový kytarista, zpěvák a autor je pro mě objevem loňské sezóny. Do svého jedenáctého alba promítl zkušenosti nasbírané za 18 let po štacích všehomíra i šťastnou ruku při výběru spoluhráčů (Boneto Dryden – bicí, Steve Amadeo – baskytara, Andrew Price – klávesy).
F E A R [F*** Everyone And Run] (Marillion)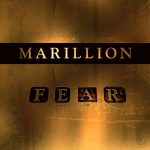 Pomalé tempo mi nikdy nebylo proti srsti, nesmí však být znakem únavy, jakou možno cítit např. z Do Not Disturb od Van Der Graaf Generator. A přestože prvotní nadšení z dlouhého koncepčního díla s každým dalším poslechem mírně opadává, rozhodnutí konečně se řádně seznámit s post-Fishovou tvorbou kapely má pořád platnost.
Fire From The Soul (Epitaph)

Stabilní reunionová sestava Jackson, Kolbe, Glass a Poret mi celé desetiletí působila potěchu jak ze studia, tak z pódia. A nic na tom nezměnila ani malá rošáda, kdy Poreta na bubenické stolici vystřídal (spolu)zakladatel Jim McGillivray. Nové album je důstojným pokračovatelem všech znamenitých titulů z poslední dekády.
Gravedigger House Calls (Janus)

Tři roky po mimořádném skutku Under the Shadow of the Moon přichází Janus, resp. multiinstrumentalista Colin Hanson-Orr & spol. s dalším činem hodným pozornosti. Zase trochu jiným, znovu výborným. Frontman a majitel ovčí farmy kdesi v Derbyshire by bezpochyby byl jedním z žhavých favoritů v tendru o titul nejnedoceněnější persona v historii rockové hudby.
Heavy Crown (Last In Line)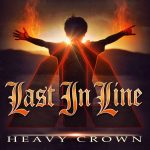 Projekt Ronnieho doprovodné sestavy ze sólového debutu Holy Diver (Vivian Campbell, Jimmy Bain a Vinnie Appice), který sebral název druhému Diovu albu z roku 1984 původně vznikl jako trucpodnik založený v reakci na působení oficiální tributní formace Dio Disciples složené z poslední sestavy Dio (Craig Goldy, Simon Wright, Scott Warren a Rudy Sarzo). Nakonec však svou existenci ospravedlnil víc než přesvědčivě, když natočil tucet vlastních výživných songů se zpěvákem Andym Freemanem v produkci dalšího Dio-kumpána Jeffa Pilsona.
Vydání alba se bohužel nedožil Jimmy Bain, který 23. 1. 2016 podlehl rakovině plic.
Makes Me Think Of Home (Ray Wilson)

Pouhé čtyři měsíce po výborném albu Song for a Friend přišel skotský zpěvák a kytarista s dávnou zkušeností z Genesis (album Calling All Stations) s další skvělou deskou. Frekvence a kvalita jak za starých dobrých časů, které však ani Wilson vrátit nevrátí.
Peace Trail (Neil Young)

Youngovo 37. studiové album o deseti převážně akustických skladbách, jež s ním v Rubinově studiu Shangri-La nahráli Jim Keltner (bicí) a Paul Bushnell (basa), podle jehož vyjádření bylo hotovo za čtyři dny. Aneb slunce vychází a zapadá, Země dál obíhá kolem své osy a Neil Young vydává další perfektní desku.
Resonate (Glenn Hughes)

"Každá skladba je udělaná tak, aby se dala hrát naživo a mělo to pořád koule," pravil autor, kterému to zpívá jak za mlada. O jeho slovech netřeba pochybovat. Unfunked album natočené v Dánsku sestavou Soren Andersen (kytara), Pontus Enborg (bicí) a Lachy Doley (klávesy) přináší i mnohé další propriety, jak se u nás nakonec přeci jen bude možno přesvědčit i naživo.
Sacred Blood "Divine" Lies (Magnum)

I s pravidelně rostoucím počtem nových studiových alb kvalita zůstává stejná, včetně obalů neokoukatelného Rodneyho Matthewse. V tomhle směru a století drží krok s Clarkinovou formací jen málokdo z veteránů (Epitaph, Beggars Opera, Janus). Brexit-nebrexit, Magnum budou dál vládnout evropskému melodickému hard rocku.
Sign of the Crow (David Cross Band)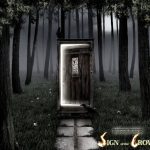 David Cross, docent katedry hudební výchovy na London Metropolitan University a houslista s nesmazatelnou stopou u King Crimson se svým Bandem (Paul Clark – kytara, Mick Paul – baskytara, Craig Blundell – bicí, Jinian Wilde – zpěv a Alex Hall – klávesy) nahrál další z řady skvělých alb, která by si zasloužila násobně větší propagaci, než se jim pravidelně dostává.
Take It On Faith (Rossington)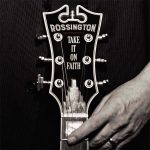 Vydání alba je snad definitivním potvrzením Geryho zdravotní zocelenosti, čemuž nahrává i informace, že příští rok by měli Lynyrd Skynyrd znovu vyrazit na turné a snad i chystat novou desku. Přesně v duchu jeho slov: "Nemyslím si, že už je čas, abych to zabalil. Ještě ne." Svatá pravda.
The Book (Graham Bonnet Band)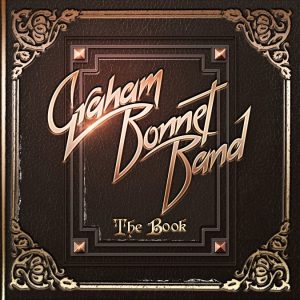 Band ve složení Jimmy Waldo (klávesy), Conrado Pesinato (kytara), Mark Zonder (bicí) a Beth-Ami Heavenstone (baskytara) a 11 nových skladeb plus bonusové CD se známými kousky z řady Bonnetových štací. Kdysi mi ta jeho úděsná imidž dost iritovala, dneska už si jen užívám hlasu. Navíc je tohle dílo vydařené po všech stránkách.
The Prelude Implicit (Kansas)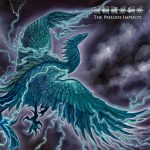 Oproti minulému albu vydanému s řadou pěvců pod hlavičkou Native Window se pánové Ehart, Williams, Greer a Ragsdale spojili s trojicí Ronnie Platt (zpěv), David Manion (klávesy) a Zak Rizvi (kytara) a svět se po 16 letech dočkal nové studiovky pod značkou Kansas. A dobře, že tak, poslouchá se velenáramně.
Too Late To Hate (Lucifer's Friend)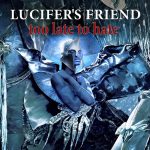 Už čtveřice nových songů z předchozího díla Awakening byla příslibem, tucet skladeb z první regulérní studiovky po pětatřicetileté pauze potvrdilo, že legendární krautrocková skupina, jejíž jádro John Lawton (zpěv), Peter Hesslein (kytara) a Dieter Horns (baskytara) se podílelo už na předdebutovém titulu Asterix (1970), je životaschopná i v jednadvacátém století.
Věčná škoda zbytečného odchodu Ozzyho Kubíka, který jediný byl v Česku schopen a ochoten kapelu (nejen tuhle) dovézt.
Under The Influence (Foghat)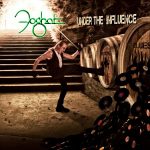 Stabilní sestava poslední dekády Craig MacGregor (basa), Bryan Bassett (kytara) a Charlie Huhn (zpěv, kytara) v čele s posledním mohykánem Rogerem Earlem (bicí) natočila s producentem a skladatelem Tomem Hambridgem, řadou hostů (mj. basista Nick Jameson) a finanční pomocí fanoušků prvotřídní album, na jehož závěr pasuje i x-tá verze slovutné Slow Ride.
Wonderworld II (Wonderworld)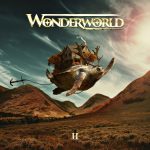 Jak stručně a jasně psáno kdesi na netu: "Pokud jste se stali fanoušky jejich debutu, pak určitě nebudete zklamáni." Obrovský potenciál norsko-italského tria byl zřejmý už v časech doprovodu Kena Hensleyho. Zpívající basista Roberto Tiranti je málokdy slýchaným úkazem.
Za linią horyzontu (SBB)

Ne každé album proslulé polské družiny jsem si v minulosti dokázal užít, tentokrát však nenastal sebemenší problém, bo originální sestava nepřišla s akademickou nudou, ale nabídla přístupný materiál nepostrádající kvalitu hodnou značky. I pánové Skrzek, Piotrowski a Anthimos zaslouží obdiv nejen za skladatelský um a muzikantskou zručnost.
OSTATNÍ:
Domácí titul (1), živák (2), koncert (3) a průser (4) roku plus očekávání (5).
1) Samota (Roman Dragoun)

"Mohamed prý lidsky trpí, cítí se jak na kříži – Krví víru neutopí v Praze ani v Paříži."
Brněnský jihočech, klávesista, zpěvák a skladatel v roce svých šedesátých narozenin zhudebnil deník stárnoucího rockera. Taky bych si dal říct. Na přípravu mám i několik roků čas, ten by ale zdaleka nebyl největší překážkou…
2) House Broken (Pavlov's Dog)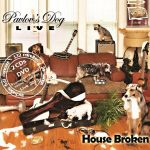 Neúnavně tourující formace manželatů Surkampových přišla po několika archivních titulech se záznamem koncertu v Norimberku z října 2015. I bez Safrona v sestavě jejich psisko dál nejen štěká, ale umí se i pevně zakousnout.
Oproti tomu zklamáním až bolestným byl pro mě poslech záznamu ze dvou letních německých koncertů Blackmoreových Rainbow Memories In Rock – Live In Germany. Tak dlouho jsem si přál, aby se Ritchie vrátil k hard rocku, až bylo pozdě.
3) King Crimson (15. 9. 2016, Forum Karlín, Praha)

Ani letos jsem nezažil vyložený provar. Ať už v hale, v klubu nebo venku jsem si většinu navštívené produkce užil dosyta, včetně zmetalovaných Nazareth nebo Prokopova vánočního koncertu s plnohodnotným provedením Města ER. Avšak nedostižným zážitkem roku se stalo vystoupení King Crimson.
4) Cooler Than Antarctica (Jerusalem)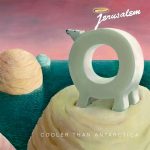 Pravda, už jen kvůli ukradenému názvu to se mnou parta kolem Lyndena Williamse, třetího zpěváka původních Jerusalem, nebude mít nikdy jednoduchý. Abych ovšem nesoudil předem, naordinoval jsem si tři poslechy, co kdyby. Na "kdyby" se ale nehraje ani v muzice. Veškerá pozitiva jsou smrsknuta do úvodní skladby Snake, zbylých 40 minut je přehlídkou bezduché marnosti. Snad to ani jinak dopadnout nemohlo, když někdo zaprodá svou duši.
Ve světle předchozích (zlo)činů nepřekvapí ani mimořádná nevkusnost obalu, který svou odpudivostí hravě překoná i zmodralý stonesovský jazyk.
5) 2017

Těším se na ohlášenou desku Deep Purple InFinite i první část Bornemannovy rockové opery The Vision The Sword & The Pyre  a další příděl nových alb starých mistrů v čele s titulem Novum k padesátinám Procol Harum. A že nic není nemožné, nevzdal jsem se ani víry v dožití se před pradávnem ohlášeného díla Rogera Waterse, či opakovaně odkládaného Wayova titulu Walking on the Edge.