Krátce po mém prvním, iniciačním setkání s dílem skupiny Pink Floyd prostřednictvím alba A Momentary Lapse of Reason mi byla předána audio kazeta s doporučením, abych si to poslechl, že nebudu litovat. Díky bůhví kolikáté kopii měla nahrávka dosti otřesný zvuk, místy více šuměla, než hrála a v klidnějších pasážích se hudba v tom šumu občas docela ztrácela, ale drápek byl zaťat a od té doby se k dvojalbu The Wall pravidelně vracím. A že je co poslouchat.
Ten příběh, který nám zde Roger Waters se svými spoluhráči prostřednictvím šestadvaceti skladeb předkládá, je dostatečně známý. Podobenství o tom, jak si každý vytváří kolem sebe pomyslnou zeď, za níž schovává své pocity, což může časem přerůst v regulérní šílenství, touhu po ovládání jiných a zrod dokonalé totality, je zde předváděno ve tvaru, jehož konečnou výslednou podobu korunovala až scénická provedení, při nichž se stavěla a poté bourala maketa zdi. Zvlášť památné je Rogerovo předvedení této show v roce 1990 v Berlíně, v místě, kde ještě před pár měsíci skutečná zeď ovlivňující životy mnoha lidí opravdu stála. Osobně vnímám tohle dílo jako varování před člověkem samým, protože na konkrétním jednom člověku může mnohdy stát osud celého lidstva. A že jsme těch totalitních "rájů", slibujících nám zpočátku světlé zítřky, zažili za posledních sto let požehnaně.
Hudebně už po těch letech Zeď nevnímám tak intenzivně jako dřív. Přiznám se, že u některých skladeb se chvílemi i nudím, ba je dokonce nesnáším – to je případ skladby The Trial, kterou bych vždy nejraději přeskočil, ale nakonec si ji stejně se skřípěním zubů poslechnu. Stejně tak píseň Another Brick In The Wall Part 2 za ty roky, co ji slýchám z různých rádií, ztratila na své naléhavosti. Na druhé straně stojí moje osobní perly, písně Mother, Goodbye Blue Sky, Hey You, Vera, Comfortably Numb a Run Like Hell, kvůli nimž se k tomuto dílu opětovně rád vracím.
Osobně již desku The Wall nepovažuji za to nejlepší v diskografii Pink Floyd. Pokud mám hodnotit, tak hudbu dnes vidím na tři hvězdy a celkový koncept na pět. A to jsou již ve výsledku lehké počty.
Skladby:
Disc One:
01. In the Flesh? (3:17)
02. The Thin Ice (2:28)
03. Another Brick in the Wall, Part 1 (3:41)
04. The Happiest Days of Our Lives (1:20)
05. Another Brick in the Wall, Part 2 (3:56)
06. Mother (5:32)
07. Goodbye Blue Sky (2:48)
08. Empty Spaces (5:36)
09. Young Lust [Waters/Gilmour] (2:03)
10. One of My Turns (1:33)
11. Don't Leave Me Now (4:22)
12. Another Brick in the Wall, Part 3 (1:17)
13. Goodbye Cruel World (1:05)
Disc Two:
14. Hey You (4:39)
15. Is There Anybody Out There? (2:40)
16. Nobody Home (3:25)
17. Vera (1:38)
18. Bring the Boys Back Home (0:50)
19. Comfortably Numb [Waters/Gilmour] (6:49)
20. The Show Must Go On (1:36)
21. In the Flesh (4:16)
22. Run Like Hell [Waters/Gilmour] (4:22)
23. Waiting for the Worms (3:56)
24. Stop (0:34)
25. The Trial [Waters/Ezrin] (5:16)
26. Outside the Wall (1:42)
All songs written by Roger Waters, except where noted.
Obsazení:
David Gilmour – guitar, bass (6-7, 9, 11, 14, 16-17, 20, 22-23, 25),
synthesizer (2, 7-8, 19, 21, 23), vocals (2, 5-7, 9, 14-15, 19-20, 23)
Richard Wright – keyboards (1-5, 7-17, 19-20, 22-23, 25)
Roger Waters – bass (1-5, 8, 10, 12-13, 15, 19, 21),
synthesizer (1, 7-8, 11, 16, 21, 23), guitar (6, 12, 17), vocals (1-6, 8, 10-19, 21-26)
Nick Mason – drums, percussion (1-2, 4-5, 9-12, 14-15, 18-23, 25)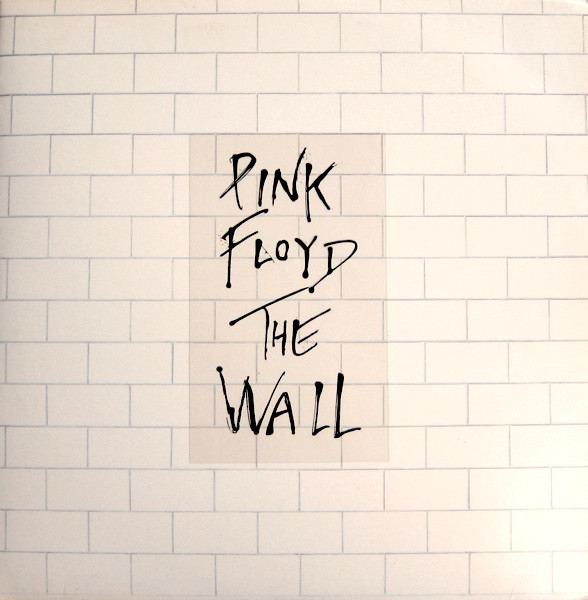 The Wall
Pink Floyd
Art Rock
Harvest, EMI
1979
2LP
26