The Butterfield Blues Band byla výtečná americká skupina z Chicaga, která ve své době patřila mezi nejlepší v žánru blues. Byla to první kapela, která propojila elektrické blues a soul s dechovou sekcí a také první kapela, která spojila bílé a černé Američany v jedné skupině daného typu. Když černí a bílí američtí bluesmani jamovali, tak to bylo jedno, ale postavit regulérní kapelu, vystupovat a ještě nahrát album – to v dané době v Americe nebylo tak jednoduché. Tohle až do této doby nebylo obvyklé. Samozřejmě, že na americkém severu byla jiná situace než na americkém jihu, ale přesto se objevovaly různé varovné hlasy, "kam prý to povede". Naštěstí to vyhrála jenom hudba a navíc hudba opravdu skvělá.
Paul Butterfield znal Mika Bloomfielda z jamových večerů v chicagských klubech, ale Elvin Bishop (rodák z Oklahomy) v Chicagu studoval na univerzitě a tak se jako nadšený kytarista k oběma připojil. Pro Marka Naftalina to bylo první větší angažmá a černošská rytmika byla součástí místní hudební komunity. Jejich elektrické blues a stylové chicagské blues se propojovalo s blue-eyed-soulem a brzy si kapela získala velký respekt. Album East-West je považováno i ve světovém kontextu za jeden ze zásadních albových produktů roku 1966, podobně jako: Beatles – Revolver, Beach Boys – Pet Sounds, Rolling Stones – Aftermath, Animals – Animalism, Bob Dylan – Blonde On Blonde, Al Kooper – Projection, Bluesbreakers – John Mayall With Eric Clapton a Mothers Of Invention – Freak Out.
WALKIN' BLUES – Energický nástup úderných kytar a rytmiky zahajuje první skladbou nosné téma, na kterém vystavěl Butterfield nejen svůj emocionální pěvecký projev, ale i hru na foukací harmoniku. Skladba má základní schéma a to kapela velmi zdařile rozvíjí. Vynikající počin, který nám naznačí, že nás čeká zajímavý výlet do hudebního hájemství, skutečně vyzrálých hudebníků, kteří do převzatého hudebního materiálu dokáží vložit vlastní názor.
GET OUT OF MY LIFE, WOMAN – Tento traditional hrával mj. slavný B. B. King. Naftalin vstupuje do hry svými klavírními party, jímž sekundují kytarové přiznávky Bloomfielda a Bishopa. Naftalinova hra má švih a smysl pro frázi. Ve skladbě se ovšem skupina drží ve vzájemné pospolitosti a rytmicky bezpečně šlape vpřed, bez nějakých překvapivých a rafinovaných postupů.
I GOT A MIND TO GIVE UP LIVING – Další traditional, který Bloomfield vstupně ozdobí hrou nezkreslenými kytarovými výjezdy svého Les Paul Gibsona, aby mu vzápětí odpovídal Bishop dlouhými, mírně přiostřenými, tóny svého Fendera Statocastera. Uvolněná atmosféra nabídne procítěný Butterfieldův vokál, ale klavírní party Naftalina a přesně předoucí rytmika udržují téma v tradičním pojetí. Je velmi příjemné poslouchat kytarovou odlišnost hudebního pojetí obou výtečných kytaristů, třebaže hrají jedno téma.
ALL THESE BLUES – Butterfieldova foukací harmonika otevírá další bluesový traditional. Přidržuje se klasické formy, výrazu a jedinečného frázování. Butterfieldův vokální projev sice nevysvléká z kůže, jako u bluesových shouterů, přesto zní velmi přesvědčivě a stylově v jednoznačných proporcích daného žánru.
WORK SONG – Skladba amerického jazzového hudebníka Nata Adderleyho nabízí prostor pro další coververzi. Všichni sólisté dostanou příležitost nabídnout svoje hráčské umění. Vynikající hudební originál, ale i tento jazzbluesový derivát. Bloomfield vystřihne nádherné kytarové sólo. Bez zkreslení, s jasným tónem, harmonizuje napříč všemi pražci svého Les Paul Gibsona. Jeho kytarová architektura zní skutečně famózně. V další fází dokáže hrát s přeznívajícím tónem, ale také víc jazzově, ve stylu Wese Montgomeryho. Střídán Butterfieldovou foukací harmonikou, která vás zavalí hromadou tónů, přichází ke slovu Naftalin hrou na varhany. Mají sice subtilní tón a postrádají basovou zemitost, ale výtečně zapadnou do skladby. A to už je ve hře i druhý kytarista Bishop, jeho kytara má ostřejší tón a rockovější identitu, ale stejnou suverenitu jako Bloomfieldova. Ten Bishopa střídá, propojován foukací harmonikou a varhanami. Tyto improvizace ukazují úžasný hráčský potenciál, vybrušovaný na nekonečných jam sessions. Úvodní téma s foukací harmonikou se nám v závěru vrací a uvádí skladbu do závěrečného finále. Jenom připomenu, že tuhle skladbu nahrál rovněž Paul Young a také ve výtečném pojetí, ale i Michal Prokop s Framus Five koncem šedesátých let u nás. Velmi silný přínos alba – skutečný majstrštyk.
MARY, MARY – Údernější opakující se bluesové schéma s expresivním Butterfieldem za mikrofonem s foukací harmonikou. Bloomfield zde exceluje tentokrát se zkresleným kytarovým tónem, v rychlých výměnách tónů. Tuhle skladbu upravili k obrazu svému i, dnes zapomenutí, britští Monkees, hvězdy londýnské hudební scény r. 1966.
TWO TRAINS RUNNING – Výtečně swingující rytmus bicích a baskytary slouží jako páteřní téma kytarovým tématům, při nichž se Bloomfield a Bishop střídají v sólech a doprovodech, aniž by se navzájem nějak přebíjeli. Naftalinovy varhany jsou v roli přiznávkových akcentů, ale Butterfieldův hlas frázuje přesně podle odposlouchaných černošských vzorů, se kterými stál na jednom pódiu v chicagských klubech. V závěru skladba vrcholí nepatrnou gradací.
NEVER SAY NO – Skvělé pomalé blues, v němž se před mikrofon postaví Bishop. Melodie skladby není komplikovaná, plyne zvolna, jako kalná voda bluesové řeky. Tremolo varhan dodává písni napětí a my máme možnost vychutnat odlišné pojetí dané formy, jakou jsme na albu dosud nezaznamenali. V pozadí slyšíme jemné rozklady kytarových akordů a klavírní tóny. Velmi subtilní píseň s podvečerní atmosférou.
EAST-WEST – Odvážná kompozice delšího formátu. Když se do ní zaposloucháme, uslyšíme v pozadí dechovou sekci, ale i experimentální pokus dostat do tématu orientální harmonii v podobě indické rágy, což v té době bylo něco nemyslitelného. Třináctiminutová  stopáž skladby je na rok svého vzniku nezvyklá. Je ještě o dvě minuty delší než památná skladba The End od The Doors, která byla považována svou délkou za vyloženě nezvyklou v klasickém slova smyslu. Střídání kytarových sól, ale i svižnější rytmiky a důslednějších basů popřává prostor emocionálnímu uchopení. Tetelivé tóny se přibližují vícestranným indickým instrumentům, než elektrickým kytarám. Psychedelický opar se do skladby podařilo vložit docela pionýrským způsobem – tohle nejsou sanfranciští Grateful Dead, ale The Butterfield Blues Band z Chicaga! Po hudebním orgasmu dochází ke smířlivému zklidnění. Rytmus vymezuje základní schéma, kytary prokreslují otevřený prostor a varhany mírně bublají. Instrumentální téma je zvolna přiváděno v dalších proměnách k dramatičtějšímu proměňování hudby k hlasitějšímu tvaru, který spěje ke konečnému hudebnímu epilogu. Odvážný hudební počin, který překročil tehdejší vytýčené hranice.

Když ješitný John Mayall na koncertě Bluesbreakers v Chicagu slyšel tuhle kapelu hrát, tak přiznal, že mu zatrnulo. Uvědomil si, že mu za mořem roste velká konkurence a bál se, že The Butterfield Blues Band získá smlouvu ke koncertnímu turné v Británii. Album má sice poněkud "utopený" sound, ale v daném žánru to nevidím jako vážnou překážku, i když bych, samozřejmě, uvítal větší nástrojovou čitelnost. Možná to Paul A. Rothchild, producent většiny materiálu, vnímal v polovině šedesátých let jinak, ale tehdy se na to důraz asi nějak zvlášť nekladl. Muzikantské nasazení kapely – speciálně dvou sólových kytaristů a virtuosa na foukací harmoniku – stylová a žánrová pestrost, jsou pro mě přesvědčivými argumenty, abych dal plný počet hvězdiček!
SKLADBY:
1. Walkin' Blues (Robert Johnson) 3:15
2. Get Out Of My Life, Woman (Allen Touissant) 3:13
3. I Got A Mind To Give Up Living (traditional) 4:57
4. All These Blues (traditional) 2:18
5. Work Song (Nat Adderley) 7:53
6. Mary, Mary (Michael Nesmith) 2:48
7. Two Trains Running (Davis) 3:50
8. Never Say No (traditional) 2:57
9. East-West (Mike Bloomfield/Nick Gravenites) 13:10
SESTAVA:
Paul Butterfield — vocals, harmonica
Mike Bloomfield — electric guitar
Elvin Bishop — electric guitar, lead vocal on "Never Say No"
Mark Naftalin — piano, organ
Jerome Arnold — bass
Billy Davenport — drums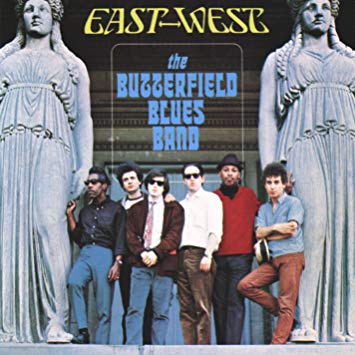 East-West
The Butterfield Blues Band
Blues Rock, Acid Rock, Psychedelic Rock
Elektra
1966
LP
9