Už jste u některého hudebního nosiče zaznamenali jeho přirovnání k pařížskému Louvru? Že ne? Tak já bych si podobný výrok dovolil vyřknout na adresu desky Bridge Over Troubled Water, písničkářů Paula Simona a Arta Garfunkela. A to ve smyslu, že právě zde, na tomto jejich okouzlujícím finálním monolitu, se nachází celá řada skvostných děl, svým významem pro nás posluchače důležitých, jako řada skvostů právě v legendárním Louvru.
Nemá příliš cenu popisovat a prozkoumávat to, co většina z nás dobře zná. Songy jako titulní naléhavý skvost Bridge Over Troubled Water, médii a covery dosti zprofanovaná El Condor Pasa (If I Could), indonésií načichlou Cecilia (kterou osobně zrovna nemusím), aranžérsky dobře zvládnutá dechařina Keep The Customer Satisfied, a především dvojice výborných čísel, utajená dojemnůstka So Long, Frank Lloyd Wright a tolik oblíbená uhrančivě odbíjející The Boxer, patří k tomu vůbec nejlepšímu ve folk-rockové branži.
Samozřejmě, že i další songy jsou výborné, posluchači rádiostanic si v druhé půli sice neškrtnou (s vyjímkou Bye Bye Love), to ale neznamená, že by na B-éčku byl snad nějaký druhořadý odpad. Pokud budeme poslouchat desku/cd pozorně, i tady objevíme několik skvostných okamžiků. Osobně mám rád po country vonící Baby Driver, či Lenonovku The Only Living Boy In New York.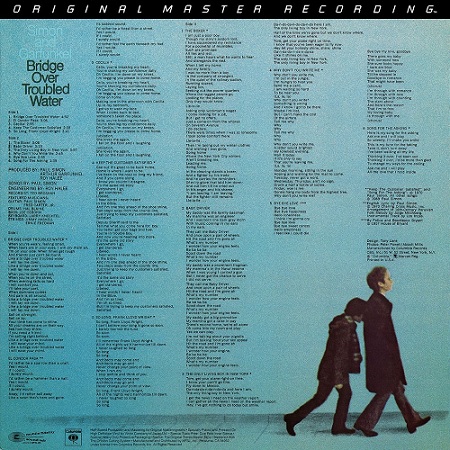 Deska Bridge Over Troubled Water uvnitř disponuje obrovskou emoční silou. Na první pohled jde o soubor obyčejných písní. Avšak senzibilní posluchač zde poodkryje nepřeberné množství krás a tajů, o kterých se může povrchním songům protlačovaných do médií dnes pouze zdát.
SKLADBY:
01. Bridge Over Troubled Water (Paul Simon)
02. El Condor Pasa (If I Could) (Daniel Alomía Robles, anglický text             Paul Simon, aranžmá Jorge Milchberg)
03. Cecilia (Paul Simon)
04. Keep The Customer Satisfied (Paul Simon)
05. So Long, Frank Lloyd Wright (Paul Simon)
06. The Boxer (Paul Simon)
07. Baby Driver (Paul Simon)
08. The Only Living Boy In New York (Paul Simon)
09. Why Don't You Write Me (Paul Simon)
10. Bye Bye Love (Felice a Boudleaux Bryant)
11. Song For The Asking (Paul Simon)
SESTAVA:
Paul Simon — zpěv, kytara
Art Garfunkel — zpěv
+
Los Incas — peruánské nástroje
Joe Osborn — basová kytara
Larry Knechtel — klavír
Fred Carter, Jr. — kytara
Hal Blaine — bicí
Pete Drake — steel kytara, dobro
Jimmy Haskell a Ernie Freeman — smyčce
Bridge Over Troubled Water
Simon & Garfunkel
Folk Rock
Columbia
1970
LP
11