CD Mirror Records – MRL 1006   /2013/
Pokud se podíváte pozorně na fotografii v náhledu recenze (nemlich ta samá, byť černobílá je i v bookletu CD) máte pocit, že se díváte do tváří dítkám sotva odrostlým školním škamnám. A mě těší, že se tomu nejryzejšímu art rocku "Made in Italy" věnují aj zástupci nejmladší generace. Navíc, velmi úspěšně… 
Kapela Unreal City vznikla v Parmě, v roce 2008 a jejími zakládajícími členy byli klávesista a zpěvák Emanuele Tarasconi a kytaristka Francesca Zanetta. V červnu 2012 vydané eponymní promo EP neuniklo pozornosti samotného "gurua italského progresivního rocku" Fabia Zuffantiho, kterej se nabídl jako producent debutového alba a taková nabídka se neodmítá. Cédéčko La Crudeltà Di Aprile (volně přeloženo jako "Dubnová krutost") vyšlo v roce 2013 a sklidilo zaslouženej ohlas a příznivé recenze. Básní Pustina Thomase Stearnse Eliota inspirovaní Unreal City se na něm prezentují prvotřídním art rockem, uštrikovaným přesně podle předlohy vytvořené již v sedmdesátých letech minulého století legendami typu Genesis, ELP, nebo Le Orme. V jednom z rozhovorů se Emanuele Tarasconi vyjádřil ve smyslu: "Jsme sice mladá kapela, ale nenávidíme všechny ty digitální technologie, které zaplavily hudební svět. Při nahrávání používáme pouze analogové nástroje a vybavení. Zabere to víc času, je to náročnější, ale v konečném důsledku není nic lepšího." Výsledkem je "živej" a krásně hřejivej zvuk, kterej ještě umocňuje zážitek z poslechu tohoto opravdu vydařeného alba. No, a na kolika v současnosti natočených CD jste slyšeli Theremin?
Velmi ambiciózní debut čítá šest skladeb, tedy necelou hodinku symfonického prog rocku podobného současníkům La Maschera Di Cera, Taproban, Hostsonaten, nebo La Curva Di Lesmo. Vrcholem alba je osmnáct minut dlouhá a do čtyř podkapitol rozdělená suita Horror Vacui, ovšem vypíchnul bych i členitou a gothic horrorovou atmosférou prostoupenou Catabasi, nebo hned následující svižnou – a mou nejoblíbenější – Dove La Luce È Più Intensa. K té byl natočenej i pěknej videoklip, ve kterém se mihnul dokonce sám velkej Zuffanti (ten u stromu postávající chlapík s knížkou v ruce).
Na internetu se dá shlédnout celá řada koncertních snímků a především leader Emanuele Tarasconi na sebe dokáže strhnout veškerou (a zaslouženou) pozornost. Hlas má výbornej a jeho nad klávesami shrbená vyzáblá postava, s dlouhými pažemi a ještě delšími prsty mi připomíná legendární klávesisty ze sedmdesátejch let – Emersona, nebo van Leera. A může za to aj to sako od uniformy.
CD bylo vydáno ve spolupráci s distribuční společností BTF a prodává se jako pěkná a rozkládací mini vinyl replika, i když to na vinylu vlastně vůbec nevyšlo. Zvuk to má vynikající a šestnáctistránkovej booklet obsahuje kredity k albu, texty písniček a jednu fotografii.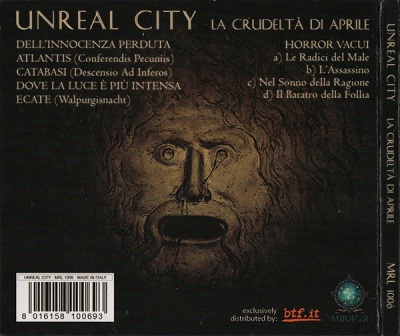 Zkrátka a dobře, debutové album téhle velmi mladé kapely se povedlo na výbornou a nemělo by uniknout vaší pozornosti. Muzika je to vyzrálá i velmi osvěžující a měla by uspokojit každého fanouška a milovníka (nejen) italského art rocku sedmdesátých let. Je jenom na vás, jestli jí dáte šanci…
SKLADBY:
01. Dell'Innocenza Perduta (7:28)
02. Atlantis (Conferendis Pecuniis) (9:49)
03. Catabasi (Descensio Ad Inferos) (8:14)
04. Dove La Luce È Più Intensa (7:01)
05. Ecate (Walpurgisnacht) (8:58)
06. Horror Vacui (17:54)
– a. Le Radici Del Mare
– b. L'Assassino
– c. Nel Sonno Della Ragione
– d. Il Baratro Della Follia
Total Time: 59:24
SESTAVA:
Emanuele Tarasconi – vocals, piano, Hammond organ, Moog, synthesizer, Mellotron, Chamberlin, Fender Rhodes, clavinet, church organ, Theremin
Francesca Zanetta – electric guitar, acoustic guitar, lute
Francesco Orefice – electric bass, fretless bass, backing vocals, voice (2)
Federico Bedostri – drums, timpani, percussion, narration (2)
+
Fabio Biale – violin (1, 3)
La Crudeltà Di Aprile
Unreal City
Prog Rock
Mirror Records
2013
CD
6
CD: Mirror Records – MRL 1006 /2013/