Vytvářet a hrát komplikovanější hudební struktury si dala do vínku brněnská skupina The Progress Organization. Za své vzory si pánové vzali Beatles, Cream a Vanilla Fudge, tedy hudební hravost, instrumentální zdatnost a výrazovou monumentálnost snoubenou s moravským citem pro silnou melodii. K tomu připočtěme vokální zdatnost všech čtyř zúčastněných a na možný úspěch je zaděláno. Že se tento nekonal a že toto album bylo nahráno již neexistující skupinou, je především důsledkem mizerné doby, v níž tato skvělá hudba vznikala.
Album je tvořeno dvěma různě zpívanými částmi. První strana desky obsahuje původní skladby nazpívané česky, druhá strana je v angličtině a obsahuje i dvě coververze. A tato jazyková rozpolcenost mi zpočátku trochu vadila, i když to určitě není takový průšvih jako na desce Šípková Růženka skupiny Rebels. Ale i přes tuto výtku drží album pohromadě a po pár posleších mi to už ani nepřišlo.
Jaká tedy je deska Barnodaj? Především je bohatá na silné, neotřelé melodie plné rytmických zvratů a vokální kouzlení tolik typické pro brněnskou scénu té doby. Ovšem pozor, nezaměňovat se Synkopami 61, ačkoli kytarista a jeden z výrazných zpěváků Pavel Váně z nich vzešel. Tvorba The Progress Organization je přece jenom o něco komplikovanější a vychází z poněkud odlišných zdrojů.
Celá nahrávka je rámována dvěma stejně dlouhými skladbičkami, což asi bude náhoda než nějaký záměr. První z nich, instrumentální skladba Introdukce, otvírá album křehkým varhanním motivem, který se náhle změní v úderné hromobití, jakoby nám kapela chtěla ukázat, čeho všeho je schopna a co můžeme očekávat dále. A že se toho postupně na ploše dlouhohrající desky odehraje hodně. Nejdříve nás potěší Sochorovy písně Jako Hélios a Ikaros, subtilní záležitosti, které možná mnohým mohou připadat jako šlápnutí vedle, ale určitě by bez nich deska nebyla kompletním obrazem skupinového názoru na hudbu.
Klukův Strom je postavený na kontrastu klidu a obrazu dynamického zvratu vyjádřeného výrazně expresivním zpěvem. Podobný pocit mám z další písně Argonaut, i když závěrečná pasáž o teplém proudu může někomu připadat dosti úsměvná. Tuto výtku trochu vyvažuje Váněho akustická kytara, která skladbu posunuje až někam do hispánského světa.
Největším kladem jsou pro mě obě skladby zpívané baskytaristou Emanuelem Sideridisem. Jak Ptáčník, tak i beatlesovská We Can Work It Out ukazují Sideridise jako majitele mohutného, skoro až černošského hlasu, který posluchače dokáže dokonale upoutat a nenechat ho na pochybách, kdo asi v Brně mohl být nazýván moravským Joe Cockerem. Patrné je to především u druhé jmenované písně, v níž hudebníci použili podobný přístup jako slavný Angličan a původní píseň výrazně zpomalili, a tím vlastně vytvořili skoro novou kompozici. Tento postup hudebníci zvolili i ve skladbě z repertoáru Cream, písni I Feel Free. Je dobré si občas originál a coververzi poslechnout pěkně za sebou, abychom si uvědomili, k jakému posunu zde došlo. Další dva anglicky zpívané kousky napsal Zdeněk Kluka. Zatímco Time kolem mě jen tak prosviští, kompozice A Lovely Day, čerpající plnými hrstmi z jazzrockových výbojů, svou náladou dělá čest svému jménu a je pozitivní tečkou na závěr. I když ten obstará až drobnůstka Good Bye, postavená na neustále se opakujícím motivu. Nevím, co tím hudebníci sledovali, ale mně ta závěrečná necelá minuta a půl přijde dost protivná.
Album je především obrazem doby svého vzniku a snaží se odrážet nejen anglosaské hudební inspirace, ale jinotajnými texty i divnou dobu, v níž skupina The Progress Organization žila a tvořila. Její návrat na konci sedmdesátých let pod jiným názvem a v odlišném složení je pro mě potvrzením, že kvalita si nakonec vždy nějakou tu cestu k posluchačům najde.
Skladby:
01. Introdukce /Jan Sochor/ 1:25
02. Jako Hélios /Jan Sochor, Petr Ulrych/ 3:50
03. Ikaros /Jan Sochor, Petr Ulrych/ 2:25
04. Strom /Zdeněk Kluka, Petr Ulrych/ 3:45
05. Argonaut /Pavel Váně, Petr Ulrych/ 3:55
06. Ptáčník /Zdeněk Kluka, Hynek Žalčík/ 4:15
07. We Can Work It Out /John Lennon, Paul McCartney/ 4:35
08. Time /Zdeněk Kluka, René Trejtnar/ 4:05
09. I Feel Free /Jack Bruce, Peter Brown/ 3:55
10. A Lovely Day /Zdeněk Kluka, René Trejtnar/ 6:30
11. Good Bye /Zdeněk Kluka/ 1:25
Sestava:
Pavel Váně – electric & Spanish guitars, piano, organ, harpsichord, tambourine, vocals
Jan Sochor – organ, piano, vocals
Emanuel Sideridis – bass, vocals
Zdeněk Kluka – drums, claves, bonos, shaker, vocals, strings & chorus conductor
+
Jana Paulová – vocals (4), chorus vocals (6)
Jana Válková – chorus vocals (6)
René Nachtigalová – chorus vocals (6)
Zuzana Boříková – chorus vocals (6)
Jan Čapoun – trumpet (4-6,10)
Václav Týfa – trumpet (4-6,10)
Zdeněk Šedivý – trumpet (4-6,10)
Ladislav Odcházel – trombone (4-6,10)
Oldřich Koudela – trombone (4-6,10)
Oldřich Průša – trombone (4-6,10)
Jaroslav Morkuš – flute (6,11)
Vladislav Marek – flute (6,11)
Ales Čízek – oboe (6,11)
Otto Trnka – oboe (6,11)
Zdeněk Jareš – baritone sax (8)
Smyčcový Orchestr Frantiska Javůrka – strings
Frantisek Javůrek – strings leader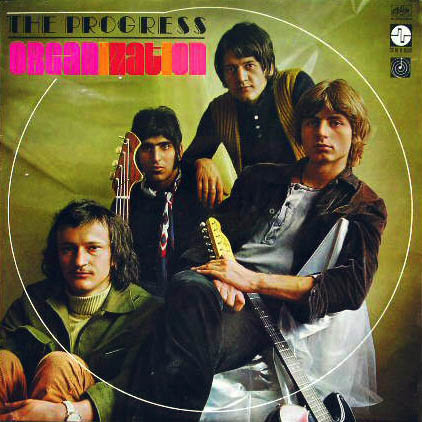 Barnodaj
The Progress Organization
Prog rock
Supraphon
1971
11
CD FT Records – FT0087-2