AMS 223 CD  /2013/
Skupina Osage Tribe je italskou legendou, která po sobě zanechala jediné, zato velmi ceněné album – Arrow Head, z roku 1972. Hypnosis je takovou malou (a trochu nečekanou) připomínkou skupiny i onoho alba a teprve druhým zápisem do diskografie po dlouhých jedenačtyřiceti letech. Z původní sestavy zbyli basák s bubeníkem, kteří k sobě přibrali mladého kytaristu a do studia pak aj celou řadu hostů. Cédéčko obsahuje několik předělávek vlastních skladeb ze sedmdesátých let, pár coververzí (např. We're an American Band, bo Fireball), něco nového materiálu a také osm minut dlouhé sólo na buben.
První třetina alba je vyhrazena původní tvorbě  – respektive starým kouskům v novém aranžmá – kterou zastupují pecky Arrow Head (ve vokální, aj inštrumentální verzi) a Soffici bianchi veli. Nutno říct, že se hodně přibližují originálním předlohám a je to stejně živelnej bugr, jako tenkrát. Zásadní rozdíl je jen ve šťavnatějším zvuku a jak rašple nabroušeném zpěvu v angličtině. Zvlášť Soffici bianchi veli je opravdu strhující exhibicí všech zúčastněných a krapet předčasným vyvrcholením celého alba.
Svoji aktuální formu kapela prezentuje v instrumentálce Hypnosis a plynule navazující Dellito erotico. Obě obsahují prvky arabské hudby a druhá jmenovaná aj dráždivě přitažlivej refrén v italštině. Drum Solo je výše uvedenou bubenickou machrovačkou a Nunzio "Cucciolo" Favia (nar. 1953) do toho mlátí s entuziasmem dvacetiletého mladíka. Blok vyhrazený novinkám končí další svižnou instrumentálkou – Notte di cristallo – která je zároveň posledním kouskem na vinylové verzi.
Cédéčko obsahuje ještě tři skladby navíc a všechno jsou to coververze hard rockových legend. We're an American Band od Grand Funk Railroad, Fireball britských Deep Purple a Can't Find My Way Home veteránů Blind Faith. Líbí se mi především Fireball, ještě o něco rychlejší a metalově nařachlejší, než její předobraz…
Mám dojem, že to celé zpunktoval bubeník – protože co kompozice, to malá přehlídka parádně nazvučených a sejmutých bicích. Radost poslouchat. Ovšem s celkovým zvukem to zas taková sláva není a skladby hrajou podle toho kdy a v jakých podmínkách vznikly. Výhrady bych měl především k vysloveně nepříjemnému a mým uším nelahodícímu zvuku doprovodné kytary v inštrumentálce Hypnosis (v čase 2:20) a výrazně nižší hlasitosti obou variant řachandy Arrow Head.
Tradičně velmi pěkně zpracovanou rozkládací vinyl repliku od AMS zdobí obálka od italského umělce a hudebníka Herberta Paganiho. Vnitřek a zadní strana futrálu obsahuje tracklist, obsazení a několik barevných fotek. Celý osmistránkový booklet je věnovaný dnes už pradávné historii Osage Tribe. Jazyky ovládajícího jedince potěší pár článků v italštině a nás ostatní aspoň celá řada raritních vobrázků.

Cedlo mám sotva pár týdnů, ale líbí se mi a tak ho točím docela často. Srdce by dalo klíďo píďo čtyřku, ale říkám si – uber. Z deseti položek jsou jen čtyři nové a z těch čtyř hnedle tři instrumentální. Trojka holt musí stačit…
SKLADBY:
01. Arrow Head
02. Soffici bianchi veli
03. Arrow Head (instrumental)
04. Hypnosis
05. Dellito erotico
06. Drum Solo
07. Note di cristallo
08. We're an American Band
09. Fireball
10. Can't Find My Way Home
SESTAVA:
Bob Callero – Bass guitar
Mattia Tedesco – Guitar
Nunzio "Cucciolo" Favia – Drums
+
special guest :
Steve Tesser – Keyboards
Featuring  – on guitar :
Fabio Braga
Stefano Giugliarelli
Donato Rosseti
on bass guitar :
Lorenzo Frati
Lucas Decima
on keyboards :
Filippo Fontana
on vocals :
Michele Bassi
Umberto Sarzi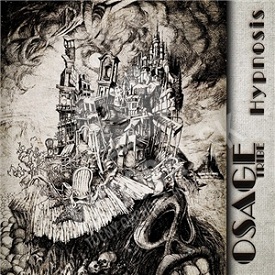 Hypnosis
Osage Tribe
progressive rock
AMS
2013
CD
10