Consorzio Acqua Potabile (Konsorcium pitné vody) –  pod tímto, pro našince poněkud krkolomným názvem se neskrývají italské vodovody a kanalizace, alébrž poněkud utajený klenot tamní art rockové scény. Kdo nevěří, ať tam běží anebo si o tom nechá aspoň vyprávět… 
Skupina vznikla už v roce 1971 a stala se součástí rychle se rozvíjejícího subžánru "rock progressivo italiano". Podle dostupných informací byl její styl podobně rozmáchlej (dlouhé kompozice, dva klávesisté), jako u slavnějších souputníků Banco del Mutuo Soccorso, nebo Premiata Forneria Marconi. Jezdila štace s vlastní rockovou operou Gerbrand, ale nepodařilo se jí získat nahrávací smlouvu a pod náporem disca a punku se koncem sedmdesátých let rozpadla.
Teprve začátkem let devadesátých se objevil bůhvíodkud vyhrabanej záznam koncertu z roku 1977, o který projevila zájem čerstvě narozená firmička Kaliphonia Records a to byl víc než dobrý důvod obvolat staré kamarády a něco zkusit. Skupina se znovu sešla takřka v původní sestavě a v roce 1992 konečně nahrála svoje debutové album …Nei Gorghi Del Tempo. Deska obsahuje pět – převážně dlouhých – skladeb, přičemž tři z nich se objevily již na výše uvedené lajfce. Hudba je to výborná, propracovaná a art rockově vznešená, s trochou velmi pěkného zpěvu v italštině. A díky dvěma klávesistům s košatým zvukem navrch. Připomíná mi to nejen ony výše uvedené legendy, ale aj první placku neméně dobrých Locanda delle Fate…

Hned úvodní, devět minut dlouhá Il mercante si mě svým půvabem a šarmem omotala kolem prstu. Vliv klasické hudby je nepřeslechnutelný, hradba syntetických smyčců mohutná jak zdivo "čórtovýho hrádu" a její pastorální část, s koncertní kytarou a fanfárkami klávesových nástrojů, pohádkově kouzelná. O nic horší nejsou ani druhá – In un vecchio castello a čtvrtá  Vivendo un giorno… Solo di niente. Kaleidoskop barev a nálad se tady mění v tempu, až mi z toho jdou oči šejdrem a od podobně koncipovaných skladeb z první poloviny sedmdesátých let se liší jen trochu modernějším (syntetičtějším) zvukem. Hodně upozaděný frontman Paul Rosette si tady moc nevrzne (v závěrečné inštrumentálce Traccia… Ora lo è dokonce vůbec), ale vynahradí si to v půvabně melodramatické písničce Arnaldo da Chatillon Crociato.  Ta se svou zdánlivou jednoduchostí zbytku alba poněkud vymyká, ale je bohužel jediná, která se dá vyštrachat na youtube. Rosette zpívá klasickým stylem, s takovými těmi operními manýry a i přes jinou barvu hlasu připomíná di Giacoma z Banco, nebo Spitaleriho z Metamorfosi.
Ale abych jen nechválil: Posledním dvěma – byť velmi pěkným – skladbám bych vytknul až podezřele nápadnou podobu s Banco del Mutuo Soccorso. Dusající úvod namachrované skládačky Vivendo un giorno… Solo di niente mi připomíná pecku R.I.P. z jejich slavného debutového alba a klávesová instrumentálka Traccia… Ora lo è podobně laděnou Tracia II z placky Io sono nato libero. Záměr? Náhoda? Kdo ví…
Existují jen dvě oficiální vydání, obě z roku 1993 a originální cedlo je dnes už takřka nesehnatelné. Na discogs by bylo jedno k mání, ale za 39 €uro a to je voda na mlýn různým pirátským značkám. To moje nese etiketu Tachika Records, Japan a na první pohled vypadá docela pěkně. Kartónová obálka, v ní v igelitovém pouzdérku zasunutý potištěný nosič a lístek tvrdšího papíru představující booklet. Při zevrubnějším zkoumání už to taková paráda není. Potisk na CD je poněkud rozmazanej a text v "bookletu" titěrnej tak, že se nedá přečíst ani s lupou. Dokonce katalogové číslo na hřbetu a zadní straně obálky zůstalo původní – KRC 003. Tož prohledal jsem google a zjistil, že Japonsko to vidělo tak akorát v televizi. Adresa v Tokiu je smyšlená a původ má to někde v USA, ale co už. Cédéčko (CD-R) hraje velmi pěkně a jsem rád, že ho mám. Pokud by se snad náhodou objevila reedice (o čemž docela pochybuju), nebude zas takovej problém ho vyměnit.
SKLADBY:
1. Il mercante     9:06
2. In un vecchio castello     13:13
3. Arnaldo da Chatillon Crociato     7:44
4. Vivendo un giorno… Solo di niente     11:01
5. Traccia… Ora lo è     4:50
SESTAVA:
Romolo Bollea – tastiere
Maurizio Venegoni – tastiere
Massimo Gorlezza – chitarra
Riccardo Roattino – chitarra
Paul Rosette – voce
Alessandro "Pippo" Avondo – batteria e percussioni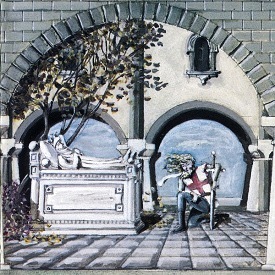 ...Nei Gorghi Del Tempo
Consorzio Acqua Potabile
progressive rock
Kaliphonia
1993
CD
5