Viem, že drvivá väčšina fanúšikov legendy WISHBONE ASH považuje za ich najlepší album Argus. Pre mňa je to však ich piaty štúdiový počin a v diskografii kapely je prvým po odchode gitaristu Teda Turnera, ktorého nahradil výborný, pôvodne countryový(!!!) gitarista (hrá aj na slide a steel gitaru, banjo, mandolínu i ďalšie nástroje) a spevák Laurie Wisefield.
Zásadnou zmenou pre skupinu v tomto období, mimo prvej podstatnej personálnej zmeny, bol aj odchod z Veľkej Británie do USA, kde sa vlastne WISHBONE ASH umelecky presťahovali a túto LP nahrávali na Floride.
S albumom There's The Rub je to u mňa ako s prvou láskou, na ktorú sa zväčša nezabúda a ktorá nehrdzavie. Koncepcia pôvodnej vinylovej dosky je správne rafinovaná: po skladbe Silver Shoes, s typicky wishbonovským súbojom dvoch gitár a rockovo dravej Don't Come Back prichádza prvá perla, uzatvárajúca prvú stranu albumu – Persephone. Nádherná baladická sedemminútovka, výnimočne podfarbená organom a syntetizátorom hosťujúceho Albhy Galutena.
Druhú stranu otvára opäť rockovejšia Hometown, nasledovaná perfektne prepracovanou folkovou kompozíciou Lady Jay a album končí druhou perlou, takmer desať minút trvajúcou inštrumentálkou F*U*B*B, ktorá je postavená na hypnotizujúcej basgitarovej figúre, doplňovanej kudrlinkami dvoch zohraných gitár. Perfektné! Nesmierne dobrá doska, pre mňa naozaj najinvenčnejšej a najzaujímavejšej zostavy v histórii fungovania WISHBONE ASH. Jediná škoda je, že americký pobyt kapele neskôr, žiaľ, pridal na určitej komercionalizácii tvorby…

Album There's The Rub spolu s New England sú však pre mňa vrcholom tvorby tejto progresívnej legendy rocku, hrajúcej s dvoma gitarami, bez klávesových nástrojov, dokazujúcim, že takéto inštrumentálne obsadenie a trojica kvalitných spevákov (okrem Martina Turnera spievajú, samozrejme, aj Laurie Wisefield a Andy Powell), nemusí byť zákonite podmienkou metalovej muziky…
SKLADBY:
1. Silver Shoes 6:36
2. Don't Come Back 5:12
3. Persephone 7:02
4. Hometown 4:48
5. Lady Jay 6:00
6. F*U*B*B 9:33
ZOSTAVA:
Martin Turner: basa, spev
Andy Powell: gitara, vokály, mandolína
Laurie Wisefield: gitara, vokály, bendžo
Steve Upton: bicie, perkusie
a
Albhy Galuten: klávesy (3)
Nelson Flaco Padron: kongá (6)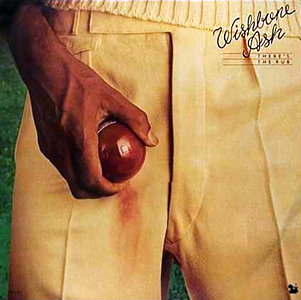 There's The Rub
Wishbone Ash
Hard Rock, Prog Rock
MCA Records
1974
LP
6