To Our Children's Children's Children bylo po albu In Search Of The Lost Chord mé druhé seznámení s tvorbou The Moody Blues. A jestliže jsem čekal hudbu podobnou ztracenému akordu, s prvními poslechy jsem nevycházel z překvapení. Ne, samozřejmě se nejedná o nějaké stylové přemety, či radikálně odlišnou hudební formuli. Jde o způsob podání této muziky, jež vyznívá hodně celistvě, její tempová linie je podobná a najít v jejím středu záchytný bod není jednoduché. Tady se "nepísničkaří" a nejsem si jist, zda-li nejde o koncepční materiál (texty jsem neviděl), jelikož plynulý hudební tok tímto směrem míří. Jde o jakési snové fantasie položené na notový arch a zaznamenané s pomocí impresionistických cákanců, jež museli jejich autorům postupně přicházet na mysl.
Snaha zobrazit intimní svět myšlenek je hmatatelná jen do té míry, do jaké dovolí instrumentalistům jejich hračský aparát. Zbytek je na divákovi. To on spoludotváří a skládá střípky hudebních fragmentů do celistvého bloku. Úloha je to ale nesnadná. Posluchač nemá dostatek indicií a leckdy se v těchto podobných krajinách ztrácí. Jde o náladu a časoprostor, chuť a porozumnění, nadhled i setrvání. Moody Blues nejsou a nebyli prvoplánovou kapelou ani vteřinu. Jejich krása je uschována v nitru jejich hudby, pokud se vám podaří alespoň část objevit, rozklíčovat a nasát, máte z poloviny vyhráno.
Kluci si vždy potrpěli na překrásné albové malby, ani tato deska není vyjímkou. Její zlatavý nádech jen poodkryje tajemnou auru pramenící z takové hudby. A za nejsilnější zbraň kapely lze označit sólové i sezpívané sborové vokály, u kterých se čtyři z pěti členů pravidelně střídají. Překrásné.

To Our Children's Children's Children je jedním z těch alb, které by si neměl žádný fanda umělecky duchovně prorostlé muziky nechat uniknout.
SKLADBY:
01. Higher And Higher (4:06)
02. Eyes Of A Child (2:23)
03. Floating (3:03)
04. Eyes Of A Child Pt. 2 (1:21)
05. I Never Thought I'd Live To Be A Hundred (1:06)
06. Beyond (2:57)
07. Out And In (3:43)
08. Gypsy (3:34)
09. Eternity Road (4:18)
10. Candle Of Life (4:18)
11. Sun Is Still Shining (3:37)
12. I Never Thought I'd Live To Be A Million (0:34)
13. Watching And Waiting (4:19)
SESTAVA:
Justin Hayward – acoustic & electric guitars, sitar, lead vocals (5,8,10,12,13)
Michael Pinder – piano, Mellotron, Hammond, celesta, VCS3 synth, acoustic guitar, double bass, lead vocals (7,11), spoken voice (1)
Ray Thomas – flute, bass flute, oboe, tambourine, lead vocals (3,9)
John Lodge – bass, acoustic guitar, harp, lead vocals (2,4,10)
Graeme Edge – drums, percussion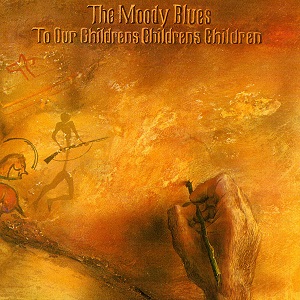 To Our Children's Children's Children
The Moody Blues
Psychedelic Rock, Prog Rock
Threshold
1969
LP
13