Hudba a zvuk jsou si navzájem navěky souzeni. Hudba se bez zvuku neobejde vůbec, a pro zvuk je hudba nejkrásnějším lidstvem stvořeným obsahem. Hudba a zvuk (HaZ) byl také název měsíčníku pro rozhlas, hudbu a elektroniku, vycházejícího v letech 1967 až 1971. Ročník 1968 se stal cenným autentickým zdrojem o tehdejším tuzemském dění na poli audio techniky.
Na přelomu let 1967/68 vznikl Československý hifiklub, jenž se na dvacet let stal oázou i pro mnohé rockery. Bezmála v každém městě vznikla pobočka, kde se vedle muziky a audio techniky diskutovalo a debatovalo o lecčems. Hifikluby měly nemalou zásluhu na relativně slušném povědomí široké veřejnosti o kvalitní reprodukční technice. Největší bedny mívali doma bigbíti a metalisti. Dnešní mladí už jen peckují a kelímkují…
MAGAZÍN HUDBA A ZVUK
Jen v krátkosti ke vzniku. První číslo 1/1967 bylo dáno do tisku 15. 12. 1966. V úvodním slově časopis deklaroval zaměření na "širokou oblast vzájemných vztahů hudby a techniky." Vysokou odborně technickou a muzikologickou úroveň zaštítili mimo jiné: otec zakladatel – Jiří Janda, technici Ladislav Svoboda, Miroslav Láb, Jiří Burdych, Tomáš Salava, muzikolog Lubomír Fendrych a další osobnosti.
Stěžejní byla spolupráce HaZ s pražským Klubem elektroakustiky při filosofické fakultě, založeným taktéž Jiřím Jandou. Svazarm poskytl "politické" krytí. Při porovnání s dnešním magazínem Stereo udeří do očí rozdíly v přístupu k tématům. Osvěta versus marketing, pojmy vs dojmy, nebe a dudy.
Magazín HaZ se nebál poukázat na až propastné mezery mezi audio technikou u nás a ve světě. Díky jeho přispěvatelům se k široké veřejnosti dostávaly zasvěcené informace z oblasti audiotechniky, včetně náleven k pochopení jednotlivých termínů i souvislostí. Problémy oficiální výroby se nezametaly pod stůl, ba naopak, v HaZ se citovalo a patřičně komentovalo ostošest, byť to některým odchyceným soudruhům evidentně nebylo po chuti, viz přepisy diskusních panelů.
Záběr měsíčníku byl široký. Vedle domácí audiotechniky se komplexně recenzovaly hudební nahrávky vážné i populární hudby, své místo měla hudební teorie i rozhlasová praxe, četné byly upoutávky i reporty z akcí, odkazy na zahraniční hifi periodika, poradenství a zázemí pro hifi kluby.
ČESKOSLOVENSKÝ HI FI KLUB & KLUB ELEKTROAKUSTIKY
Nejenom čtením živ byl hudební fanda a technický zvídavec. Nadějný rok 1968 byl i rokem vzniku Československého hifiklubu s mnoha desítkami poboček po celé republice. Organizace se představila v čísle 11-12/1967 HaZ, programově navázala na osmiletou tradici pražského Klubu elektroakustiky. Iniciátorem byl opět Jiří Janda, snílek, neúnavný vizionář a organizátor.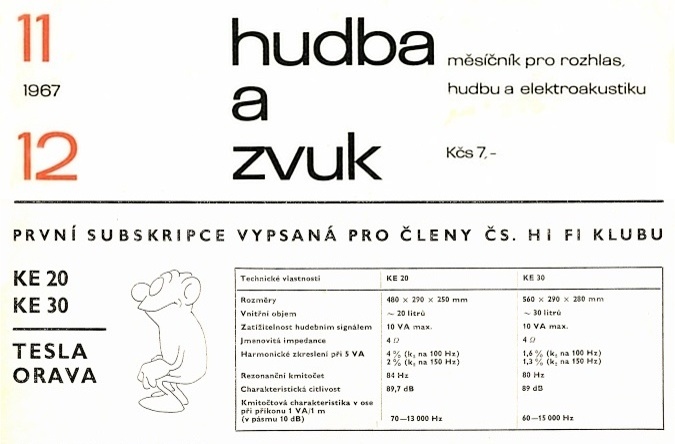 Oficiální produkce zvukových zařízení Tesly měla oproti zahraničí spoustu restů, a tak musela aspoň zčásti vypomoci "lidová" tvořivost, zaštítěná špičkami oboru. Druhým důvodem vzniku a následného masivního rozšíření hifiklubů byl bigbít. Mladí muži doslova lačnili po výkonných a kvalitně hrajících aparaturách. Poslouchat doma z magiče jedničku LED ZEPPELIN na vykuchaném rodičovském dráťáku nebylo ono.
Na paralelní trh a do kutilských dílen se tak díky hifiklubům a Klubu elektroakustiky dostaly kvalitní gramofony, zesilovače, reprosoustavy, tunery a konvertory, potažmo detailní návody k jejich stavbě. Pro svou mechanickou složitost odolaly nadšencům pouze magnetofony, ty se zasekly v tuzemském monopolu Tesly.
Prvními vlaštovkami se staly v roce 1967 zesilovač TW30 a gramofon SG 3. Hlavním limitem byla nedostatečná součástková základna, proto například konstruktéři osadili zesilovač TW30 germaniovými tranzistory. Určité povolení opratí nicméně umožnilo osvíceným ředitelům jednotlivých Tesel iniciativně vyplnit mezery na trhu, a tak například Tesla Orava vyráběla pro členy hifiklubu reprosoustavy KE 20 a KE 30, přesně podle návodu v HaZ.
Sebekrásnější audio technika by bez muziky byla jen sošným artefaktem. Hi fi kluby proto často pořádaly poslechové pořady z běžně nesehnatelných zahraničních elpé desek.
Čs. hi fi klub se koncem roku 1968 pustil i do vydavatelské činnosti, čímž navázal na výstavní rychlovku Raye Conniffa (viz dále).
V čísle 12/1968 HaZ se objevila reklama na LP Greatest Hits anglické skupiny DAVE DEE, DOZY, BEAKY, MICK AND TICH, jejíž Legend Of Xanadu kralovala celou druhou polovinu roku Houpačce.
Pamětníci vědí, že kvalitou provedení i zvukem LP desky s logem Čs. hi fi klubu vysoce převyšovaly běžný tuzemský standard, a snesly přímé srovnání se západní produkcí.
OSPALÝ TUZEMSKÝ NÁSTUP STEREOFONIE
Zatímco na západě od našich hranic bylo v osmašedesátém stereo již několik let masově rozšířené, v ČSSR se teprve v tomto roce zjevil na trhu první stereomagnetofon Tesla B43A.
Na veletrzích a výstavách se natřásala designem (uvnitř elektronky) moderní stereofonní hudební skříň Preludium (a sesterské stereo rádio Dirigent). V gramofonech byla situace o něco lepší, Tesla Litovel zavedla již v roce 1962 na trh stereofonní šasi HC302 s krystalovou přenoskou VK311. V roce 1968 přišlo do prodejen první hi-fi gramošasi značky Tesla, HC 410 konstruktéra Vlastimila Kaprálka.
Na zkušební rozhlasové stereofonní vysílání studia A z března 1964 postupně navazovaly další pokusy, někdy až bizarní, kdy například jeden kanál vysílal rozhlas a druhý televize. Pravidelného rozhlasového vysílání jsme se dočkali až v roce 1969.
Tesla se místy doslova brodila bahnem takzvaného plánovaného hospodářství, navázaného ke všemu na RVHP, kde se centrálně a takříkajíc po vojensku určovalo, který stát bude co vyrábět! Není divu, že jsme tehdy na západ vyváželi vloženou korunu za padesátník, a že v USA byl objem výroby spotřební elektroniky na osobu 15x větší. O moderních křemíkových tranzistorech si mohli všichni v ČSSR nechat zdát.
Vrcholem oficiální teslácké stereo produkce byla objednávková sestava Tesly Litovel, Supraphon STUDIO 1, představená detailněji v HAZ 7 a 10/68, za 8600,-Kčs, což představovalo před půlstoletím plus minus půlroční mzdu. Sestava se skládala z již zmíněného gramofonu Tesla HC 410, zesilovače ZC 20 a reprosoustav RK 60. Byla, a dodnes je, překrásná.
MAGNETOFON NÁŠ VEZDEJŠÍ
Bezmála polučním snem každého mladého muže byl v oné době magnetofon. Po nezničitelných elektronkových parostrojích Sonet, Sonet Duo a Sonet B3, přišla v roce 1964 řada B4, jejímž vrcholem byl již zmíněný B43A. Dejme slovo virtuálnímu museu historické radiotechniky: "Stolní čtyřstopý třírychlostní stereofonní cívkový magnetofon. Rychlost 4,75; 9,53; 19,05 cm/s, kmitočtový rozsah 50-18000Hz (19 cm/s), ovládání úrovně záznamu, hlasitosti, basů, výšek a vyvážení kanálů. Cívky o průměru 15 cm, jeden indikátor záznamu, funkce přepisu ze stopy na stopu a další záznamové funkce, ovládané tlačítky. Mechanika odvozená z typu B4. Dřevěná skříň a víko, plastové dno a panel. Bez reproduktorů, verze B43 má vestavěné reproduktory na bocích – širší skříň."
Současně se na scéně objevil první kazeťák Tesla A3, navíc přenosný, takže pomalu ale jistě končila éra Pluta a Uranu přes rameno.
Každé LP se díky magnetofonům šířilo geometrickou rychlostí. Nahrávky sice násobným kopírováním z pásku na pásek ztrácely zvukový lesk, ideologicko-diverzní sémě však nikoliv, bigbít se coby antibolševník šířil nezastavitelně dál a dál až k poslednímu uchu v zapadlé vísce.
V druhé polovině šedesátek magnetofon postupně víc a víc nahrazoval rozhlasové lovení jednotlivých písniček v éteru. Důvodů bylo několik. Jednak rockoví muzikanti objevili a bohatě začali využívat možnosti dlouhohrající desky, a celé LP desky se v rádiích běžně nevysílaly, navíc byly přeci jenom už v druhé polovině 60. let dostupnější i v ČSSR, a nakonec měly i x-té páskové kopie lepší kvalitu než odchyty z AM pásem.
Šedesátá byla dobou rituálů, zahraniční elpíčka voněla nejen dálavami, svlékání z celofánového přebalu a první nasazení jehly do drážky bylo rajcovní jak dobývání panenské spolužačky, stejně tak mělo ale své kouzlo i nahrávání půjčené ohrané fošny na první vlastní magič. Plavně se točící vinyly a kotouče magnetofonu měly uhrančivost ohně.
I po desítkách let si mnozí pamatujeme zvuky přepínačů, v prstech stále cítíme hmatovou odezvu každé páčky či ovládacího knoflíku všech svých tranďáků, magnetofonů, gramofonů.
HIFI EXPO – PRAHA 68
Po devět dnů (26. 5. až 2. 6. 1968) se stal pražský palác U Hybernů středobodem tuzemského audio vesmíru. Vystavené přístroje, čili zhmotnělé obrázky z propašovaných světových hifi magazínů a jednoho a půl ročníku HaZ, musely návštěvníkům způsobit šok.
Dejme slovo pamětníkovi, Miroslavovi Lábovi, a jeho autentické vzpomínce na Jiřího Jandu (1926-1999), části týkající se výstavy Hifi Expo 68: "V rámci mírného uvolnění politických poměrů v roce 1967 se Jirkovi podařilo propojit Ústav pro hudební vědu ČSAV (kde byl zaměstnán jako technik), redakci skomírajícího časopisu Rozhlasová práce a Klub elektroakustiky, tedy Svazarm, a rozjet v té době naprosto absurdní věc – vydávání časopisu Hudba a zvuk. V březnu 1968 přišel Jirka do klubu s na první pohled naivním, ale propracovaným nápadem uspořádat světovou výstavu Hifi Expo. A ta se kupodivu začátkem června uskutečnila (zkuste si představit, že v té době nebyly mobily a faxy a všechna zahraniční korespondence byla dost pečlivě cenzurována).
K hifi výstavě patří audiofilská gramofonová deska, a tak byl s neuvěřitelnými potížemi vydán první hifi titul Ray Conniff [pozn.: CBS/Supraphon, Čs. hi fi klub (0)1 13 0487]. Na poslední chvíli před zahájením výstavy projížděl trasu Loděnice-Praha a zpět Míla Nosál na mopedu a průběžně v gramofonkách zastavoval a obnovoval výrobu první hifi desky tak, aby odpovídala svému označení.
Protože rozsah aktivit byl pro časopis a hospodářské zařízení Klubu elektroakustiky společensky riskantní, byla založena celostátní organizace Československý hi fi klub. Po další výstavě Hifi Expo v paláci U Hybernů, v době krátké ekonomické nepozornosti hospodářských orgánů, se nám podařilo pod Jirkovým vedením vytvořit prostředky, pro jejichž legalizaci, jak pravil náš právník, bylo nutné zřídit podnik služeb, který měl označení Hifi Servis.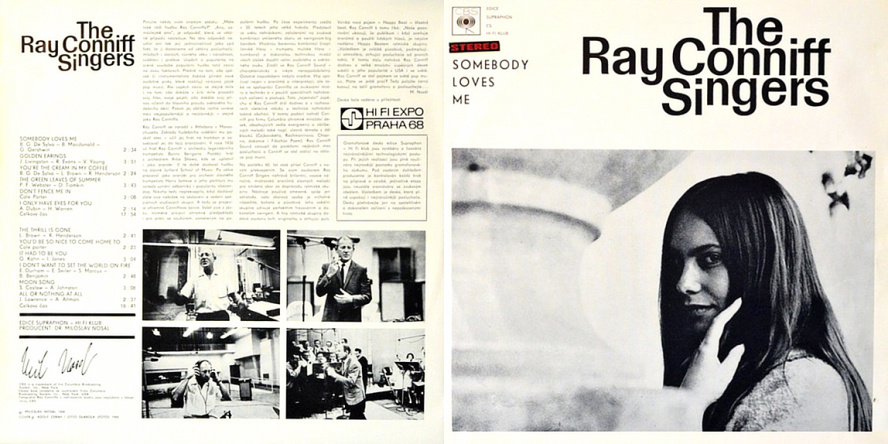 Protože jsem v té době sdílel s Jirkou jednu ze dvou místností redakce Hudby a zvuku (opět absurdně umístěnou ve vile Armádního vysílání Čs. Rozhlasu), byl jsem jeho, na první pohled šílenými nápady dost poznamenán. Mezi zábavné okamžiky patřilo vymýšlení aprílových témat časopisu Hudba a zvuk. Po prvním odborném článku, kterým byl popis zesilovače s nulovým zkreslením, následovaly reproduktorové soustavy s objemem 30.000 litrů, ale především vykopání prehistorického gramofonu na Klaudiánce, včetně jeho dokonalého zrestaurování na základě teoretických prací Dennikena a jeho prezentaci opět na výstavě HiFi Expo. Protože se původní přenoska nedochovala, byla nahrazena v té době snad nejkvalitnějším snímačem Shure V15 II. U amerického zástupce firmy Shure vzbuzoval prehistorický gramofon nepříčetnou závist. Později některé další náměty Jirka pod firmou Lirpa publikoval v americkém Audiu. V rámci časopisu bylo vytvořeno konto, ze kterého se platily různé vývojové úkoly. A tak byl dokončen první český kalotový reproduktor, řada konvertorů pro druhý program ČTV (tehdejší televizní přijímače kromě prvního a druhého pásma neuměly přijímat nic), gramofony, mixážní pulty, ozvučovací reproduktorové soustavy a další.
Těch nápadů se ročně podle našeho redakčního plánu realizovalo alespoň třicet. Hlavním výstupem potom byly přístroje výrobního programu podniku Hifi Servis. Zesilovač Transiwatt TW 30 byl doplněn světovým unikátem, polystyrenovými třípásmovými reproduktorovými soustavami RS 20P. Fakt, že Jirka jako většina tehdejších amatérů nenáviděl vinutí cívek, vyústil v to, že světově unikátní hifistický tuner je měl vyleptané na plošném spoji, a tak se rozjel projekt podporující čerstvě zahájené stereofonní vysílání Československého rozhlasu."
Tolik Miroslav Láb, taktéž významná osoba hifistického hnutí, dodnes činný profesionál.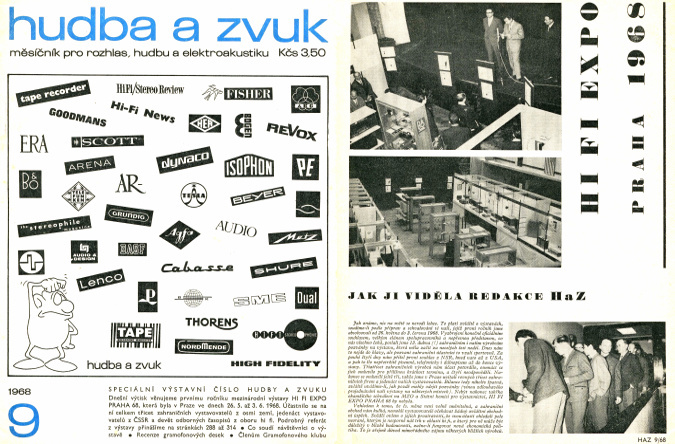 Výstavě bylo věnováno celé zářijové číslo HaZ. I z dnešního pohledu je tehdejší špičková audio technika pokoukáníčkem.
Dánská firma Bang & Olufsen vystavovala futuristické řady Beomaster a Beovox. Až kultovní oblíbenost gramofonů značky Dual v ČSSR předznamenaly měniče 1015 a 1019. Americkou hifi krásu reprezentoval stereo receiver Fisher 550-T (před několika lety byl vystavený kus nabízen na prodej). Grundig reprezentoval mimo jiné nabušený stereo přijímač s nízkým profilem – RTV 600. Královská sestava Revoxu: tuner A76, zesilovač A50 a magnetofon A 77 funguje mnohým zahraničním audiofilům spolehlivě dodnes, stačí se porozhlédnout po netu. Gramofonové přenosky Shure se staly v Československu doslova etalonem zvukové kvality, vrcholný model V-15 pak občas splněným snem. Raménko SME 3009 stálo nepochybně modelem pro tuzemské P1101.
Podniky Tesla si na Expu musely vystačit s již jmenovanými přístroji.