O progresivní muzice se tvrdí, že pokud vám některá nahrávka z jejího širokého spektra na první poslech nesedne, že právě taková má u vás zaděláno na největší překvapení a šanci s dalšími pokusy naplno zabodovat. Zkrátka, že kvalitní hudba se pozná až v opakovaných oknech, až tehdy vystoupí na povrch její skutečně silné zbraně a na první dobrou nezměřitelná hodnota. Tedy samozřejmě za předpokladu, že to hned po tom prvním neúspěšném rande divák nezabalí.
Myslím si, že to není tak uplně pravda, nebo že se to nedá aplikovat vždy a za všech okolností. Alespoň u mne to funguje tak na 50%. Pravým opakem, které toto pravidlo jasně vyvrací, je kapela Spring. Spring se totiž podařilo to co mnohým jiným, a sice zabodovat hned při prvním střetu a při těch dalších svou pozici pouze upevňovat. Spring produkují stejně jako mne teď namátkou napadnou třeba Cressida, Druid, Iron Butterfly nebo Hamonium neuvěřitelně příjemnou muziku, která staví písničkový základ nad ten progresivně rockový a zaujali mě stejně jako výše jmenovaní okamžitě.
Spring jsou britská progresivní rocková smečka pocházející z  Leicesteru. Patři mezi výborný archivní artikl, který během své krátké činnosti stihnul vyprodukovat pouze a jenom jednu jedinou nahrávku. Ale jakou. Debutní deska je mimořádně povedená a dle mého skutečně kvalitní.
První, co vás hned po stlačení play bouchne přes nos, je vroucná a sugestivní atmosféra oblažující první píseň i kompletní nahrávku. Té podléhá i jímavý hlas Pata Morana. Bicí a basa se pohybují ladně a po špičkách. Kytara jemně drnká a trojice mellotronu vytváří ono příjemné atmosférické podhoubí. Podobná naléhavost té ze začátku se tetelí vzduchem i při další skladbě Grail. Čarokrásné instrumentální prohozy a příkladná sehranost celého souboru zde vytváří epochální místa naplněná romantikou a láskou. Definice, kterými jsem očastoval úvodní dvojici skladeb se vztahují na desku celou. Ta i s povedenými bonusy nabízí jedenáctku vyrovnaných skladeb trefujících vyznavače ostrovního art rocku přímo na komoru.
Spring jsou jednohubkou výrazné chuti, která váš apetit po muzice padesát let staré určitě nasytí.


PS: Koukněte se pořádně na obal desky. Romantický i brutální zároveň.
SKLADBY:
01. The Prisoner (Eight By Ten) (5:34)
02. Grail (6:44)
03. Boats (1:53)
04. Shipwrecked Soldier (5:08)
05. Golden Fleece (6:59)
06. Inside Out (4:49)
07. Song To Absent Friends (The Island) (2:47)
08. Gazing (5:54)
Bonus tracks on Repertoire re-issue (1994):
09. Fool's Gold (6:26)
10. Hendre Mews (7:14)
11. A World Full Of Whispers (3:57)
SESTAVA:
Pat Moran – vocals, mellotron
Ray Martinez – guitars, mellotron
Adrian 'Bone' Maloney – bass guitar
Pick Withers – drums
Kipps Brown – piano, organ, mellotron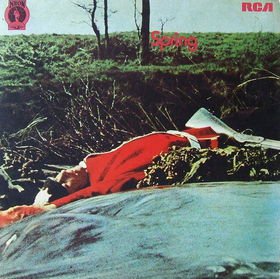 Spring
Spring
Prog Rock
RCA/Neon
1971
LP
8