Hudobnou púťou bývalými socialistickými krajinami by som tentokrát zavítal k našim južným susedom. Pre hudobných fanúšikov sú určite najviac povedomé mená maďarských skupín Omega alebo Locomotiv GT, ktoré bežne koncertovali a nahrávali doma i v zahraničí a zaslúžene si vydobyli uznanie nadšencov rockovej hudby.
Jednu z najzaujímavejších a zároveň jednu z najviac nedocenených, ktorú by som rád predstavil, bola progresívno-jazzrocková formácia Syrius. Ako veľa iných súpútnikov, aj skupina Syrius naštartovala svoju kariéru už v roku 1962 a patrila k tým pomerne úspešným bigbítovým kapelám, ktoré na rôznych tanečných večierkoch hrali prepracovania zahraničných hitov, zúčastňovali sa talentových súťaží a od roku 1967 nahrávali single s vlastnými pesničkami. Takto im to fungovalo do konca 60-tych rokov, celosvetová tvorivá kríza v rockovej hudbe sa však nevyhla ani východoeurópskym krajinám. Skupiny cítili, že to takto ďalej nepôjde, začali hľadať nové spôsoby k hudobnému vyjadreniu sa, menili sa obsadenia a v základných zostavách sa objavili muzikanti z dovtedy v bigbíte nemysliteľným hudobným zázemím, hudobníci z džezového prostredia, či dokonca členovia orchestrov klasickej hudby a hudobné vzdelanie prestalo byť tŕňom v oku pravého rockera. Pôvodná zostava skupiny Syrius sa z novým trendom nedokázala vysporiadať a rozpadla sa. Väčšina jej bývalých členov založila skupinu menom Juventus. Vytrval iba jediný pôvodný člen skupiny, zakladateľ a vlastník mena Syrius, saxofonista Baronits Zsolt. So zámerom obnoviť činnosť skupiny, tentokrát hrajúcu v duchu nového rockového smeru, sa vybral do nočných klubov Budapešti hľadať mladých talentovaných muzikantov. V novembri 1969 natrafil na mladú džez(rock)ovú skupinu Új Rákfogó hrajúcu v jednom z budapeštianskych klubov. Navrhol im účasť na vytvorení súboru, ktorý si na dnes zaslúžene vyslúžil prívlastok "Veľký" Syrius. Po rôznych zmenách sa na začiatku roku 1970 zostava ustálila v podobe, ktorá spolupracovala do roku 1973 a dodnes sa považuje za to najlepšie, čo maďarská progresívna rocková scéna vôbec ponúkla. Vedľa už vyššie uvedeného saxofonistu Baronitsa, v osobe Orszáczky "Jackie" Miklósa skupina získala charizmatického frontmana, speváka, basgitaristu milovaného mladým obecenstvom pre jeho bezprostrednosť a dobrosrdečnosť, uznávaného hudobnými expertmi pre jeho vycibrenú hru na basu a neznášaného režimom pre jeho neochotu ku kompromisom. V osobe hráča na saxofon a flautu, Ráduly Mihálya, sa ku skupine pridal umelec dovtedy výlučne pôsobiaci v džezovom prostredí, čerstvý držiteľ ceny najlepšieho sólistu získanú na jazzovom festivale v Montreux. Z úspešnej beatovo-bluesrockovej formácie Liversing sa ku skupine pridal hráč na klavír a hammond, skladateľ Pataki László a zo skupiny Atlantis prišiel precízny bubeník s džezovým cítením, Veszelinov András.

Skupina debutovala vo februári 1970 pred obecenstvom zhruba 60-tich ľudí patriacich zväčša do hudobného prostredia a zaznamenala nečakaný úspech. Pamätníci ich raných koncertov spomínajú, že skupina ako prvá v krajine experimentovala fúziou rockovej hudby s jazzom a bluesom. Skĺbením týchto hudobných prvkov si dokázala vytvoriť vlastnú tvár a pri počúvaní ich tvorby sa jazzrock milujúcemu človeku neraz nadvihne obočie prekvapením a vylezie z neho uznanlivé hmmm. Hrala svojské prepracovania zahraničných hitov, ktoré úplne vyvrátili z pôvodnej podoby, aby ich následne prearanžovali podľa vlastných potrieb. Dobrým príkladom môže slúžiť napríklad McCartneyho rezká dvojminútovka Fixing a Hole, kde z pôvodnej piesne nezostal kameň na kameni, zostal iba základný motív, zakomponovali do nej vlastnú hudbu a vznikla od originálu nezávislá osem minútová jazzrocková kompozícia. Zaujímavé je aj prepracovanie Hedrixovho Manic Depression bez gitaristu v základnej zostave, ktorého absenciu nahrádza hra hammondov a dychov. Okrem prepracovaných piesní však už z autorskej spolupráce Patakiho a Orszáczkyho začali vznikať tiež vlastné kompozície. Ako prvá v krajine hrala prepracovania ľudových pesničiek a zhudobňovala básne maďarských básnikov. Prezentácia ich hudby na pódiu bola na siahy vzdialená tomu, na čo si beatom odchovaný poslucháči zvykli v uplynulých rokoch. Súčasťou predstavení sa stali dlhé improvizácie, bežný bol jam session, happening a samozrejmosťou sa stal bezprostredný kontakt hudobníkov s obecenstvom. V zadymených tmavých kluboch sa skupine podarilo vytvoriť akúsi magickú atmosféru spolupatričnosti, pri ktorej obecenstvo už viac neskandovalo, len sedelo na matracoch a ticho počúvalo hudbu plynúcu z pódia spolu s množstvom mladých ľudí pred klubom, ktorým sa vstupenky neušli.
Najväčší úspech však prišiel v neočakávanej podobe, keď do krajiny zavítal predstaviteľ austrálskej produkčnej spoločnosti Caesar, Charlie Fisher, ktorý v stredoeurópskych krajinách hľadal nádejných predstaviteľov novovznikajúcej vlny progresívneho rocku. Po návšteve jedného z koncertov skupiny Syrius tento potomok maďarských emigrantov ponúkol skupine zmluvu na polročnú koncertnú šnúru po austrálskych mestách. V movembri roku 1970 Syrius vycestovali, dávali koncerty po celej krajine, zúčastňovali sa hudobných festivalov a zdieľali pódium so svetoznámymi skupinami koncertujúcimi v Austrálii.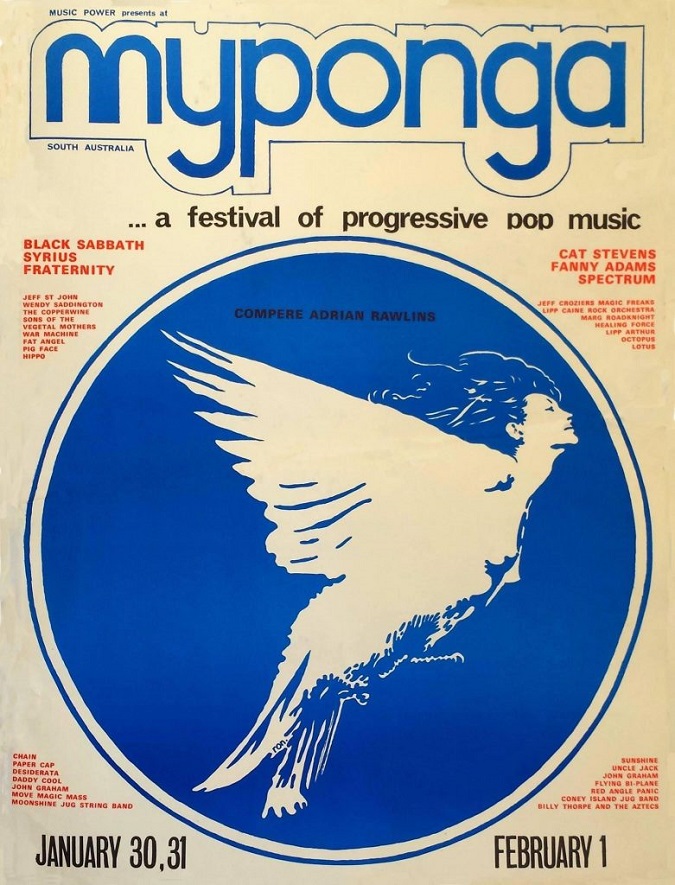 Úspech na seba nenechal dlho čakať, zmluvu im predĺžili o ďalších šesť mesiacov a meno skupiny sa čoraz častejšie objavuje v odborných periodikách po boku s vrcholovými austrálskymi rockovými formáciami. Jeden časopis v lete 1971 dokonca skupine daroval pekný kompliment tým, že v jednom svojom článku uverejnil nasledovné vyhlásenie: "momentálne najlepšia rocková formácia v krajine pochádza z Budapešti".

S Melbournským symfonickým orchestrom nacvičili prepracovanie Bachovho IV. brandenburského koncertu, ktoré potom aj naživo predstavili v Sydney.

Onedlho prišla od hudobného vydavateľstva Spin Records ponuka na nahratie dlhohrajúcej platne. LP Syrius (1971) sa však nakoniec v austrálskych obchodoch objavilo až po návrate skupiny do Maďarska a dnes sa už cena originálneho kusu ráta v trojciferných hodnotách.

Na otázky, prečo sa skupina na počiatku svojej sľubne sa rozvíjajúcej kariéry rozhodla vrátiť domov, alebo naopak, ako by sa ich kariéra vyvíjala, ak by nevycestovali do zahraničia, už odpovede nedostaneme, ostanú navždy tajomstvom. Realitou bolo, že hneď po návrate do Maďarska eufóriu vystriedalo vytriezvenie v podobe nezáujmu štátom riadeného hudobného priemyslu. Licenciu albumu síce štátne vydavateľstvo Pepita odkúpilo od austrálskeho vydavateľstva a LP v roku 1972, tentokrát s názvom Devil's Masquerade a s odlišným obalom vydalo, urobilo to však v takom malom náklade, že platňa sa doslova vypredala počas nasledujúcich dvoch dní. Vďaka nátlaku a neutíchajúcemu záujmu o platňu Pepita v roku 1976 album znovu vydala.
Správy o úspechu skupiny v zahraničí sa vďaka izolácii východného bloku od okolitého sveta k domácim poslucháčom dostali iba veľmi obmedzene alebo vôbec. Výsledkom bolo, že za rok neprítomnosti sa skupina vytratila z podvedomia širšej domácej verejnosti a, ako inak, v západnom svete úspešná skupina bola pre domácich štátnych predstaviteľov považovaná za triedneho nepriateľa. Cenzúra hudbe skupiny ani ich zhudobneným umeleckým textom nerozumela, takto im nedokázala na umeleckej rovine nič vytýkať, tak im teda aspoň hádzali polená pod nohy tam, kde len mohli. Miesto toho, aby využili popularitu skupiny v zahraničí ako výnosný exportný tovar, prichádzajúce pozvania pre Syrius od usporiadateľov zahraničných rockových festivalov a koncertov ignorovali, alebo na zdesenie usporiadateľov posielali na ne s režimom spriaznené skupiny. Skupinu zaradili do džezovej kategórie, členovia tým pádom mali nárok iba na najnižší príjem od štátu. V tomto nežičlivom prostredí sa skupina stále ťažšie presadzovala, naživo hrali znovu iba na vysokoškolských pódiách, v kluboch na periférii Budapešti a sporadicky vystupovali na jazzových podujatiach. Za účelom obohatenia ich zvuku prijali do skupiny budúcu gitarovú legendu, Tátrai Tibora, nahrávali svoje skladby v rozhlase a začali s prípravami materiálu pre druhý album.

Základom pre novú platňu mala byť šesťdielna hudobná suita skomponovaná v roku 1970 Patakim a Orszáczkym obsahujúca zhudobnené texty mladých básnikov s výstižným názvom Széttört álmok (Rozbité sny). Jednotlivé časti tohto celku hrali už aj v Austrálii, texty im do angličtiny preložil Charlie Fisher. Ako celok však suita nikdy v kvalitnom štúdiu nahraná nebola, hrali ju naživo na koncertoch a raz sa odvysielala v maďarskom štátnom rozhlase, aby následne záznam na dlhé desaťročia zapadol prachom v archíve rádia. V takýchto podmienkach skupina nedokázala naďalej pracovať a v roku 1973 Syrius opustili všetky tri najdôležitejšie hudobné elementy. Sklamaný Orszáczky sa natrvalo presídlil do Austrálie, stal sa členom skupiny Bakery, neskôr nastúpil na úspešnú sólovú dráhu. Ráduly vycestoval do USA, využil ročné štipendium na prestížnu hudobnú školu v Bostone, Berklee College of Music, ktoré bolo súčasťou ceny za výhru na festivale v Montreux. Pataki emigroval a dlhé roky sa živil hraním po baroch západoeurópskych miest. Baronits v snahe udržať Syrius pri živote a zmeniť hudbu i image skupiny na prijateľnejšiu pre verejnosť, vyhovujúcu hudobnej kritike a hudobného priemyslu, nahradil chýbajúce trio novými muzikantmi a obohatil zvuk skupiny o dychovú sekciu. Hudba skupiny sa v tomto novom období stala úplne poplatnou svojej dobe, pohybovala sa kdesi medzi módnym Middle of the Road a brassrockom. Vďaka kvalitným hudobníkom tento vynovený sound však nakoniec vôbec neznel zle, avšak už s novátorským  progrockom Veľkého Syriusu nemal nič spoločné. Nová zostava v roku 1975 nahrala druhú platňu skupiny, povrávalo sa dokonca že na jednu stranu albumu sa dostane i suita Széttört álmok. Nakoniec sa však skoro polhodinové dielo scvrklo na ani nie päť minútovú pesničku, objavila sa ako posledná na A strane nového albumu a okrem mena nemala s originálom nič spoločné.
Suite hudobníci vzdali hold aj tým, že jej meno si zvolili ako názov celého albumu. S častými zmenami v zostave kapela ešte pracovala do roku 1978, potom sa však rozpadla. Vďaka neutíchajúcemu záujmu o skupinu starej a novej generácie hudobných fanúšikov nadišiel čas pre reunion skupiny.
V septembri roku 2001 sa neúplná zostava veľkého Syriusu, doplnená hosťujúcimi hudobníkmi, stretla v Budapešti a zahrala jeden koncert na Margitinom ostrove na Dunaji.
Zo základnej zostavy však chýbal zosnulý saxofonista, líder skupiny, Baronits Zsolt, ktorý v lete roku 1999, vo veku 55 rokov podľahol dlhotrvajúcej chorobe. Baronitsa nasledovali v roku 2007 zosnulý bubeník Veszelinov András a rok nato v Sydney zomrel i Orszáczky "Jackie" Miklós. Hviezda legendárneho Syriusu vyhasla nadobro, na jej jagot však nezabudnú ľudia oboch kontinentov, kde skupina pôsobila a ktorým jedinečná hudba veľkého Syriusu učarovala.
Porevolučné obdobie prinieslo so sebou aj vlnu nostalgického záujmu o bývalé legendy rockovej hudby, prišlo aj na skupinu Syrius. V roku 1993 vychádza u vydavatelstva Gong reedícia ich prvého albumu Devil's Masquerade, nasledovaná v roku 1994 kompiláciou Most, Múlt, Lesz (Teraz, Nasleduje, Minulosť), obsahujúca priehršť ich nevydaných skladieb, zväčša prepracovaní slávnych originálov nahratých pre maďarský rozhlas. Na kompilácii sa objavila i z archívu vydolovaná suita Rozbité sny, avšak na sklamanie dlhoročných fanúšikov skupiny nahrávku ktovie prečo vraj spomalili o 6 percent, tým pádom skladba znie pomalšie, hlbšie a hlavne falošne, tiež roky strávené na policiach archívu sa značne podpísali pod kvalitu záznamu.Za zmienku tiež stojí CD vydanie ich reunion koncertu z roku 2001, The Last Concert od firmy Hunnia Records (2008), kde zahrali ich najznámejšie vlastné i prevzaté skladby, ktorým kraľuje 20 minútový remake piesne Feelin' Good, evergreenu známeho aj v podaní rôznych známych interpretov.
Rok 2009 priniesol ďalšiu kompiláciu, 2CD ANNO Live (Fon-Trade Music), ktoré vzniklo na základe výzvy Rádulyho a Patakiho smerom k zberateľom hudobných bootlegov, ktorí poskytli svoje amatérske klubové nahrávky skupiny. Dôsledným výberom a následným vylepšením kvality nakoniec získali hudobný materiál pre vyššie spomínané dvojcédlo obsahujúce klubové nahrávky pochádzajúce z raných 70-tych rokov. Disky sú pribalené ku knižke obsahujúcej stovku raritných, nikdy nezverejnených fotografií skupiny a plus pre prvú stovku kupujúcich sa stalo tretie bonusové CD obsahujúce živú verziu suity Rozbité sny zahratú v roku 1972.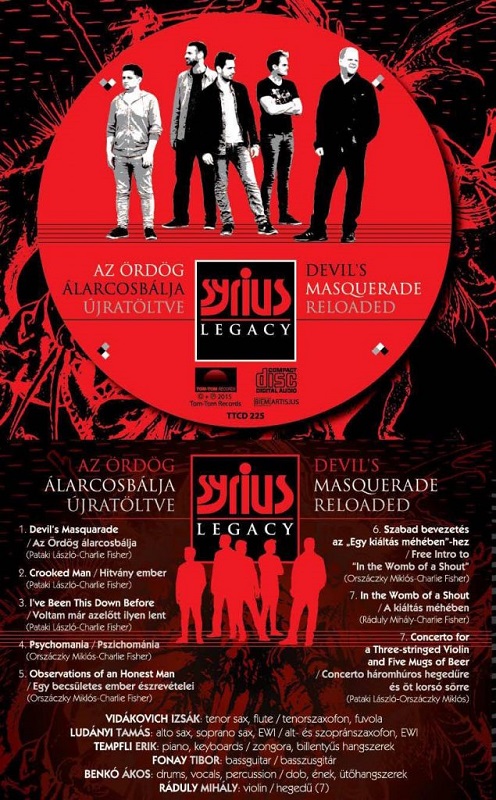 V roku 2014 vzniká tribute band Syrius Legacy, založený mladými, prevažne džezovými ale aj rockovými muzikantmi hudobne vzdávajú hold legendárnemu Syriusu.
V žiadnom prípade tu nejde o kópiu hudby originálu, ide o vlastnú interpretáciu ich hudby podanú tiež v jazzrockovom duchu. Skupina v roku 2015 vydala CD obsahujúce kompletne znovu nahratý album tentokrát s názvom Devil's Masquerade Reloaded a druhé CD (2017) s nahrávkou nevydanej suity Rozbité sny, ktorá týmto konečne dostala dôstojnú a kvalitnú podobu a poskytla možnosť skladbu spoznať v kvalite 21-ho storočia.
Skupina Syrius zaslúžene patrí k tej hŕstke skupín pôsobiacich na našej strane takzvanej železnej opony, ktorá svojou prácou dokázala osloviť náročného rockového poslucháča doma i v zahraničí a jej hudbe sa oplatí venovať trošku pozornosti.
DISKOGRAFIA:
1971 – Syrius
1972 – Az Ördög Álarcosbálja = Devil's Masquerade
1976 – Széttört Álmok
1994 – Most, Múlt, Lesz
1997 – Rock Koncertek A Magyar Rádió Archivumából I: Syrius, 1975
2008 – The Last Concert
2009 – ANNO Live