Dnes už Apollo Theatre v škótskom Glasgowe nestojí. Otvorili ho v septembri 1973. Mnohými hudobníkmi bolo považované za jedno z najlepších koncertných priestorov na svete. Jeho existenciu však v roku 1985 narušil zlý technický stav. Kým sa pristúpilo k plánovanej rekonštrukcii, skazu dokonal požiar, preto v roku 1987 došlo k jeho zbúraniu…
Vráťme sa však do októbra 1976, keď tu tri večery po sebe – od 27. do 29. – patrili skupine Status Quo. Od roku 1972, kedy do obchodov vtrhol opičiak menom Piledriver, statusáci nekompromisne ovládli predné priečky hitparád, takže po ďalších vydarených a veľmi úspešných štúdiovkách Hello! (1973), Quo (1974), On The Level (1975) a Blue For You (1976) usúdili, že nastal vhodný čas na prvú oficiálnu lajfku.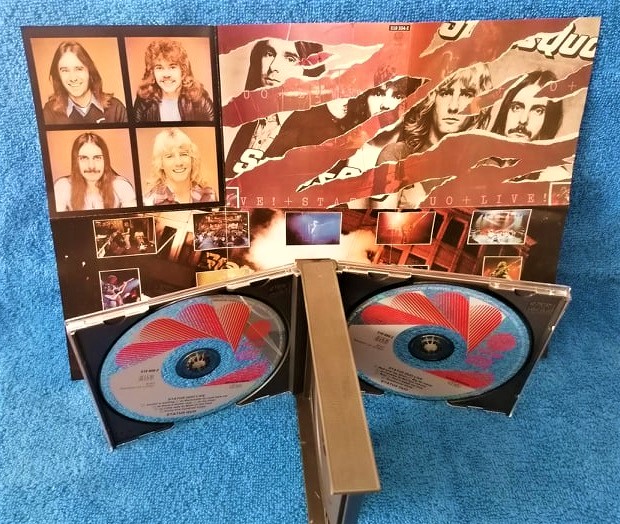 Živáky! Áno? Nie? Večná polemika a hašterenie medzi hudobnými fanúšikmi. Za mňa jednoznačne – áno! Čo by som dal za to, byť vtedy pri tom. Tak iba snívam. Fanúšikovia Celticu a Rangers v jednom šíku, katolíci i protestanti, spievajúci z plných pľúc, ale nie hymny svojich milovaných klubov, ale hity Status Quo, spolu s Francisom, Rickom i Alanom. Apollom duní "trojakordový" boogie hard rock, ktorým si kapela podmanila obrovské zástupy fanúšikov, nielen v Škótsku. Dosť snívania.
Dovoľte, aby som uverejnil spomienky troch priamych účastníkov, ktorí zareagovali na moju prosbu a napísali zopár riadkov o tom, ako si na tie časy pamätajú.
Leslie Ferguson: "Veľa si už nepamätám, mal som vtedy 21 rokov. Ale jedno si pamätám veľmi dobre, bol to fantastický koncert. Mal som lístok na balkón, zhruba 4 metre od pódia a keďže javisko bolo vysoké asi 2 metre, dalo sa so skupinou doslova hovoriť. V Apolle som toho zažil veľa, ale toto bol jednoznačne najlepší koncert. Kapela v skvelej forme, celá sála spievala. Hudba bola obria. A keď sa povedalo, že vystúpenie sa zaznamenáva pre potreby živého albumu, zvuk stúpol o ďalších 100 decibelov. Ozvučenie bolo úžasné. Ak ste album počuli, tak mi iste rozumiete. Dúfam, že to pre Vás bolo užitočné."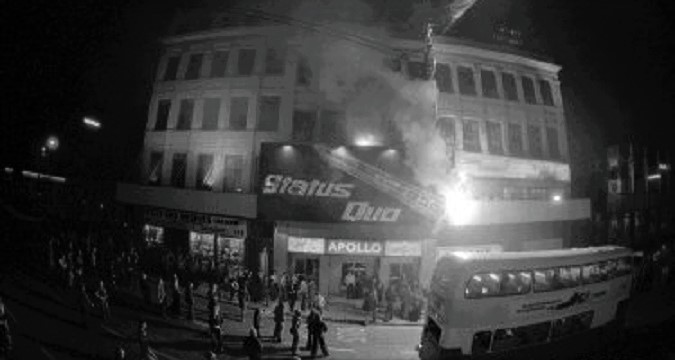 Sandy Mercer: "Bol som tam. Na vnútorný obal LP sa dostala fotografia, kde je zapálená svetlica. Veľa ľudí, ktorí vtedy stáli na ulici Renfield, odišlo z radu, aby to mohli sledovať a lepšie vidieť, vrátane Gillian, dievčaťa, s ktorým som bol. Ja som zostal na mieste, vo fronte a som tam, pred výkladom shopu… Skvelý koncert. Boli sme na hornom balkóne úplne vpredu a pozerali dole na mixážny pult. Keď koncert odštartoval, balkón začal doslova tancovať – pohybovať sa hore a dole. Bolo to desivé a vzrušujúce zároveň. Francis Rossi uviedol, že zvukári boli 'znepokojení'. Áno, bol som tam…"
Tommy Fulton: "Krásne časy. Veľmi dobre si pamätám na obrovský transparent s nápisom 'Blast Off With Quo', ktorý si mohol vidieť z dolnej časti ulice Renfield…"
Myslím, že viac dodávať netreba. Status Quo je môj dobíjač energie, ktorý bude súčasťou môjho žitia, pokiaľ budem schopný vnímať svoje okolie. A keď nahliadnem do archívov a pozriem na oficiálnu hitparádu vo Veľkej Británii, ale aj inde, mám jedno prianie, hoci viem, že sa to nikdy neuskutoční – vrátiť čas. Kvôli tej hudbe…
SKLADBY:
01. Junior's Wailing (White, Pugh) 5:21
02. Backwater/Just Take Me (Parfitt, Lancaster) 8:08
03. Is There A Better Way (Rossi, Lancaster) 4:27
04. In My Chair (Rossi, Young) 4:05
05. Little Lady/Most Of The Time (Parfitt, Rossi, Young) 6:47
06. Forty-Five Hundred Times (Rossi, Parfitt) 16:45
07. Roll Over Lay Down (Rossi, Parfitt, Lancaster, Coghlan, Young) 5:58
08. Big Fat Mama (Rossi, Parfitt) 5:13
09. Caroline/Bye Bye Johnny (with drum solo) (Rossi, Young/Chuck Berry) 12:51
10. Rain (Parfitt) 4:48
11. Don't Waste My Time (Rossi, Young) 4:10
12. Roadhouse Blues (Jim Morrison, John Densmore, Robby Krieger, Ray Manzarek) 14:14
NOTES:
Recorded at the Apollo Theatre, Glasgow, 27/28/29 October 1976 with the Stones Mobile.
ZOSTAVA:
Francis Rossi – guitar, vocals
Rick Parfitt – guitar, vocals
Alan Lancaster – bass, vocals
John Coghlan – drums
+
Andy Bown – keyboards (6, 10)
Bob Young – harmonica (12)
Live!
Status Quo
Hard Rock
Vertigo
1977
2xLP
12
Box Set, 2xCD Vertigo – 510 334-2 /UK/