Kanadsko americké trio pôsobilo iba tri roky v Anglicku. Bolo to v rokoch 1969-1971. Preskočím prvé mená hudobníkov, ktorí sa objavili v May Blitz a zoberiem si na paškál Reida Hudsona /basa/, Tonyho Newmana /bicie/ a Jamesa Blacka /gitara, spev/.
Táto kapela podpísala zmluvu s novou značkou Vertigo /label pre Black Sabbath, Uriah Heep a zabudnutých Juicy Lucy/ a v roku 1970 nahrali a vydali eponymný album May Blitz sami, bez producenta a druhý o šesť mesiacov neskôr pod názvom The 2nd Of The May.
Ich obaly LP platní boli a sú vyslovene škaredé a tá škaredá žena z jedničky pózuje aj na dvojke, ale už aj s komparzistami. Obaly má na svedomí chlapík menom Tony Benyon. Vraj zakomponoval muzikantov do kresieb, ale podobnosť je asi čisto náhodná. Nechutné obaly, ale o to viac chrumkavejšia hudba sa rinie z čiernych drážok. Čím horší obal – lepšia psychedélia a feeling. Poradie obal-hudba nechám na jednotlivého poslucháča, lebo kto si vypočuje jednotku a páči sa mu to, pustí si zákonite aj dvojku a naopak.
Mňa oslovila tá šialená rytmika s neskutočnou dravosťou a surovosťou zvuku. To sa málokedy dá počuť a dodnes sa divím, že sa kapela nepresadila a nemala úspech. Bolo to pričinením odpudzujúcich obalov platní, alebo niečím iným? Neviem. Budem sa venovať ich druhej platni, ktorá v názve obsahuje slovnú hračku: druhý máj alebo dvojka Máj /ako skratka kapely?/. Celkom sa mi to páči.
Áno, dvojka je v niečom iná ako jednotka, kapela hrá komplikovanejšie a pokojnejšie ako na debute, ale ponúka znovu silný nárez psycho-prog-space-hard rocku. Má to pestrosť, silu, očarujúcu rytmiku a kopec nápaditých melódií, zvratov a obrovský živočíšny smrad power trojice. Až musíte otvoriť okno. A tam sa to zlomí. Jedničke sa nevyrovná. Ale pekne po poriadku.
1. For Mad Men Only
Tak to je úvod ako hrom, basa a bicie mi pripomínajú vriacu bublajúcu vodu a spev, hoci je trošku na môj vkus zastretý, dotvára úžasný pocit z úvodnej skladby. Dvojkopák Tonyho Newmana /ex-Jeff Beck/ dáva skladbe neskutočný drive. V piesni gitarový efekt s vokálom pripomenie pinkfloyďácku nemenovanú skladbu z Dark Side Of The Moon, vydanú až o tri roky neskoršie!!! Len pre šialených mužov, poď a uvidíš, keď sa myseľ uvoľní. Skladba sa mi páči, nezbláznil som sa.
2. Snakes And Ladders
Alegória na starodávnu indickú hru. Ak si na rebríku, ideš hore, ak si na hadovi, ideš dole. Teraz zvoľníme a dáme si psychedelickú pohodovku. Tento názov piesne neskoršie použili aj škótski Nazareth ako názov svojho 17-teho albumu z roku 1989 vydaného na značke Vertigo. Aj May Blitz vydávali LP na Vertigu. Rytmika opať šliape ako hodinky, páčia sa mi vyhrávky bubeníka Newmana a ťažký zvuk gitary. Spev je doplnený vokálmi, alebo druhým hlasom.
3. The 25th Of December 1969
Dátum napovedá že ide o vianočnú skladbu. Nálada a zvuk na začiatku tomu aj odpovedá, ale vzápätí príde prechod bicích a začína tajomnejšia basová gitara a vianočná skladba sa prehupne do zlovestného textu opisujúceho krvavú občiansku vojnu v Nigérii /1967-1970/. Je to zvláštna skladba a hudobné protiklady ponúkajú aj teraz zamyslenie ako žijeme a kam smerujeme.
4. In Part
Skladba je založená na rytmike basa-bicie, gitara sa vnára do skladby iba ako sólový nástroj, ktorý si hrá svoju nôtu v časti skladby. Je to však celkom dobrá vec, nechýba bicie sólo, tak sa to vtedy robilo a bubeníci dostávali svoj zaslúžený priestor v nahrávkach. Ale ten záver je slabý a pieseň končí neznámo kde… Škoda stratenej šance.
5. 8 Mad Grim Nits
Osmička je však otvárák druhej strany LP a May Blitz to znovu nakopli. Teraz hrá "prvé husle" sólová gitara Jamieho Blacka s efektným tvrdým doprovodom rytmickej dvojky vzadu. Bez spevu, netreba ho.
6. High Beech
V tejto skladbe je cit a nová tvár kapely. Skvelá feelingová poloha "májového blesku". Akustická gitara, decentná basa a bicie v nenásilnej podobe. Aj spev je dobrý a nikto by nepovedal, že to hrá kapela pýšiaca sa dunivou rytmikou v predošlých skladbách, hoci záver napovie, že to nie sú žiadni "baroví muzikanti". A posolstvo piesne? Mali by sme žiť v symbióze a harmónii s prírodou. Aké je to dnešné.
7. Honey Coloured Time
Pomalá skladba, ktorá má na môj vkus príliš veľa polôh a zbytočne sa rozbíja sama v sebe. Akoby nápad bol, ale nikto nevedel kam to má pokračovať. Beriem to však ako dôkaz, hudobníci hrať vedeli a hoci je skladba slabšia, nezatracujem ju. Asi im došlo strelivo a nastala únava z množstva koncertov, čo v tej dobe absolvovali.
8. Just Thinking
Úderka sa stratila, romantika a nástup melancholiky. Možno preto, že skladbu zložil iba Jamie Black bez prispenia spoluhráčov. Labutia pieseň kapely, ktorá si hovorila May Blitz. Pieseň o láske, taká, aká má byť. Sólová gitara skvele vytvára "čajky" a zvuk sa nesie v priestore, na záver ešte posledné pípnutie. Hotovo – End.
Na dvojke už neboli sami, ale prizvali si producenta Johna Anthonyho. Možno práve preto sa iskra z prvého albumu naplno nerozhorela a May Blitz sa po slabom predaji recenzovaného albumu rozhodli nepokračovať. A tak to šesť mesiacov po vydaní druhej LP zabalili. V skladbách sa príliš zamotali a zdá sa mi, že stratili často cieľ. Už len pridanie sóla na bicie v In Part nikam neviedlo. Hoci na dvojke hľadali svoju tvár a použili viac foriem rockovej hudby, ich blesk v podobe druhého mája nevyšiel. Sú tam perfektné záblesky geniality, ale tie sa stratia v jamovaní bez bodky. Jednoducho ich prevalcovali úspešnejšie skupiny. A tak to zabalili.Tony Newman sa pripojil k bratom Gurvitzovcom /kde ho čakal podobný osud/ a dvojica Black, Hudson odfrčala domov do Kanady.
Skupinu May Blitz treba posudzovať ako celok dvoch albumov a hoci ten prvý je lepší a priamočiarejší, aj tento v sebe skrýva zlato. Len ho treba lepšie hľadať a určite ten, kto ho chce nájsť, aj nájde. Prvá skladba z dvojky vás nedá do kolien ako Smokin The Day Away, prvá na jednotke, ale určite vás zaujme a osloví. A tak môžeme porovnávať do nekonečna. Bolo to naozaj "power trio" do posledného písmenka a som rád, že ich poznám a páčia sa mi. Dal by som štyri hviezdy, ale to by asi bolo príliš veľa, takže radšej 3.
Strana A
1. For Mad Men Only – 4:15
2. Snakes and Ladders – 4:40
3. The 25th of December – 3:11
4. In Part – 6:07
Strana B
1. 8 Mad Grim Nits – 4:30
2. High Beech – 5:00
3. Honey Coloured Time – 4:12
4. Just Thinking – 6:17

Producent: John Anthony
Zvukár: Dave Harris
Štúdio: Air Studios, Londýn
Ilustrácia: Tony Benyon
May Blitz:
James Black: spev, 12-strunna gitara, gitara
Reid Hudson: basová gitara, spev
Tony Newman: bicie, perkusie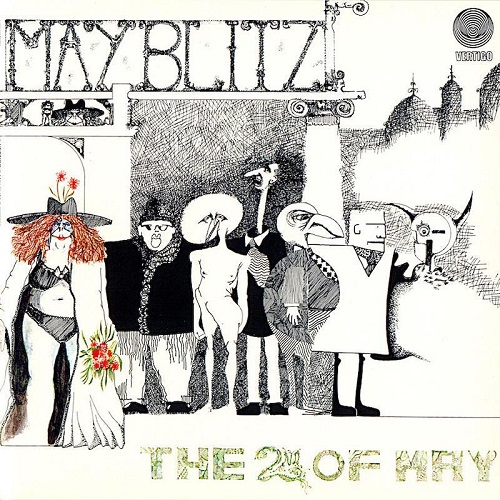 The 2nd Of May
May Blitz
Hard Rock, Prog Rock
Vertigo
1971
LP
8
LP Akarma AK 265 /2003/