You may think of him as of rock 'n' roll prima donna or devout Christian, as of extremely humble person or a raging star – there are two things you can't deny, one being his music and the other that Ken Hensley is a genius, with a songwriting gift equal to Paul McCartney's and Brian Wilson's, and a poetic eloquence to knock off both. "He's going to return", was a line of his, and Ken might have been singing about himself, because now he's back and full-on.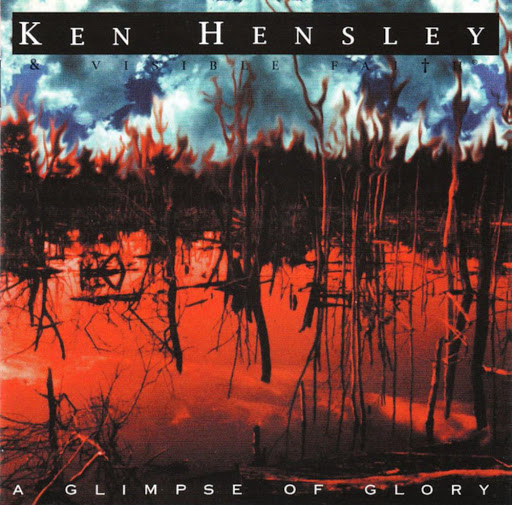 – I still haven't listened to your last album, VISIBLE FAITH but I heard though that the music on it is too simple for you…
Wait, where did you get the information on a VISIBLE FAITH album? "A Glimpse Of Glory" album is credited to "Ken Hensley & VISIBLE FAITH", there's still no album by the band as such.
– What's your role in the band. I mean, are you a leader or?..
Visible Faith is an expression of my Christian faith which must be visible to be real! I gave the name to the collection of musicians who worked with me on the record.
– You have quite much in common with Glenn Hughes: both of you succeded in major bands, had not so much success with high-quality solo works, both in past were drug addictives while now are sobers and new-born Christians. Do you know each other? And what about Rick Wakeman? His story is like those of yours though he has some famed discs.
I know Glenn and am very happy that he is recovering from his problems. It is hard to understand addiction unless you have experienced it so we both have a lot to be thankful for. I have spoken to Rick Wakeman a couple of time but we move on different musical lines at the moment. And I am happy for his success.
– Does your new lifestyle suit you more than the star madness of yore?

The answer to this question is, simply, YES! There is much more to it than just that but this is the simple, honest answer. Before God took over my life, I was living for myself and living for now. At this time, I am living to glorify God and lieving with my eternal future in mind. I know this is difficutl to understand and I would be happy to offer more information if you would like.
– Let's continue on music. Some years ago you were going to put out: one, a new album, two, a sequel to "From Time To Time" with unreleased material, and three, "Best Of" compilation with three new song added. Are these projects abandoned now? If so, why?
"A Glimpse of Glory" is the new record. There will be no follow up to "From time to time" as I don't beleive that there is enough material of sufficient quality. Essential Records will release the "Anthology" in January. God willing, I will also have a totally new record next year called "Running Blind"!
– You do play on both, keyboards and guitar. What instrument you like the most?
I don't play guitar and keyboards as much as I USE them! To me, they are tools that I use to write music as I consider that to be my gift! Therefore I have no favourite, when I am composing, some songs work best with guitar and others work best with keyboards.
– As a keyboard player, would you dare to stand in line with Rick Wakeman, Keith Emerson and Jon Lord?
I have never learned to read or write music so I am not a virtuoso musician like the others you mentioned. I am completely unable to play like them because I never learned classical music, I just developed my own crazy style!! Of course, they probably can't play like me either (and, most likely, they wouldn't want to!)
– You played in THE GODS – unique, as it seems, band that started off the careers of many famous musicians: Mick Taylor joined THE ROLLING STONES, Greg Lake at first was in KING CRIMSON and, later, in ELP, John Glascock was in JETHRO TULL. What memories you have of this band?
THE GODS was my first professional band and I learned a lot during that time. It was very cool playing with so many great musicians as it helped me to learn.
– In TOE FAT you played blues which you seemed to avoid afterwards. Was that an interesting period of your life?
TOE FAT was an interesting time and, again, it was a learning time for me.
– I assume, you have something to say on the British blues scene of the Sixties that you were a part of.
I don't really think of myself as part of the British blues scene although my early career did run parallel to it. It was a very exciting time for me and for the British music scene as a whole.
– Was it then when you got to know Peter Green you paid a homage to on the "Rattlesnake Guitar" tribute album?

I actually never knew Peter Green but I do respect his early work very much.
– For that album you had chosen Robert Johnson's "Hellhound On My Trail". Why? Are you haunted by the storming past?

No, I don't feel haunted by anything! That song was chosen for me and, to be honest, it wasn't a high point in my career!
– Not so much is known about your WEED and HEAD MACHINE projects. Could you shed a light on this subject? How you managed to be so prolific to find a time to work outside URIAH HEEP?
On both "Weed" and "Head Machine" I was paid to write songs for a specific project and then I ended up playing on them also. It was like a job and I had no idea they would still be around!
– It's well-known that your arrival in URIAH HEEP served the band good. But what did you feel at the moment? Was the band already called URIAH HEEP then or was it still SPICE?

Actually, I didn't "join" URIAH HEEP, I joined SPICE and, when we saw where it was going, it was decided to give it a new name and a new start!
– Mick Box says that URIAH HEEP was always thought of as the band of his. But so many fans used to think of it as of lead by you and they don't like the material recorded by the band after you left. In your opinion, who was the leader?
To me, a band is not one person. David [Byron] was the leader on stage, I wrote most of the songs and, well, I am not going ot get into an argument with Mick. He is too good of a person and I think you may be misquoting him.
– You think HEEP was a progressive or hard rock band?
Probably hard rock but progressive in that we weren't prevented to experiment. Perhaps "experimental hard rock" would be a good term!
– Have you ever thought that a song as simple as "Easy Livin'" would be so popular?

All of our most successful songs were simple, straightforward and understandable. I still don't know what makes one song a hit and not another!
– How many songs you sang in URIAH HEEP? How did you decide on who would sing a certain song?
I sang lead on three or four songs and the decision was made at the time we were recording. Not for any particular reason that I can remember.
– When you did "Lady In Black" did you expect it to be the HEEP's trademark?
"Lady in Black" is a HEEP trademark in some countries but not all countries. It is a simple song with a chorus that everyone can sing so I am not surprised that it is so popular!
– Was "Salisbury" inspired by the DEEP PURPLE's "Concerto For Group And Orchestra"? Was it interesting to work with an orchestra?
Yes, "Salisbury" was partly inspired by "Concerto for group and orchestra". It was both exciting and frustrating to work with an orchestral group.
– There were two versions of "Rain" released – on the URIAH HEEP's "The Magician's Birthday" album of 1972 and on your "Proud Words On A Dusty Shelf" from 1973. Weren't you satisfied with the band's variant?
Not at all. I loved the way that David interpreted this song! I just wanted to see how it worked when approached differently.
– In adverse it was with "The Name Of The Game". Both versions, by HEEP and by you, were released just recently. Why they weren't out in 1976?
When we were making vinyl records we had a lot of time limitations for each record so songs were left off for a number of reasons. Now, with CDs, much more music can be included.
– Whose idea it was to audition David Coverdale in 1976, once Byron was fired?
Everyone's. It seemed like a good idea then but, as I look back on it, it was pretty stupid!
– Were you in touch with David after he left?
David and I had some contact but not much.
– Is it true that in 1973, when FREE broke up, you planned to record an album with their guiarist Paul Kossoff?
No.
– You jammed and had recorded some demos with Boz Burrell, Simon Kirke and Mick Ralphs of BAD COMPANY. So what about their great singer Paul Rodgers?
BAD COMPANY did some development for one of their albums in my studio and so Mick, Simon and Boz agreed to play on some of mys songs. Of course, as I was singing, Paul was not involved but, if I could choose any voice, it would be his!
– You worked with the most melodic bass players in rock, Gary Thain and John Wetton. Could you compare their styles? What they were like as persons?
This is not an easy question as Gary and John were very different as players and as people. Gary was a very "lyrical" and melodic bass player whereas John was solid and sometimes experimental. As people they were very different… as we all are!
– While choosing in 1980 a new singer for HEEP you wanted Peter Goalby in while others insisted on John Sloman. Wasn't that choice one of the reason for you leaving the band?
Yes.
– And you still think Sloman was the wrong one for URIAH HEEP?
Yes.
– Some words, please, on your friend and co-writer for HEEP Jack Williams.
Jack is working as a cook on an Alskan cruise ship. He still writes and I do hear from him occasionally.
– Many artists wanted to successfully go solo but they couldn't. You, undoubtedly, could but didn't want. Why?!
To be perfectly honest, when I left HEEP I didn't know what I wanted! It took me a long time to adjust to life away from the band and the only thing I knew was that I didn't want to repeat my mistakes!
– The brass arrangements on your 1975's "Eager To Please" make me think you were into black music at the time, maybe into Tamla Motown stuff. Was it so?
No.
– It's very rarely that the title track is left off the album. Why this happened to the good song "Free Spirit" that wasn't included in the eponymous record of 1982?
I do that a lot. In fact the title track for the new record "A Glimpse of Glory" will appear on the next record which is called "Running Blind"! I can't explain it but it's just "one of those things"!
– Liner notes to some of your CDs say you played with Ozzy Osbourne. So the question is: when you worked together and was the result released?
I never played in Ozzy's band. We played a lot of festival shows together and my company did supply Ozzy's bass players with equipment.
– Once you said something like "…Ken Hensley's name on the DIO album". Was it said rhetorically or you really played with Ronnie?

Again, this was an equipment relationship.
– Having recorded with CINDERELLA and W.A.S.P. had you felt how respected you are by the new generation of musicians?
No.
– And the last one. For many years you tried to avoid fame. Do you feel flattered when, having played some notes for a record, you see it labelled: "Featuring Ken Hensley"?

I did the stardom thing and I am thankful to God that I survived it! I would never want to go back to that way of life and I don't seek flattery in any context. It is always encouraging and kind when people say nice things about my work but I know that it is not me that did it then and it is not me that is doing it now. It is God living in me and for that I will always be grateful.
God bless you Dmitry and my love and thanks to all who read this.
Originally published: DME – LET IT ROCK