Box Set Universal Music Italia s.r.l. – 0602527121765 /2009/
Album Portable Madness vyšlo v roce 1974 a je druhým oficiálně vydaným nosičem skupiny Sensations' Fix. Od debutu Fragments of Light ho dělí sotva pár měsíců, ale je po všech stránkách vyzrálejší, dokonalejší a jenom potvrdilo jedinečné postavení Sensations' Fix na italské rockové scéně…
Vznik skupiny se datuje do roku 1973 a od svých začátků působila jako trio v sestavě Franco Falsini (kytara, klávesy), Richard Ursillo (basová kytara) a Keith Edwards (bicí). Její zakladatel a leader Franco Falsini se shlédl v experimentálním psychedelickém rocku a začal komponovat hudbu, která se dala jen těžko nějak pojmenovat a zařadit. V tehdejší Itálii takhle nikdo jinej nehrál a hudební publicisté si se skupinou nevěděli rady, protože ze zástupu ostatních čouhala, jak vidle ze záhonu. Pro jistou podobu s tvorbou německých kapel typu Can, Ash Ra Tempel, Tangerine Dream, nebo Amon Düül II si tak někteří ulehčili práci s vymýšlením nové škatule a produkci skupiny vlepili pod poněkud zavádějící termín krautrock. Zní to divně, ale nejde o nic tak úplně výjimečného. Třeba skupinu Supersister řadili někteří novináři ke Canterbury aj přes to, že byla z Holandska.
Na debutovém albu Fragments of Light se dá zaslechnout ještě něco málo vokálů, ale z Portable Madness nedostanete ani slovo. Hotová Němá barikáda. Devět skladeb, 36 minut dokonale sugestivního, psychedelického rocku a s nějakými předěly, nebo mezerami nepočítejte, protože to hraje na jeden zátah. Jako kdyby jste zakopli o bludnej kořen a prožívali nekonečnou hudební smyčku, u které nepoznáte kde začíná, ani kde končí. Všechny skladby si to šinou v podobném, hypnoticky monotónním tempu udávaném baskytarou a temným tlukotem nezvykle sejmutých bicích. Základem kompozic jsou klávesové plochy, do kterých Falsini velice zručně vyšívá atraktivní obrazce a podprahově chytlavé melodické linky. Jeho arzenál je relativně skromnej a podle potřeby střídá analogové syntezátory, nebo kytarová sóla se zvláštním, rozostřeným zvukem. Angličtina pro něj má takovej pěknej výraz, fuzzy, ale jak to mám nazvat po našem? Nejasný, neostrý, mlhavý? Prostě tak…
Jednotlivé skladby jsou si podobné jak vejce vejci a jisté motivy, nebo melodické linky se v nich opakují. Je těžké některou z nich vypíchnout a tak není divu, že v té době kapele nevyšel jedinej singl. Faktem je, že velké desky Sensations' Fix sekali jednu za druhou (během roku 1974 jim vyšly hned tři), ale malou do jukeboxu nemají žádnou. A to tenkrát opravdu frčely. Z první strany desky bych zmínil aspoň stav beztíže vyvolávající pecku Phase One And Phase Two a hned se ptám, nepřipomíná vám ten název něco? Třeba  Porcupine Tree a jejich Voyage 34? Z druhé strany desky trochu vyčnívá skladba Pasty Day Resistance, ale ono je to fakticky jedno. Pokud z tohoto sevřeného celku vytáhnu jeden dílek, tak se celej ten zbytek zboří, jak domeček z karet.
Původní alba Sensations' Fix vydával Polydor v docela vysokejch číslech a tak jsou ještě dneska sehnatelná za celkem rozumnou cenu. S reedicemi to byla dlouhá léta bída a až teprve v roce 2019 se objevilo LP, vylisované ve spolupráci firem btf.it a Polydor. S cédéčky je to špatné furt a na stránkách discogs se dá dohledat jen kopie pirátské značky Tachika Records. Moje CD edice je součástí box setu Progressive Italia Gli Anni '70 Vol. 1 z roku 2009, který kromě Sensations' Fix obsahuje ještě alba skupin Jumbo, De De Lind, Il Balletto di Bronzo a Latte e Miele. Jak tak koukám, jeho cena utěšeně roste a (nejen proto) jsem rád, že ho mám.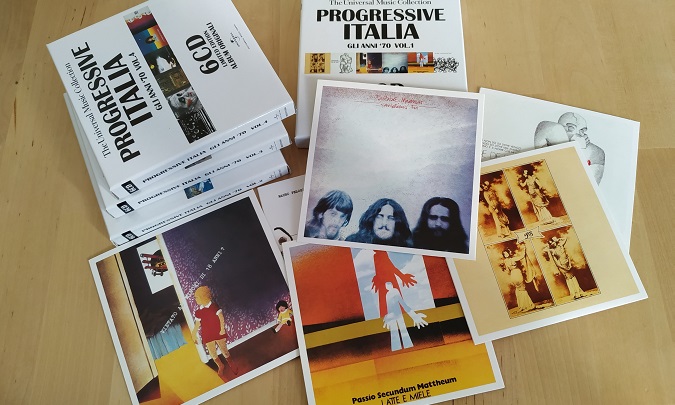 Album Fragments of Light jsem ohodnotil trojkou, ovšem tohle je lepší. Předcházející dvě díla byla spíš sólovými projekty Franca Falsiniho a až teprve tady se do komponování, i nahrávání zapojila celá kapela. Ono je to taky hned znát, protože rytmika dělá divy a navíc to i slyšitelně lépe hraje. Tož za čtyři.
SKLADBY:
1. Smooth And Round – 3:11
2. Fullglast – 3:57
3. Phase One And Phase Two – 5:20
4. Underwater – 4:25
5. The Next Place Of Nobody – 2:01
6. Pasty Day Resistance – 5:25
7. Leave My Chemistry Alone – 4:27
8. Strange About The Hands – 4:35
9. With Relative Jump Into Water – 1:50
SESTAVA:
Franco Falsini – guitars, keyboards, synthesizers
Richard Ursillo – bass, effects (devices)
Keith Edwards – drums, vibraphone 

Portable Madness
Sensations' Fix
Psychedelic Rock, Space Rock, Prog Rock
Polydor
1974
LP
9
Box Set Universal Music Italia s.r.l. – 0602527121765 /2009/