1. Úvod
Vianočný Štedrý večer je podľa biblického významu predvečer narodenia Ježiša Krista. Je to koniec adventu a polnočnou omšou sa začína sláviť Božie narodenie. V dnešnej dobe je to zároveň neodmysliteľný vianočný deň, kedy si ľudia odovzdávajú darčeky pod vianočným stromčekom a robia si navzájom radosť. Je to deň pokoja, kedy si všetci pripomíname dobročinnosť a radi obdarúvame aj neznámych. Nálada štedrovečerného dňa je výnimočná a žiadny iný deň nemá takú slávnostnú atmosféru. Radi si aj pripomíname príbehy a osudy ľudí, ktorí na Štedrý večer dospejú k poznaniu, že ich činy neboli vždy dobré a chcú ich napraviť. Deje sa to v reálnom živote, alebo sprostredkovane v médiách. Nie je tomu inak ani v hudobnom svete. K Vianociam neodmysliteľne patria vianočné piesne, vianočné koledy a každoročne sa k nim vraciame. Dnes chcem pripomenúť vianočnú rockovú trilógiu, ktorá už má niekoľko rokov, ale myslím si, že nie všetci ju poznajú. Všetko sa začalo ešte v minulom storočí, keď americká skupina Savatage zhudobnila občiansku vojnu v bývalej Juhoslávii. Starý violončelista v meste Sarajevo chodil dennodenne hrať do vojnou poškodeného kostola napriek ostreľovačom, čo strieľali nevinných ľudí na ulici. Hral každý večer, ale jeden večer sa odmlčal.

2. Savatage a Trans-Siberian Orchestra


2a. Savatage
V roku 1979 v americkom meste Tarpon Springs na Floride bratia Jon a Criss Oliva zakladajú heavy metalovú skupinu Avatar. Po zistení, že už taká skupina existuje, premenujú ju na Savatage (1983). Skupina Savatage vydala 11 štúdiových albumov, dve živé nahrávky a niekoľko kompilácií. Medzi ich najlepší album sa radí Fight for the Rock (1986). V roku 1987 kapela dostala nového producenta Paula O'Neilla. Bol to aktívny muzikant, gitarista a ako producent pracoval na Broadwayi (muzikály Hair, Jesus Christ Superstar). Jeho prínosom bol zvuk skupiny zameraný na symfonické efektné spracovanie nahrávok, pridali klávesy. Producent prináša do skupiny aj hudobný kontrapunkt, viacvrstvové harmónie so základnou hudobnou melódiou. Zvuk skupiny sa tým pádom stáva zaujímavejší a hutnejší.
V roku 1991 kapela vydáva album Streets: A Rock Opera. Je to ucelené koncepčné dielo, rocková opera. Vychádzajú ďalšie dva albumy, ale po vydaní siedmej štúdiovky Edge Of Thorns mal Chriss Oliva autonehodu (1993) a zomrel. Po bratovej smrti sa Jon a Paul O'Neill (23.2.1956 – 5.4.2017) rozhodli pokračovať na pamiatku Chrisa Olivu a vydali ďalšie štyri albumy Savatage. Rok 1995 je dôležitý pre ich projekt Trans-Siberian Orchestra. V tom roku vydávajú symfonicko/metalový album Dead Winter Dead. Je to koncepčné dielo o vojne v Sarajeve. Úspech skladby Sarajevo, Christmas Eve 12/24 je základom pre vznik TSO. V roku 2002 Savatage ukončili svoju činnosť, ale v roku 2014 ju obnovili a vystúpili na nemeckom festivale Wacken Open Air (2015).

2b. Trans-Siberian Orchestra
Trans-Siberian Orchestra vznikol ako spojenie hudobníkov na projekte, ktorý nebol obmedzený žiadnymi hudobnými mantinelmi a spájal rockovú, klasickú, muzikálovú formu hudobného umenia. Nebolo to zoskupenie stálych hudobníkov, skôr občasný projekt. V roku 1996 v New Yorku skupinu založil skladateľ a producent Paul O'Neill, klávesista Robert Kinkel a spevák Savatage Jon Oliva. Paul O'Neill bol veľmi všestranný človek a v projekte TSO sa snažil skĺbiť rock, brodwayský muzikál, klasickú hudbu a nechcel byť ničím obmedzovaný. TSO sa zaoberal rockovo-muzikálovými projektami, ktoré obsahovali vianočné piesňe a úpravy skladieb klasických autorov. Skupina vydala doteraz 6 albumov, posledný v roku 2015. Na základe vianočnej skladby Sarajevo autorský trojlístok vytvoril Vianočnú trilógiu. Tran-Siberian Orchestra vydali aj prerábku klasického autora Beethoven's Last Night (2000, zlatá doska) album Night Castle (2009) a Letters from the Labyrinth (2015).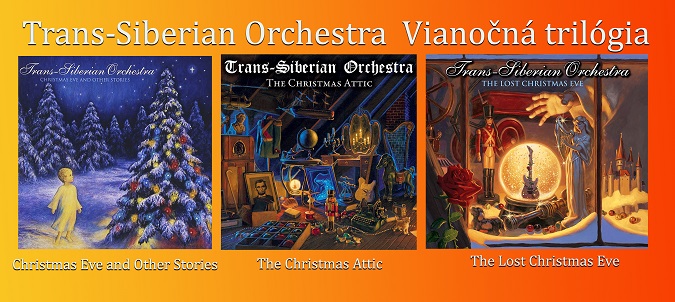 3. Trilógia
1996 – Christmas Eve and Other Stories (2x platina)
1998 – The Christmas Attic (platina)
2004 – The Lost Christmas Eve (platina)
Čítal som mnoho ohlasov a hodnotení trilógie, alebo jednotlivých albumov. Chcel som zistiť názor ľudí, ktorí to počuli, alebo videli predstavenie na Brodwayi a po amerických mestách. Povedal by som, že je to tak pol na pol. Niekto vraví o slabej a gýčovitej zápletke a deji, niekomu vadí silný náboženský odkaz, niekomu málo vianočnej muziky a tak ďalej a ďalej. Druhá strana dielo obdivuje a prijíma s nadšením, páčia sa im prerábky klasickej hudby, silná emotívna zápletka s prekrásnym a dobrým koncom. Veď vianočná atmosféra nemôže byť pokazená zlým príbehom. Nikto od rockovej skupiny nemôže čakať len peknú a jemnú hudbu. Sú tam aj scény o napätí, dramaticky a dynamicky posúvajúce dejovú líniu dopredu. V koncertnej skupine je množstvo umelcov a scéna je naozaj výpravná a efektná. Každoročne na Vianoce Trans-Siberian Orchestra koncertujú so svojimi vianočnými operami. Tento rok má ich prvý vianočný príbeh 25 rokov. The Lost Chrismas Eve je najúspešnejším albumom TSO, získal platinovú dosku a je v prvej dvadsiatke najviac predávaných albumov s Vianočnou tematikou.
4. Stručný obsah – dej
Boh sa rozhodol vyslať na Zem anjela, aby našiel človeka, ktorý by mohol pokračovať v šľapajach Ježiša Krista, jeho syna, v začatom konaní, ktoré bolo prerušené Ježišovým ukrižovaním. Rocková opera začína padajúcou snehovou vločkou, ktorá padá na Zem. Anjel, ktorý je vyslaný na Zem, najprv chce ísť do Ríma (všetky cesty vedú do Ríma), ale rozhodne sa pre New York. Samozrejme, hneď ho napadá aj konkrétne miesto – Wall Street. Je neskoré poobedie Štedrého večera neznámeho roku. Väčšina ľudí už je doma, alebo skončili prácu a chystajú sa na vianočný Štedrý večer. Rušný život v New Yorku pomaly utícha. Je to krásny večer, sneh ticho padá a príjemná sviatočná atmosféra sa vznáša nad stále prázdnejšími ulicami.
V jednej kancelárii na 58. poschodí sa svieti a za stolom sedí obchodník, ktorý pracuje a vôbec ho Štedrý večer nezaujíma, je mu totálne ukradnutý. Namosúreným hlasom zavolá sekretárku, ale tá mu neodpovedá, je už dávno preč, lebo je Štedrý večer a ona chce tento deň oslavovať so svojou rodinou. Chlap sa zdvihne od stola a vidí úplne prázdne kancelárske priestory a pre seba opovržlivo zamrmle: "Vianoce". Oblečie si kabát a vyjde na ulicu, je prázdna, vyľudnená a taxíky nevidí. Pochopí, že musí ísť peši a tak sa namosúrene vydá na cestu domov na Park Avenue.
V tej istej chvíli prilieta na Zem anjel vyslaný Bohom. Vznáša sa nad New Yorkom a pristane na rímse starého Grand hotela. Na dverách svieti tabuľka s nápisom "Voľné izby" a anjel si uvedomuje, že je to mesto rôznych ľudí, rôznych rás, vierovyznaní, rôzneho veku. Začína si všímať dianie pod sebou a chce si vybrať človeka, ako mu prikázal Boh. Vidí mladíka, ktorý sa rozpráva s deťmi, potom ponavštevuje rôzne miesta, kostol, Grand hotel, tanečnú sálu a mnoho iných lokalít. Vidí veľa ľudí, ale nikoho si nevyberie. Vidí ľuďom hlboko do duší, vie ich osudy, bolesti a trápenia. Anjel má možnosť urobiť na Štedrý večer ľudí šťastnejšími a aj to veľmi rád robí. Všetkým, ktorých uvidí, dá svoj štedrovečerný darček v podobe rozžiareného úsmevu a dobrej nálady. Len jeden muž ostáva namosúrený a nahnevaný. Je to nám už známy obchodník z Wall Street z kancelárie na 58. poschodí. Teraz sedí v reštaurácii, popíja a čím sú ľudia anjelovým pričinením spokojnejší, šťastnejší a veselší, on je naopak smutnejší a viac a viac nadáva. Nechce sa už na zabávajúcich ľudí pozerať. Zdvihne sa a odchádza s nadávkami preč. Anjel si spočiatku nevšimol obchodníkov odchod. Uvedomil si, že ho nemôže nechať len tak a vydal sa za ním. V snehu je hlboká krvavá stopa, ale môže ju vidieť iba anjel, žiaden človek ju nevidí. Je to stopa, ktorú zanechala obchodníkova duša, ťažko ranená a krvácajúca. Kedysi dávno, pred štyridsiatimi rokmi bol ženatý a mal krásnu ženu. Čakali dieťatko a boli veľmi šťastní. Pri pôrode sa stalo nešťastie a žena vykrvácala, zomrela. Synček, ktorý sa narodil, bol dlho bez kyslíka a lekári mu predpovedali, že bude telesne aj mentálne postihnutý. Nikdy nebude chodiť. Muž držiac svojho práve narodeného syna v náručí ho okamžite odmietol a sestričke v pôrodnici povedal, že ho nechce a nech ho dá do ústavu. Štyridsať rokov sa vôbec nezaujímal o syna a ani nevie či jeho syn ešte žije.

Keď anjel videl mužovo trápenie a nešťastie, ktoré ho dávno postihlo, dotkol sa ho rukou. Muž to necítil, bol to anjelský dotyk na rameno. Muž kráčal večernou zasneženou ulicou a zbadal pred výkladom hračkárskeho obchodu malé dievčatko. Pozeralo na krútiaci sa kolotoč vo výklade. Prichádzal bližšie a v tej chvíli dievčatko odstúpilo radostne od výkladu a skoro zhodilo kráčajúceho obchodníka na chodník zaviaty snehom. Muž niečo namosúrene povedal a dievčatko sa začalo ospravedlňovať. Muž bol stále nahnevaný. Ospravedlnenie nepomohlo a päťročné dievčatko v ruskom kabátiku mu pripomenulo, že je Štedrý večer a spýtalo sa či má deti. Muž namosúrene odpovedal: "Nie!" Dievčatku pripomenul, že by sa malo vrátiť k svojim rodičom a nemalo by byť v neskorú večernú hodinu vonku samé. Zvony začali odbíjať polnoc a malé dievča poslúchlo a odcupitalo do blízkeho hotela, kde rodičia bývali. Muž ju sledoval a dohliadol na ňu, aby bola v bezpečí za dverami hotela. Nevedel si vysvetliť strach a starostlivosť o malé dievčatko. Prečo sa zrazu bál o dievča, ktoré vôbec nepoznal a chcel, aby bola so svojimi rodičmi? Myšlienky mu blúdili hlavou a prvýkrát si spomenul na svojho malého synčeka, ktorého opustil pred štyridsiatimi rokmi. Zodvihol svoj mobil a zavolal do ústavu kde ho zanechal. Dostal informáciu, že jeho syn žije, naučil sa chodiť, a hoci nerozpráva, ľudskej reči rozumie. Už v ústave nežije, ale dostal jeho novú adresu, penzión v Bronxe. Taxíkom sa odviezol do penziónu. Na recepcii sa pýtal na svojho syna a chcel vedieť, kde býva. Syn sa ešte stále nevrátil z práce. Pracuje vo vedľajšej nemocnici a stará sa o malé deti.
Muž utekal do nemocnice. Sestrička mu ukázala miestnosť, kde syn pracoval. Bolo tam veľa inkubátorov, v ktorých boli predčasne narodené deti. Povedala, že jeho syn tam chodí dlhé roky, každý deň a nezáleži či je sviatok, alebo piatok, nikdy si nezobral ani deň voľna. V prítmí slabo osvetlenej miestnosti zrazu uvidel chlapa, ktorý sa na neho podobal. V ruke držal maličké dieťa a tíšil ho, aby neplakalo. Muž podišiel bližšie k synovi a zrazu uvidel na parapetnej doske pod oknom starú fotografiu, keď mal dvadsať rokov. Na fotografii bol on a jeho manželka. Papier už bol ošúchaný a zožltnutý. Bolo vidieť, že ho veľakrát syn držal v rukách. Bol tam aj nápis: "Veci po zosnulej". V tej chvíli sa mužovi zrútil svet. Ako ho prijme jeho syn, na ktorého zanevrel a 40 rokov nemyslel a nestaral sa. Syn zdvihol hlavu, potom sa pozrel na zažltnutú fotografiu a na tvári sa mu zjavil úsmev. Bol to úsmev radosti, odpustil otcovi všetky krivdy, ktoré mu spôsobil a bolo v jeho pohľade cítiť čistú lásku. Otec sa pohol k synovi, ale otočil sa a prešiel celú miestnosť. Zobral do náručia plačúce dieťatko z inkubátora a prišiel k synovi. Sadol si na hojdacie kreslo a celý zvyšok Štedrého večera spoločne hojdali malé dieťatká v náručí.

Na druhý deň sa chcel muž poďakovať malej dievčinke z hotela blízko hračkárskeho obchodu. Vošiel do hotela a na recepcii sa pýtal na rodinu s malým dievčatkom bývajúcich na 12. poschodí, izba číslo 24, ako mu povedalo dievča pred výkladom. Recepčný sa udivene zatváril a povedal, že hotel má iba sedem poschodí a nikto taký tam nebýva. Muž sa vrátil k autu pred hotelom. Otvoril dvere a pred udiveným synom vysypal obsah kufríka na ulicu a povedal, že končí s kariérou obchodníka. Bude pracovať spoločne so synom v nemocnici a starať sa o predčasne narodené deti. Syn nadšene prikývol a pri tom zhodil svoju tašku. Obsah sa vysypal a zjavila sa fotografia, ktorú otec už videl. Poď ňou však bola ešte jedna, čiernobiela. Na fotografii bolo malé dievčatko s ruským kabátikom a otec pochopil, že to je jeho manželka, matka jeho syna, keď mala iba 5 rokov. Príbeh končí zanedlho a otec so synom spoločne bývajú v otcovom byte na Park Avenue a chodia opatrovať predčasne narodené deti do nemocnice.
Anjel odlieta k Bohovi a chce mu povedať meno človeka, ktorého vybral na pokračovanie práce Božieho syna na zemi. Chce povedať meno opusteného syna, ktorého našiel jeho otec na Štedrý večer. Zháči sa a meno nepovie, lebo mu preblesknú hlavou všetci tí ľudia, ktorých už predtým videl a chcel ich vybrať. Pochopí, že dobro a pokračovanie práce Božieho syna môže urobiť ktokoľvek na Zemi, hocikto a hocikedy, ak sa bude riadiť Božími slovami :"Všetko, čo chcete, aby ľudia robili vám, robte aj vy im."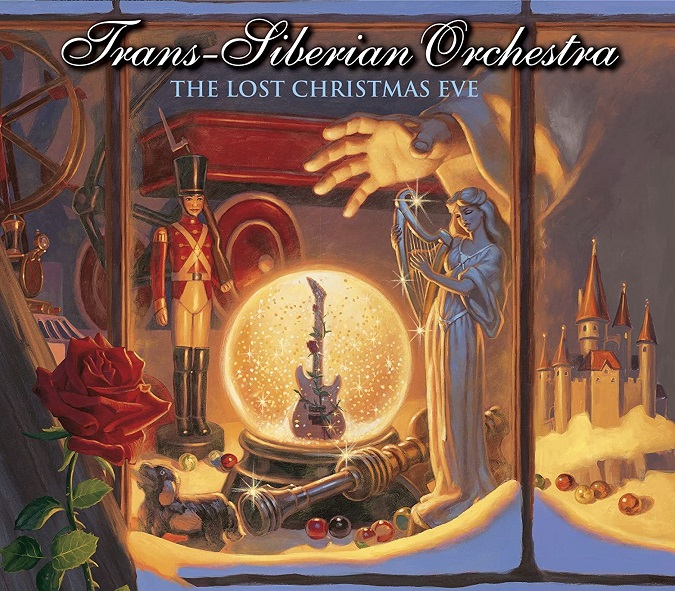 Trans-Siberian Orchestra – The Lost Christmas Eve (2004)
Texty piesní sú voľne spracované podľa poviedky Paula O'Neilla.
1. Faith Noel
(Paul O'Neill/Robert Kinkel) 4:32
Inštrumentálny úvod, pár taktov motívu piesne O Come All Ye Faithful. Klavírny doprovod naberá silu. Rytmus sa zrýchľuje a majestátny gitarový úvod s celou kapelou. Veľa z hraných melódií mi pripomína iné melódie, ale neviem definovať ktoré, tak budem veriť autorovi, že to zložil sám. Na albume je viacero už predtým použitých hudobných motívov, nemá význam ich definovať, hlavný záujem mám na celkovej atmosfére tretej časti trilógie.

2. The Lost Christmas Eve
(Paul O'Neill/Al Pitrelli) 5:33
Stratený vianočný večer začína vo Faith Noel. Celá rocková vianočná epopej má hlboký text, ktorý rozpráva o strate a nájdení. Je to mysteriózny text, vcelku celkom reálny, ktorý sa strieda s inštrumentálkami. Na pochopenie celého diela je zrejme nutné prečítať si poviedku. Skladba je melodická. Akustická gitara svojim prirodzeným zvukom odkrýva známu atmosféru vianočného večerného pokoja. Možno vonku na ulici ticho padá sneh a dieťa čaká na krásne darčeky. Atmosféru začnú rušiť nepríjemné dramatické zvraty. Dieťatko vraví o Vianociach, ale zvuk sa stráca v šepote a spevák spieva úvodný text, ktorý siahodlho opisuje večernú atmosféru New Yorku. Pieseň končí s textom o možnej nemožnosti, že nájdeš aj to, čo si si myslel, že už je dávno stratené. Struny akustickej gitary z úvodu ukončia pieseň.
3. Christmas Dreams
(Paul O'Neill/Robert Kinkel) 3:54
Sólový klavír so spevom. Rocková gitara pridáva hutnú podporu s basou a bicími. Pomalý začiatok sa rozbieha do rockovej šľapačky. Klavírne akcenty zvýrazňujú rytmus. Spev je razantný a cítim tam dravosť. Klávesy sa pridávajú, je to skladba z roku 2004. Vtedy už neboli v móde čudné digitálne zvuky vytvárané všemožnými zázračnými krabičkami. Spev mi niekedy pripomína Fisha z Marillion. (sólový projekt Vigil in a Wilderness of Mirror, 1990). Myslím, že má podobné frázovanie a hudobne je na tej istej vlne. Vianočné sny sú doteraz najlepšou skladbou z albumu. Kapela si ma získava a začína sa mi páčiť ako hrá. Prvé dve skladby som vnímal ako niečo nejasné a nerozhodné. Tu je to teraz dobré a nemám výhrady. Pekná a vydarená skladba. Páči sa mi myšlienka v texte: každá nádej stojí za záchranu.

4. Wizzard In Winter
(Paul O'Neill/Robert Kinkel) 3:05
Orchester sa ukazuje v plnej sile. Akoby sa šibnutím zázračného prútika všetci prebrali a ťahajú sláky v jednom dychu. Zimný čarodejník si brúsil zuby dostatočne dlho a je to vidieť. Klavír zahrá "prvé husle" a kapela drieme v rytmickom nádychu. Ak by na ľade tancovali víly, nestačili by robiť piruety, lebo rytmus je rýchly. Ak by Američania vedeli hrať "čardáš", tak by to teraz tak nazvali. Rýchlovka v optimistickom a radostnom duchu. Namiesto našich víl teraz tancovali čarodejníci a urobili to veľmi dobre.
5. Remember
(Paul O'Neill/Robert Kinkel) 3:25
Kinkelova "Pamätovačka" uzatvára jeho trojpieseň v The Lost Christmas Eve. Spevácky klasický zbor, ktorý nás znovu vracia do vianočnej atmosféry. Ak sa započúvate do hlasov, je to krásna koláž a naozaj je spev dojímavý a citlivý. Len klavír s rytmičákom v doprovode a pieseň končí s pocitom "a padá sneh, padá sneh, padá sneh…" Anjel si nevie vybrať nikoho z tých čo videl.

6. Anno Domine
(Paul O'Neill) 2:13
Znovu spevácky zbor, kompletný, spievajú aj muži. Klavírny doprovod. Všetci ľudia sú priatelia, všetci sa spolu radujú, všetky deti sú v bezpečí, všetko bude odpustené.
7. Christmas Concerto
(Paul O'Neill) 00:42
Táto kratučká skladbička v dychovom nástrojovom obsadení slúži ako dejový a hudobný predel. Nie je to nič svetoborné, možno niekto by našiel niečo zaujímavé, ale ja mám pocit, že v krátkosti je sila a tých 42 sekúnd je až až. V týchto momentoch anjel hľadá v chráme božom, v kostole, medzi veriacimi, ale ide ďalej a na ulici hrá dychové kvarteto, ktoré práve počúvame.
8. Queen Of The Winter Night
(Wolfgang Amadeus Mozart/Paul O'Neill) 3:11
Myslím si, že Wolfgang môže spokojne odpočívať a nemusí vstávať z hrobu. Rocková pecka v peknej úprave klasického diela nášho viedenského suseda. Slovenskí učitelia by asi takto spopularizovali klasickú hudbu u našej mládeže, ak by im to pustili. Nás kedysi inšpirovali ELP s obrázkami z výstavy a pamätám si to dodnes. Anjel strávi čas v hoteli, nazerá do hotelových izieb a prechádza tanečnou sálou.
9. Christmas Night in Blue
(Paul O'Neill/Al Pitrelli) 4:18
Klavírny pochod, úsmevná pieseň. Spevák ako "Joe Cocker", už ho vidím ako sa krúti pri mikrofóne a vrtí prstami. Alebo že by Kim Basinger z "9 a pol týždňa" s klobúkom (1986)? Vyberte si! Máte štyri minúty, potom ten klobúk skončí. Ako vidieť, ja už mám dávno jasno. Akosi som odbehol od "Vianočnej noci" o 9 a pol týždňa. Ešte že tu mám Trans-Siberian Orchestra, naskakujem na vlak a už som v obraze. Táto pieseň je barová vec. Tanečnice v modrom osvetlení a jamujúci klavirista s pohárom whisky na klavíri. Anjel všetkým rozjasní tvár a ponúkne im možnosť urobiť dobrú vec. A tých ľudí je neúrekom, nedá sa to ani vymenovať.
10. Christmas Jazz 2:16
Vianočný jazz bude skrývať dáke prekvapenie? Al Pitrelli to vie, majstrovstvo skryté v prstoch rúk. Inštrumentálka, pekná.
11. Christmas Jam
(Paul O'Neill) 3:47
Vianočný lekvár sa nepára. Hryzie a tvrdí muziku. Nezachránia to ani Oldfieldove "Tubullars bells", ktoré na svojom preslávenom diele použil len preto, že boli odstavené a nepoužívané v rohu štúdia. On to tým zvoncom parádne vynahradil. Týmto úžasným bigbítom aj Trans-Siberian Orchestra hrajú desne naplno ( a la Savatage). Mám dojem, že zatiaľ najlepšia vec z počutého.
12. Siberian Sleigh Ride (Paul O'Neill) 3:08
Sleigh Ride je tiež pecka, toto nie sú žiadne Vianoce, toto je bigbít. Znovu vec, ktorá sa mi páči od prvej sekundy. Skvelá medzihra v okolí jeden a pol minúty. Bubeník pritvrdzuje do kvíliacej sólujúcej gitary. Skončilo to rýchlejšie ako som chcel.
13. What Is Christmas?
(Paul O'Neill/John Oliva) 2:51
Čo sú Vianoce? Tiež rocková skladba, zabudnite na jemný a nenápadný začiatok, kto chce rock, nech dá play od tracku číslo 11. Niečo ako Meat Loaf, rocková kapela s orchestrom. V piesni sa dobrá nálada prenáša z človeka na človeka. Vianočný stromčekom je vždy len stromček, pod pozlátkom je iba reálny život, len tie Vianoce sa každý rok zbytočne opakujú. Hundre muž odchádzajúci preč.
14. For The Sake Of Our Brother
(Paul O'Neill/John Reading/Frederick Oakeley) 3:09
Pomalá náladová skladba vracajúca sa do vianočnej atmosféry. Spev, ktorý sme doteraz nepočuli. Vychádza ako zachrípnutý hlas, unavený a hľadajúci nádej, že bude dobre. Skladba je odlišná od predošlých, skladateľsky sa uplatnil F. Oakeley. Anjel sa vznáša nad krvavou stopou, ktorú zanechal muž v snehu a spomína si na dieťatko ležiace na slame v Betleheme.
15. The Wisdom Of Snow
(Robert Kinkel/John Oliva) 2:01
Klavírna skladba. Anjel sa dotýka mužovej ruky a chápe jeho bolesť. Kedysi to bol mladý úspešný muž, ktorého postihlo nešťastie. Iba klavír, nič viac. Dojímavé.
16. Wish Liszt (Toy Shop Madness)
(Franz Liszt/Paul O'Neill) 3:09
Inštrumentálka preberajúca motívy klasickeho skladateľa Franza Listza (Maďarská rapsódia číslo 2) v zrýchlenej rockovej podobe. Hlavný part hrá virtuózny klavír s prebíjajúcou sa rockovou gitarou. Inštrumentálne dobre zvládnuté. Nemám žiadne výhrady, dynamický song znovu vracia operu do nepokojných sfér. Skladba zobrazuje dej poviedky pred hračkárstvom.
17. Back To A Reason, Pt.2
(Paul O'Neill/John Oliva) 4:52
Dielo ponúka hudobný zvrat, pomalá skladba vyzýva k pokojnejšej atmosfére. Nástojčivý spev, text ťažký, prichádza chvíľa rozhodnutia. Všetko sa musí inak otočiť a zvrátiť. Pokojná atmosféra už je dávno odviata a zabudnutá, hlas sa rúti k finále. Skladba prevzatá z pôvodnej tvorby Savatage. Hračkárstvo, výklad, dievča skoro zhodí muža na zem. Ospravedlnenie, muž je stále nahnevaný. Náhle muž cíti strach o dievča. Zavolá do ústavu a pýta sa na svojho syna. Niekde v tme, za všetkým chladom je niekde dieťa, časť mojej duše! Nájdem Ťa.
18. Christmas Bells, Carousels & Time
(Paul O'Neill/John Oliva) 1:04
Krátko trvajúci inštrumentálny predel s posúvaním deja dopredu. Otázky sa mihajú hlavou. Ak ťa nájdem, čo Ti poviem a čo mi povieš, odpustíš mi?
19. What Child Is This?
(Paul O'Neill/Robert Kinkel) 5:57
Zlomová dejová skladba. Nájdené dieťa, syn. Zimomriavky vzbudzuje napínavý začiatok. Od prvých tónov všetky doterajšie počuté skladby schováva do vrecka úžasnou atmosférou. Tu sa nepremýšľa, tu človek vidí ten obraz, ktorý nikto vidieť nechce. Plačúce malé deti matiek, ktoré boli závislé od drog. Skoro šesť minút skvostne vystavanej melódie, od 2:53 nastáva hudobný výbuch. Ženský zbor krásne dopĺňa spev. Dŕžím palce. "Holding on, preboha." Kríčím. Asi najemotívnejšia skladba zo Strateného večera. Starý život skončil, je čas nového života. Kvôli tejto skladbe sa oplatí počuť Trans-Siberian Orchestra.
20. O' Come All Ye Faithful 1:26
Znovu prvé takty zo začiatku rockovej vianočnej opery. V akustickom prevedení. Slávnostná atmosféra doznieva, otec drží dieťatko v náručí pri svojom nájdenom synovi.
21. Christmas Canon Rock
(Paul O'Neill) 5:02
Rocková úprava klasickej skladby Canon in D od barokového skladateľa Johanna Pachelbela (1653-1706) z Norimbergu. Je to jediný kánon, ktorý zložil. Johann Pachelbel inšpiroval aj J. S. Bacha. Melodická hudba so zborovým spevom sa výborne hodí na umocnenie atmosféry, ktorá je slávnostná a dobrosrdečná. Ženský vokál dotvára atmosféru. Pekná skladba, citlivo a majstrovsky spracovaná. Dej sa posúva vpred. Anjel opúšťa Zem a predstupuje pred Pána a chce mu povedať meno človeka, ktorého vybral na pokračovanie diela Božieho syna.
22. Different Wings
(Paul O'Neill/Al Pitrelli) 2:44
Akustická gitara s precíteným spevom speváčky, blíži sa záver vianočného príbehu. Snívajte ďalej a verte v dobro. Snívajte a verte, že som nablízku. Príbeh Strateného večera končí presne tam, kde začal. Je skrytý v tajomstve ľudského srdca a každý ho môže nájsť ako bude chcieť, bez srdca sa nedá žiť.
P. S. 23. Midnight Clear 1:38
Záverečná pieseň, znovu v akustickom gitarovom prevedení. Je to skladba, ktorá núka zamyslenie nad životom, ktorí žijeme.
Šťastné a veselé Vianoce.
Záver
Celá trilógia je počúvateľná a o jej kvalitách hovorí fakt, že Trans-Siberian Orchestra každoročne na Vianoce robia predstavenia v USA, ktoré sa tešia veľkej obľube. Koncertné prevedenie je v americkom duchu, svetelná a divadelná show s množstvom efektov. Je to pastva pre oči. Vianočná hudba má špecifiká v tom, že ju asi nikto nebude počúvať v horúcom lete. Vždy príde na Vianoce čas, keď je príležitosť zastaviť sa a vypočuť si kúsok z ich tvorby. Na zozname umelcov a spevákov sú aj mená, ktoré hrávajú a spievajú na koncertoch. Nedá sa vymenovať všetkých, ani to nie je účelom tejto recenzie. Ak chcete, vyskúšajte niektorú časť a urobte si svoj názor, možno niekto z Vás bude inšpirovaný príbehmi, alebo sa mu bude páčiť hudba.

Speváci: Peter Shaw, Heather Gunn, Andrew Ross, Steena Hernandez, Erin Henry, Jay Pierce, Patti Russo, Tommy Farese, Bart Shatto, Jenifer Cella, Steve Broderick, Danielle Landherr, Alexa Goddard, Max Mann, Scout Ford, Bryan Hicks, Sir Russell Allen, Robin Bomeman, Dino Jelušič.
Gitaristi: Al Pitrelli, Chris Caffery, Alex Skolnick, Angus Clark, Joel Hoekstra, Tristan Avakian.
Basová gitara: Johnny Lee Middleton, David Z., Jeff Allegue.
Rytmická gitara: Paul O'Neill.
Bicie: Jeff Plate, John O. Reilly, Takanori Niida.
Horns: John Clark.
Klávesy: Al Pitrelli, Carmine Giglio, Mee Eun Kim.
Klavír: Jane Mangini, Jon Oliva, Robert Kinkel.
Co-Producer: Robert Kinkel.
Engineer: Dave Wittman.
Producer: Paul O'Neill.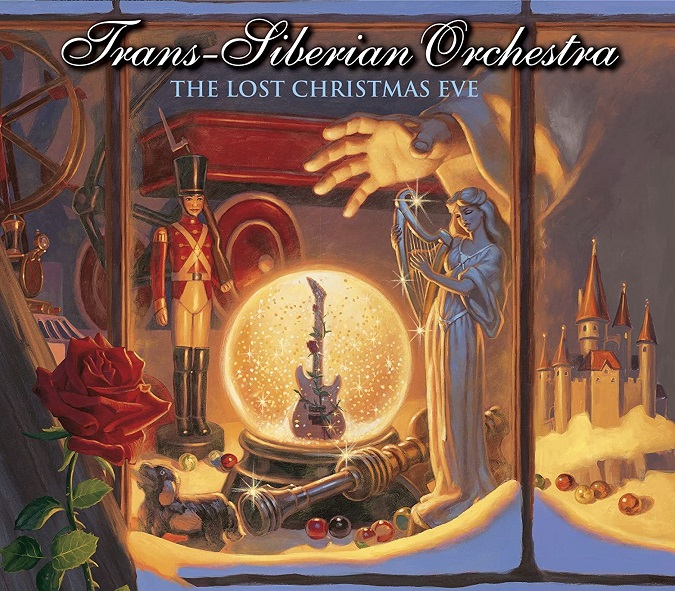 The Lost Christmas Eve
Trans-Siberian Orchestra
Symphonic Rock, Heavy Metal
Lava
2004
CD
23
CD Lava 93146 /2004/