Vzpomínám si, že album Manic Nirvana bylo jedním z prvních, které jsem zaregistroval po politickém převratu u nás, kdy se k nám po zvednutí závor najednou začaly hrnout nová alba. Robert Plant se svým sólovým projektem byl v té době nějak hodně čerstvý a tak jsem si mohl vychutnat jeho vlastní ambice. Popravdě řečeno, poměrně pečlivě jsem sledoval jeho sólovou tvorbu po rozpadu Led Zeppelin. Musím konstatovat, že ne všechna alba od bývalého zeppelinovského shoutera se mi líbila a zdála vyrovnaná, proto jsem k poslechu přistupoval poněkud opatrně, ale zvědavě zároveň. Tady jsou moje dojmy.
HURTING KIND (I'VE GOT MY EYES ON YOU) – Začátek se nese ve zkresleném kvílivým tónu elektrických kytar a pak se rozběhne strojová rytmika. Jsem trochu na rozpacích, nejsem si jistý, jestli Chris Blackwell hraje na klasické bicí nástroje, anebo tady máme co dělat s nějakým programováním, které se přelilo z osmdesátých let. Uvidíme, co se z toho vyklube dál. Hudba je energická v zeppelinovském duchu s výrazným riffem a pumpujícími rytmy. Trochu mám pocit, jakoby sem vstoupil hodně přetransformovaný rock and roll oblečen do moderního kabátku. Plant má stále energii a charisma, tak je schopen udržovat ve skladbě napětí a strhávat i k tanci. Jeho forsírovaný vokál zde nechybí a téma se strojově opakuje až do závěru.
BIG LOVE – Bicí jsou opravdu důrazně nazvučeny s důrazem na druhou dobu, ale nechybějí zde breaky a tak to nebude žádné pumpované techno. Nutno podotknout, že ani zde se Plant nemůže zbavit toho zeppelinovského odéru, který na něm hodně lidí miluje, ale já se přiznám, že čekám jiné postupy a něco nečekaného, nechci říct přímo diametrálně odlišného. Možná je tady ale také trochu kalkul, že pokud "jsem s Led Zeppelin dosáhl celosvětové slávy, lidé to ode mě v nějaké transformované podobě očekávají dál a tak se nebudu pouštět do neznámé krajiny…" Kytarista Doug Boyle sem vloží krátké syrové sólo, ale máme tu také sbory a trochu nádechu etnických prvků. Je zde atmosféra, ale stále jsem ve střehu, jestli se dále nebude tak trochu vařit ze stejné vody.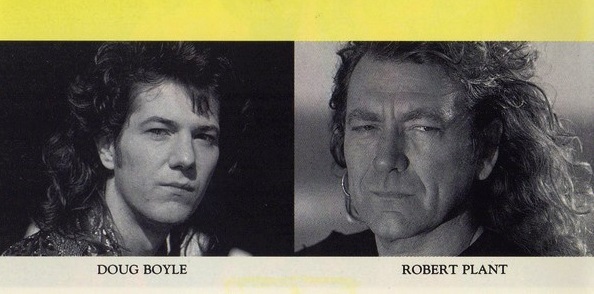 SSS AND Q – Kytarové téma jak od Tommyho Bolina, ale další postupy už mají nový bubenický model. Hraje se stručně, nekomplikovaně, ale úderně a přímočaře. Kompozičně se neděje nic závratného. Řekl bych tak trochu hardrockový kompromis sedmdesátých let s trendy let osmdesátých. Musím konstatovat, že nahrávka má skvělý zvuk, pumpování basů a kytarové spojovací můstky se dobře doplňují. Boyle v mezihře sólí svoje kytarové běhy v umírněných rovinách. Není to heavy metal, není to new wave, je to derivát moderního hardrocku, spoléhající na vyhladovělého zeppelinovského fanouška, který se ani po deseti letech nezvykl na rozpad Led Zeppelin a hledá nějakou náhražku. No nevím.
I CRIED – Konečně výraznější změna. Akustické kytary v úvodu rozbrnkávají základní téma a přidává se baskytara Charlieho Jonese. Sborové vokální party znějí skoro andělsky, jako duchovní zpověď. Omílají se tady základní akordické postupy, ale Plant dokáže vytvořit atmosféru podmanivé balady, tak mu odpustím i méně invence a mohu pochválit aranžmá. Vidím mávače se zapalovači, ale nechci být ironický. Zajímavé prolínání hlasů je trochu coverdaleovsko-osbourneovské. Do akustických partů vstoupí dravá elektrická kytara, možná zbytečně, mohlo zůstat u akustických kytar, aby to pročistilo téma. To poměrně věrně vyjadřuje plačtivé pocity, což deklaruje samotný název. Bloudivé tóny akustických kytar se prolínájí s elektronikou až do ztracena.
SHE SAID – Elektrické smyčce s kvílivou kytarou, opět ty zestručňující bicí a základní basové party. Ano, to je pozdrav z osmdesátých let. Výtečný zvuk, ale všechno je příliš zahuštěné a zestručněné. Zapomeňme na prokreslování pocitů standardně věrohodnými prostředky a využijme elektroniku, když se nám nabízí tolik možností. Přiznám se, že rytmiky už mám tak nějak dost. Elektrické smyčce vytvářejí atmosféru napětí, ale pro mě působí jaksi nevěrohodně. Plant je ovšem pořád interpretačně rozpoznatelný, ale v hudbě tohoto pojetí bych ho jako neinformovaný posluchač asi nehledal. Chybí mi tady blues, klasická balada a procítění bez elektronických berliček. Muzikanti samozřejmě hrát umějí a není zde žádný průměr, ale nevím, jestli tak trochu příliš nepodléhají tlaku doby. Některé postupy jakoby pocházely od Briana Ena(?!).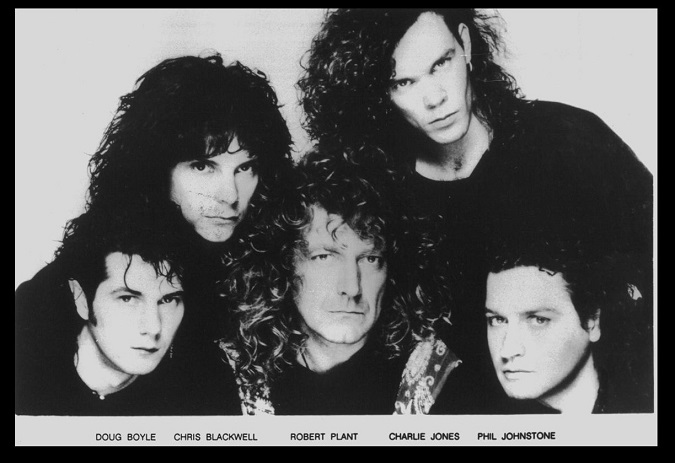 NIRVANA – Syrový kytarový nástup s hlučným bubenickým nástupem. Kytarové doprovody jsou v těch známých rychlých kmitech pravé ruky tak trochu ve znamení The Edge z U2. (Čekám, kdy se z toho vyklube In The Name Of Love). Baskytara tady ovšem vykazuje jistou vynalézavost a je protipólem. Zajímavé jsou vokálně namixované party, ale z bicích už jsem opravdu tak nějak otráven. Samozřejmě, že šlapou, ale takhle hraje spousta bubeníků a to činí album do jisté míry, bez přítomnosti Plantova zpěvu, hudebně anonymní . Ani tady se nesnaží moc nápadů bojovat o posluchače. Čarodějný závěr je nečekaný.
TIE DYE ON THE HIGHWAY – Tohle je klasický model stadionového rocku pozdních osmdesátých let. Gary Boyle, asi pod vlivem Jimmyho Page, vytváří další zeppelinovský derivát. V něčem ale musím přiznat, že se album přihlásilo k hudebnímu modelu alba Coverdale • Page (1993) už v r. 1990. Možná že odtud se tahaly postupy. Ale na druhé straně se tady tahají postupy od Led Zeppelin. Myslím, že průměrný znalec zeppelinovského materiálu mi dá za pravdu. Skladba ale drží kompaktně pohromadě, udržuje energii i napětí po celou dobu prezentace. Phil Johnstone možná mohl ubrat na těch elektrických smyčcích, obecně ale lze skladbu přivítat.
YOUR MA SAID YOU CRIED IN YOUR SLEEP LAST NIGHT – Trochu odlišný bubenický princip. Rytmika se valí klopotavě vpřed jako neomylně pracující stroj. Melodii zde nehledám, Plant si víceméně pohrává z motivem, do kterého se trefují ostatní instrumenty. Máme tady také ženské sbory. Rytmická proměna uprostřed skladby na okamžik vybočí, ale hned se zase vrací zpět. Charlie Jones sem implantoval téměř funkově znějící basy. Opakování zpívaného motivu je podmanivé, ale stejně strhující je rytmický proces. Tady se vkrádá do tématu trochu blues a soulu, především v pocitové rovině vyjádření. Plant zde také poprvé použije jeho standardní "oh yeah". Kytarový sjezd je příjemným vybočením a jsme u konce.
ANNIVERSARY – Zatěžkané "velké" téma. Elektrické smyčce a široký prostor pro procítěnou baladu. Plantův hlas zní smutně a vnitřně naléhavě. Bicí jsou preparovány nějakým drum-computerem, což bylo pro dobu příznačné. Hlas se pouští k výškám, ale je nějak zastřený nebo přiškrcený. Boyle dostává příležitost vložit sem kytarové sólo v mezi poloze Carlose Santany a Trevora Rabina. Elektronika vytváří mocný background a bicí vedle akcentace víří pochodovým rytmem, jako kdy vojska pochodují do bitvy ve staré dobré Anglii za zemi a za krále.
LIARS DANCE – Tohle zní moc krásně. Ryzí a čistá akustická balada. Vydrží až do konce. Po takové skladbě jsem vnitřně volal od začátku. Je zde samozřejmě "opět" pageovský odér, jaký záme z Black Country Woman a taky Plant opakuje a zvýrazňuje motiv. Trochu je zde i Bron-Yr-Aut Stomp. Prostě se jednoduše nezbavím jistých nátěrů, zeppelinovská minulost je jako skalnatý masiv, který se nedá odstřelit ani semtexem. Moc hezký příspěvek!
WATCHING YOU – V závěrečné skladbě se mi nové prvky implantované do hudby docela pozdávají. Nevím, čím se to podařilo, ale zní to skvěle a má to napětí. Akustické kouzlení ve spojení s důraznou rytmikou s mírně etnickými prvky se mi zdá zdařilé, stejně jako celé pojetí skladby. Dramaturgie postupovala uváženě, že tenhle typ skladby zařadila na závěr. Píseň je alespoň podle mého názoru schopna zaujmout a tím pádem i zesílit zvědavost, jak asi bude znít příští album. To je z psychologického, ale i obchodního hlediska důležité. Skladba patří mezi to zdařilejší, co se na albu podařilo.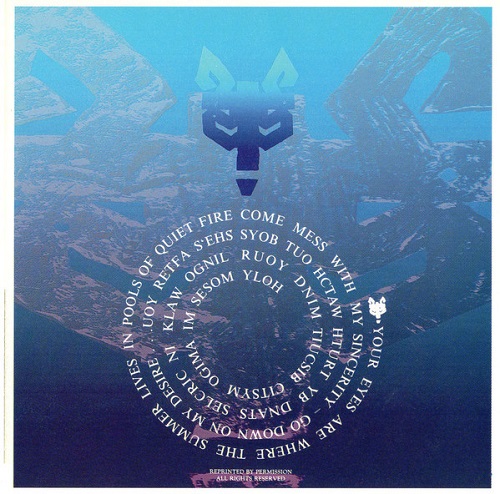 Co se týče Manic Nirvana, řekl bych, že Plant natočil i lepší, ale také horší alba. Při dekorování hvězdičkami jsem na rozpacích. Původně jsem chtěl dát tři, ale přesvědčily mě určité skladby a některé drobné nápady, proto přivřu oko a dám čtyři. Objektivní by bylo tři a půl, ale to tady nejde. Netvrdím ovšem, že mladší posluchač, nezatížen zeppelinovskou tvorbu a znalostí jejich hudebního terénu, nebude albem nadšen.
SKLADBY:
01. Hurting Kind (I've Got My Eyes On You) 4:04
/Plant, Johnstone, Jones, Boyle, Blackwell/
02. Big Love /Plant, Johnstone, Blackwell/ 4:24
03. S S S & Q /Plant, Johnstone, Jones, Boyle, Blackwell/ 4:38
04. I Cried /Plant, Johnstone/ 4:59
05. She Said /Plant, Johnstone, Jones, Boyle, Blackwell/ 5:10
06. Nirvana /Plant, Jones, Boyle/ 4:36
07. Tie Dye On The Highway /Plant, Blackwell/ 5:15
08. Your Ma Said You Cried in Your Sleep Last Night 4:36
/Stephen Schlaks, Mel Glazer/
09. Anniversary /Plant, Johnstone/ 5:02
10. Liars Dance /Plant, Boyle/ 2:40
11. Watching You /Plant, Johnstone, Blackwell/ 4:19
SESTAVA:
Robert Plant – vocals
Doug Boyle – lead guitar
Phil Johnstone – keyboards, guitars
Charlie Jones – bass
Chris Blackwell – drums, guitars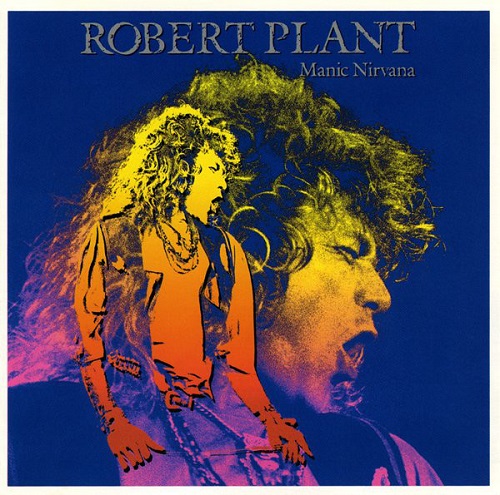 Manic Nirvana
Robert Plant
Rock
Es Paranza Records
1990
LP, CD, CASS
11