O existenci kapely Budgie jsem se dozvěděl koncem sedmdesátých let na burze, kde je všichni vychvalovali a doporučovali tak vehementně, až to ve mně vyvolalo náběh k nedůvěřivosti. Navíc mě vyloženě odrazovaly obaly jejich desek, k xkrát odloženýmu poslechu mě tak dokopalo až někdy zkraje osmdesátek, když mi na Letný pár borců nakvašeně vyprávělo, jak na ně vyrazili do Polska, kde velšské trio absolvovalo regulérní turné (!?), tam narvanej fotbalovej stadion, všichni natěšený, ale koncert nakonec žádnej, bo soudruzi z PLR se zalekli tý masy bigbíťáků a těsně před začátkem vypnuli proud. To už se ignorovat nedalo.
Jak šel čas, nasbíral jsem většinu jejich desek, ke kterým se pravidelně vracím, a když jsem na jaře 2009 zachytil zprávu o plánovaném vystoupení v Praze, neváhal jsem ani vteřinu. Budgie naživo s Burkem Shelleym a po jeho boku navíc můj oblíbenec od Ronnieho Craig Goldy!
No ale člověk míní, život mění, koncert v Retru jsem nakonec prošvihnul, aspoň že lupen jsem stihnul poslat dál. S nadějí, že snad ještě někdy, což nakonec netrvalo tak dlouho. Rok se s rokem sešel a přinesl informaci o návratu Budgie do naší metropole 25. 11. 2010. Tož tedy, Na Chmelnici už chybět nebudu i kdyby loupežnický kyje z Mrazíka padaly.
Po jarním turné ve Státech se toho roku Budgie představili v Evropě poprvé 5. 11. 2010 v holandském Kerkrade, načež se přesunuli do spřáteleného Polska, kde měli naplánováno jedenáct zastávek se startem 9. 11. v Poznani. To už jsem odpočítaval dny, jenomže… Toho listopadového úterka byl Burke hospitalizován poté, co si stěžoval na bolesti v břiše a byla mu diagnostikována výduť aorty. Hned druhý den absolvoval operaci a po nezbytné rekonvalescenci se vrátil domů.
Na oficiálních stránkách kapely zveřejnil omluvu všem polským a českým fanouškům za zrušení turné s tím, že musel být nouzově operován v Polsku a teď se zotavuje doma a ještě neví, co přinese budoucnost. Poděkoval všem, kteří ho podporovali a Bohu.
Jak ukáže čas, nebylo zrušeno pouze jedno turné, ale definitivně se uzavřela bohatá koncertní historie Budgie.
Mluvilo se o tom, že při zákroku došlo k poškození bránice, o potížích s pravou nohou, pozdějším boji se Sticklerovým syndromem, v roce 2020 navíc Burke oznámil, že mu bylo diagnostikováno další aneurysma vyžadující operaci, kterou ale odmítl. Jeho rozhodnutí pramenilo z možnosti, že by zákrok způsobil nenapravitelné poškození páteře.
"Nechci zbytek života prožít jako mrzák. Věřím v Boha a nemám žádné obavy z toho, co mě čeká, takže až mě povolá, prostě půjdu. Mezitím ale budu pokračovat po svém. Je to prosté."
V úterý 11. 1. 2022 oznámila na Facebooku rockerova dcera Ela: "S velkým zármutkem oznamuji smrt svého otce Johna Burke Shelleyho. Zemřel večer ve spánku v nemocnici Heath v Cardiffu, svém rodném městě."
Otci čtyř dětí, zakladateli, frontmanovi a baskytaristovi velšského rockového tria Budgie bylo 71 let. Ať odpočívá v pokoji… pokud ho hvězdná sestava nechá.
*****
Náplastí za neúčast na pražském vystoupení Budgie budiž report Jardy Merhauta z předmětné akce, jíž předcházel jeho rozhovor s hlavní hvězdou večera:
BURKE SHELLEY (BUDGIE): MALÁ ZPOVĚĎ ANDULÁKA ZAKLADATELE
Nejraději mám přípravu rozhovorů s muzikanty, kteří mě vyprovázeli na cestě k hudební dospělosti. Je to pokaždé svátek, mít možnost zeptat se na pár věcí někoho, kdo se před 35 lety na mě zuřivě smál z plakátu a jehož alba patřila k vzácným pokladům asfaltových sbírek.
Zákládající a dnes jediný původní člen BUDGIE Burke Shelley je nejen muzikant s hlubokým zářezem v rockové historii, ale i pamětník a účastník dob, kdy v muzice nic nebylo nemožné.
Škoda, že čas nedovolil zodpovědět všechny otázky. Není všem dnům konec, a věřím, že v Retru v Praze bude možnost u Burkeho zjistit, jak to bylo s produkcí alba METALLICY, jestli opravdu část rodiny pochází z Polska, a co ze současné scény poslouchá.
Burke, jsi poprvé v Česku, proto využijeme příležitosti, a zeptáme se tě i na historii. OK?
OK.
BUDGIE jsou pro heavy metal jednou ze zásadních stylotvorných kapel, která doslova kovala dějiny. Můžeš trochu zavzpomínat na jaké muzice jsi jako teenager vyrůstal? Šedesátá a raná sedmdesátá léta, byla to opravdu tak výjimečná doba, kdy téměř každý kluk chtěl být muzikant?
V šedesátých letech jsem byl nejvíc inspirován BEATLES. Při jejich hudbě jsem se učil hrát a psát skladby. BEATLES ostatně ovlivnili miliony mně podobných lidí, kteří se rovněž chtěli stát hvězdami. Poslouchal jsem i ROLLING STONES, SPOOKY TOOTH, JOHN MAYALL´S BLUESBREAKERS, JIMI HENDRIX a mnoho dalších. Vedle BEATLES mi ale nejvíc dali LED ZEPPELIN, protože těm se podařilo dostat do rockové hudby heavy sound.
První dvě alba BUDGIE produkoval Rodger Bain. Prý upřednostňoval živé hraní i ve studiu. Bylo to tak? A jak vzpomínáš na spolupráci s ním a jako moc ovlivnil typický sound BUDGIE? Které studiovky si osobně nejvíc považuješ? Je nějaká taková?
Prvních pět alb bylo natočeno stejným způsobem. Nachystali jsme si kompletní muzikantské vybavení ve studiu, kam jsme všechno dotáhli, a natočili jsme kompletní instrumentální základy bez vokálů. Jedině ty se dotáčely. Tímhle způsobem nám to fungovalo nejlépe. Snažili jsme se vše dotáhnout až do puntíku. Co se týče naší spolupráce s Rodgerem Bainem, pracovalo se nám spolu výborně. Bylo to dáno tím, že velice dobře rozuměl novému heavy soundu, který jsme se snažili tvořit. Mé nejoblíbenější album BUDGIE je "You´re All Living In Cuckooland".
BUDGIE vždycky byla kapela, která to uměla na pódiu rozbalit. Na která památná vystoupení obzvláště rád vzpomínáš? Na klubovou sérii v Barceloně v raných 70.létech, anebo na obrovský opakovaný úspěch na festivalech v Readingu v osmdesátých, či americkou Atlantu v devadesátých? Anebo jiná?
Máš pravdu, že jsme na pódiu hodně živelná kapela. Vždycky jsme si živé hraní užívali tělem i duší. Rád sice vystupuju i na velkých festivalech, nejraději ale mám menší klubová vystoupení, protože zde máme lepší zvuk a bezprostřední kontakt s našimi fanoušky. V podstatě je mi jedno, o jaký koncert se jedná, vždy do toho jdeme jako kapela s maximálním úsilím a nasazením. A užívám si to, nemůžu jen tak stát, když hrajeme nějaký hodně dobrý riff, to se vždycky začnu celý kroutit. Za nejlepší akci bych považoval turné po Polsku v roce 1982. Bylo to prostě něco neuvěřitelného.
BUDGIE hráli s interprety jako JUDAS PRIEST, DIAMOND HEAD, OSIBISA, THIN LIZZY, MOTT THE HOOPLE, NAZARETH, MONTROSE, CAPTAIN BEYOND, OZZY OSBOURNĚ a jistě i dalšími. Na koho rád vzpomínáš, s kým se dobře pařilo?
Nejsem nějakým šíleným vyhledávačem takových pařících akcí. Myslím si tedy, že nejsem dostatečně kvalifikovaný na to, abych to mohl hodnotit. Raději nechám hodnocení dalších kapel někomu jinému.
BUDGIE byla první opravdu tvrdá rocková kapela, co pronikla za železnou oponu. Série koncertů v Polsku v roce 1982 se stala i pro nás tady v komunisty ovládaném Československu něčím neuvěřitelným. Jaké byly tvé tehdejší pocity z návštěvy "jiného" světa, měli jste tehdy možnost pohovořit s polskými fanoušky? Bylo něco, co tě obzvláště šokovalo? A tušili jste, jak jste byli populární zde za plotem?
Polsko v roce 82 nám skutečně otevřelo oči. Viděli jsme policii, jak se s nikým nemazlila a procvičovala si prostná s obušky. Taky jsme byli neustále pod dohledem, pár "nenápadných" nám bylo furt v patách. Fanoušci byli, přes to všechno, naprosto fenomenální. Tak zaujatí naší hudbou a tak doslova zažraní do každého našeho vystoupení, že se to muselo navždy uložit na čestné místo v mém srdci. Miluji je všechny. Od té doby, co komunisti vypadli, se nálada hodně uvolnila a taky se všechno hnulo směrem na západ. Nicméně fanoušci zůstali pořád stejně věrní naší muzice. Velice často se setkáváme s Poláky, kteří byli na některém z koncertů ze zmiňovaného turné. Je to neuvěřitelné, když mi popisují, jaký efekt na ně tehdy naše vystoupení mělo.
Pojďme do současnosti. Na co se můžou fanoušci v pražské Retro Music Hall těšit? Co například vedle staré dobré klasiky uslyšíme ze skvělé "You're All Living In Cuckooland"?
Moc se na vystoupení v Praze těšíme a můžu ti slíbit, že fanoušci mohou očekávat malé rockové zemětřesení a hodně bouřlivou noc plnou hudby. Určitě mohu příznivcům slíbit, že uslyší skladby z tohoto alba. Kromě toho zazní i starší materiál.
Jak se dostal k hostování s BUDGIE kytarista Craig Goldy? Prý ti ho doporučil Paul Cox? Kytara je pro BUDGIE zcela zásadní, jak se Craig vypořádal zejména s odkazem Tonyho Bourgea, a co nového a svého do live soundu BUDGIE přinesl?
Máš pravdu, že jsme si vypůjčili Craiga Goldyho z kapely Ronnieho Jamese Dia. Je to vynikající hráč a neměl vůbec žádný problém, aby zanechal svoji stopu v naší tvorbě.
Díky za rozhovor, a ať BUDGIE zboří Retro.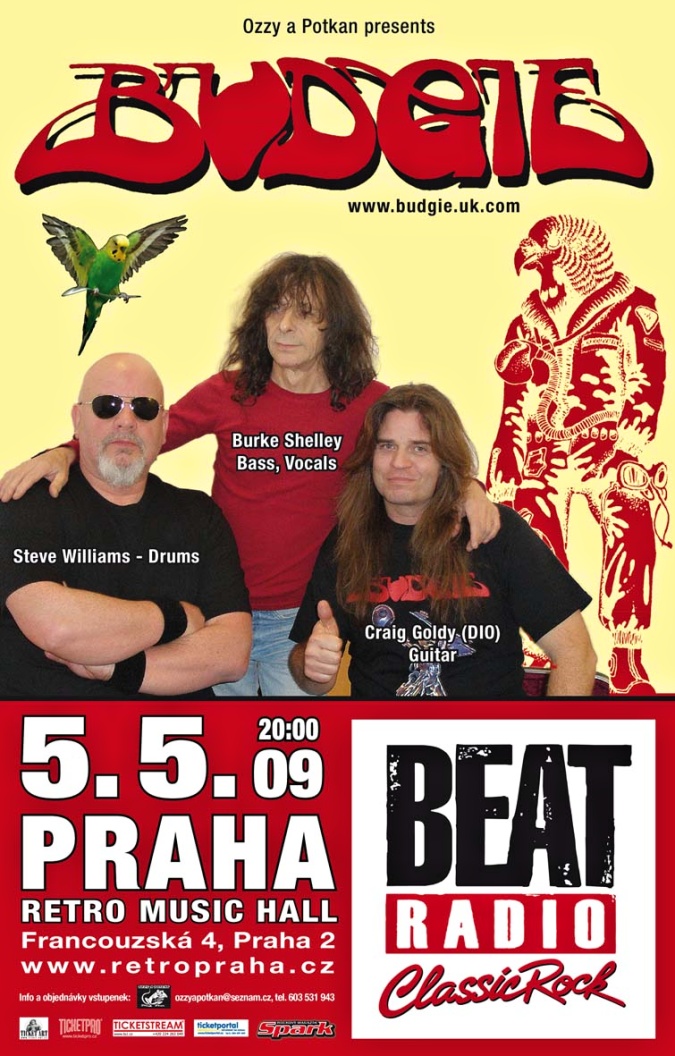 BUDGIE: NÁLET ANDULÁKA DRTIVÉHO (LIVE 2009)
5. 5. 2009, Retro Music Hall, Praha
Slušně naplněné Retro, spousta ksichtů a papulek, co se tam potkává na každé podobné pamětnické akci, zkrátka domácká atmosféra. V Polsku chodí na BUDGIE tisíce, tady – na první a jediný koncert u nás – přijde pár stovek těch samých. Proberte se pánové, za pár let nebude na koho z téhle generace chodit. Pak budete ronit krokodýlí slzy.
Karlovarský URIAH HEEP REVIVAL mě velmi příjemně překvapil hráčskou kvalitou, a potěšil skvěle sejmutými aranžemi v duchu studiovek, i sladěnými backgroundy. Jen zpěvákovi občas docházel kyslík, o byronovské ječáky se ani nepokoušel, a trochu si šlapal na jazyk. Základní barvu hlasu měl ale o dost příjemnější než Shaw. Celkově špica, a to jsem dost náročný Uriášovec.
Jsou rockeři "převlékači kostýmů" a pak takoví jako Burke Shelley. Stále sví, nezaměnitelní, originální. Je to autentický bigbít staré školy. Žádná primadona, napořád chlapec vrostlý do své muziky. Je neuvěřitelné, jak mladistvě a vitálně tenhle šedesátník působí. Postavou vyběhaný padesátikilový maratonec, s prořízlou hubou žabáka, a až podezřelou čupřinou. Hlas má sice už jak ojetý smirek z vyškrtané krabičky sirek, emoce však zapaloval naprosto spolehlivě. Na pódiu se nezastavil ani na sekundu, blbnul jak dvacetiletej, a ani se přitom nezadýchal a nezapotil. To jsem fakt ještě nezažil.
Lehce nakynutý Craig Goldy odehrál co měl v pohodě a úsměvem na rtech. Každou chvíli navštěvoval svůj kotel obdivovatelů u nohou, poplácal, pohledem zavadil. Sympaťák. Upozaděný kolos Steve Williams se na show viditelně nepodílel, na druhou stranu, bez jeho bucharu by byli BUDGIE poloviční.
V triu se nic neschová, to je rockerská vysoká. BUDGIE obstáli hráčsky na jedničku. Kompaktní mašina, jakkoliv Burke i Craig hráli i na odiv, žádný jednoduchý beglajt, ale promakaná instrumentace s drajvem, pořád bylo na co se koukat a co poslouchat. Koncert byl jako jeden obrovský žhavý pás železa, vytékajícího z pece. Málokdy se u veteránů podaří, že nové skladby ("Dead Men Don't Talk", Justice" i "Falling", vše 2006) se popasují s prověřenými evegreeny jako rovný s rovným.
Průřezový setlist pamatoval především na první albovou pětku z let 1971-75 (deset pecek), z osmdesátek zazněly jen dvě kusovky, otevírák "Panzer" a kývavá polobalada "I Turned To Stone". Znalým jistě napomůže vyfocený setlist, hlavolam.
Kdybych měl z donucení vyzdvihnout jednu jedinou skladbu, byla by to "Parents" s opakovanými nájezdy pageovsky klouzavého sóla. To mi šel mráz po zádech celých deset minut. V přídavku jsme se samozřejmě všichni dočkali i "Breadfan", jak zazněl záhrobní úvod, tak Retro málem spadlo.
Škoda jen, že plánovaná autogramiáda se odehrála až skoro hodinu po oponě, jediný noční vlak směr Morava nečeká… zdravím tímto burzovního spolupachatele Pepu "Pompéze" Horvátha z Orlové, huby se nám cestou nezastavily.
BUDGIE ze tří metrů počítám k životním zážitkům.
Jaromír Merhaut (Publikováno v magazínu Spark 5 a 6/2009)