CD Afrakà – CDRG-2212 /2012/
Album Rosso Rock vyšlo v roce 2012 a brzy oslaví malé jubileum, ovšem já jsem se k jeho nákupu rozhoupal teprve letos a před pár dny jsem se konečně dočkal. Cédéčko je doma, obsahuje 43 minut parádního rocku Made in Osanna a navíc je to krásnej kousek do mé pěkně se rozrůstající italské sbírky…
Prvních deset tracků pochází ze série koncertů, konaných v listopadu 2011 v japonském Kawasaki. Club Città tam tehdy hostil akcičku s názvem "Italian Progressive Rock Festival", které se zúčastnila celá řada italských, progressive rockových legend – PFM, Goblin, Arti & Mestieri, The Trip, Il Balletto di Bronzo a právě Osanna. Ta si připravila komponovaný program Milano Calibro 9, vycházející z jejich druhého studiového alba Preludio, Tema, Variazoni, Canzona z roku 1972 a byla to trefa do černého.
Původní eLPíčko Preludio, Tema, Variazoni, Canzona obsahuje výtečnej soundtrack k italskému kriminálnímu thrilleru a jde o fúzi rockové kapely se symfonickým orchestrem. V Japonsku skupinu doprovodilo těleso Tokyo Vielle Ensemble Orchestra, ale pozor, nejde jen o bohapustou vykrádačku, nebo remake. Osanna originální materiál přepracovala a přizpůsobila živé prezentaci tak, aby měl spád a nenudil. Úvod zůstal víceméně stejný, ovšem další stopy jsou všelijak zpřeházené. Některé části skupina vyhodila, jiné jsou zbrusu nové, ovšem celková stopáž zůstala na zhruba 30 minutách tak, jak tomu bylo na originále. Nedávno jsem narazil na starší rozhovor se skladatelem, zpěvákem a kytaristou Lino Vairettim, kterej to celé zastřešil termínem tribute a pokud jsem to správně pochopil, myslel tím poctu legendárnímu albu, které tou dobou slavilo rovných 40 let od svého narození (vydání).
Jak už jsem uvedl výše, první dva tracky se shodují s předlohou. Preludio zahřmí tak, až se podemnou rozhoupe podlaha, ale následující, na vlnách smutku se houpající Tema zjitřené emoce zase spolehlivě uklidní. U nevýrazné a kapánek rozvláčné Dianologo bych uvítal kratší stopáž, ale s nástupem Spunti dallo spartito n. 14728 del Prof. Imolo Meninge už to začíná dostávat pořádný grády. Trylky houslí, provázené kanonádou bicích jsou bezva a navazující, hutná rubanice zrovna tak. Podobně nekompromisní je i následující To Plinius, ovšem potom už přichází na řadu první skutečná píseň –My Mind Flies. Na originálním albu to byla miniatura obsahující pár slov, ale tady ji kapela natáhla na pět minut a vydržel bych klidně dvakrát tolik. Z melodických a chytlavých motivů kláves na mě jdou mrákoty, u dlouhého kytarového sóla pomlaskávám spokojeností a hlavně, hlavně je tu konečně pořádně slyšet Lino Vairetti. Zpěvák z hlasem od pánaboha, kterého bych mohl poslouchat do aleluja.
Jistým překvapením je deklamovaný text ve zcela nové stopě Tempo – 13° Cortile, ovšem s výtečnou jazzovou instrumentálkou Posizione Raggiunta už se Osanna vrací zpátky k originální předloze. Posledním vrcholem je čarokrásná, emotivní balada se zpěvem v angličtině There Will Be Time a celý koncert uzavírá krátká  Preludio reprise.
Japonské publikum je velmi pozorné a především potichu, takže střídmej potlesk je slyšet jen na samotném začátku vystoupení a pak až před závěrečnou Preludio reprise. Jinak to hraje jak ze studia a proti zvuku nemůžu říct ani popel. Ten je jak z partesu a to mám rád…
Ovšem to není všechno, bonusem navíc jsou tři skladby, zaznamenané v dubnu a květnu 2012 v Neapolském studiu ISL. Tou první je velice pěkná adaptace písničky Fiume, která se prvně objevila už na LP Landscape Of Life z roku 1974. Tou druhou chytlavá, temperamentní a z italské lidové hudby vycházející 'O Culore 'e Napule a na úplnej závěr je tu ještě tajuplným, až mysteriózním dojmem působící skladba Rosso Rock. Do té Vairetti propašoval i kousek textu a melodie z Hammillovy písně The Light Continent a dokonce k ní vzniknul i atraktivní videoklip.
Často slýchávám názory, že vydávat v dnešní době CD už se firmám, ani kapelám nevyplácí. Prý je nikdo nekupuje a tak je to vlastně jenom takové promo a pozvánka na koncert. Myslím, že mnohé podle toho taky tak vypadají a některá vydání jsou odbytá, až hrůza. Hlavně, aby to moc nestálo. Ovšem tohle není ten případ a právě grafická podoba CD Rosso Rock byla jedním z důvodů, proč jsem si ho nakonec i koupil. Luxusní, rozkládací mini vinyl replika ukrývá nejenom do papírové obálky vložený kotouč, ale i obsáhlý booklet o 24 stranách. Ten obsahuje sleeve-note v italštině, kredity, texty písniček a spoustu barevných fotografií. Jak portréty členů kapely, tak záběry z koncertu a z cestování po Japonsku. Takhle nějak by to mělo vždycky vypadat…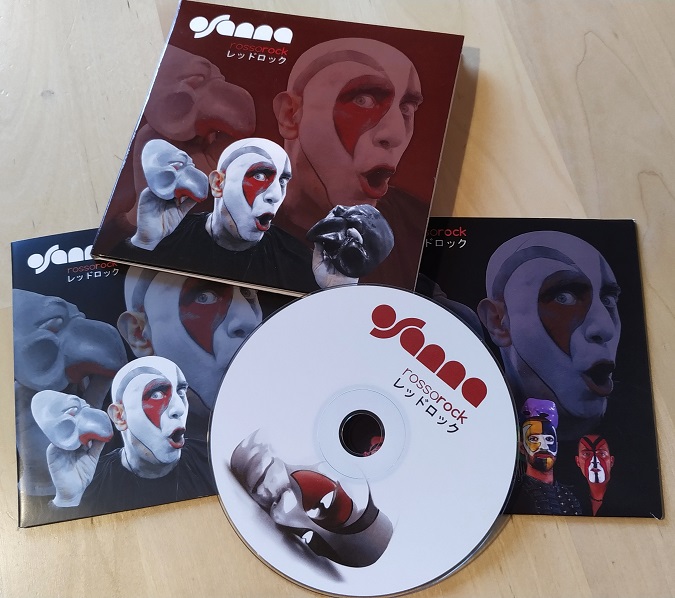 SKLADBY:
Milano Calibro 9 "Live in Japan"
Recorded at Club Città in Kawasaki – november 2011
01. Preludio  (4:10)
02. Tema  (4:56)
Variazioni medley:
03. Dianalogo  (2:23)
04. Spunti dallo spartito n. 14728 del Prof. Imolo Meninge  (2:17)
05. To Plinius  (2:11)
06. My Mind Flies  (4:50)
07. Tempo – 13° Cortile  (1:52)
08. Posizione Raggiunta  (1:30)
09. There Will Be Time (5:00)
10. Preludio reprise  (1:26)
Special tracks
Recorded at ISL Studio in Naples – april/may 2012
11. Fiume  (4:26)
12. 'O Culore 'e Napule  (3:38)
13. Rosso Rock  (4:30)
SESTAVA:
Lino Vairetti – lead vocals and electro-acoustic "Greg Bennet" guitar
Gennaro Barba – drums "Ufip cymbals"
Pasquale Capobianco – electric lead guitar
Nello D'Anna – electric bass
Sasà Priore – piano, organ and keyboards
Irvin Vairetti – vocals, mellotron and synth
Special guests:
Tokyo Vielle Ensemble Orchestra in "Milano Calibro 9" live in Japan
Gianluca Falasca Strings Ensemble in "Fiume – 'O Culore 'e Napule – Rosso Rock"
Stefano Longobardi keyboards and vocals in "Rosso Rock"
Roberto Petrella acoustic guitar in "Fiume"
Gianni Biondi vocals in "Rosso Rock"
Rosso Rock
Osanna
Prog Rock
Afrakà
2012
CD
13
CD Afrakà – CDRG-2212 /2012/