Album A Night At The Opera od britských Queen vyšlo v době, kdy jsem byl na vojně a tak chvíli trvalo, než ke mně tato hudba dolehla. Nakonec ji přivezl na magnetofonovém pásku jeden hudební fanoušek z Plzně a po službě jsme v sobotu přehrávali tuhle novinku stále dokola, až se nám málem začala zajídat.
Musím přiznat, že začátky Queen vypadaly docela zajímavě a podíl hard rocku zde byl velmi výrazný. Postupem času do něho začaly pronikat nové prvky, kterými se kapela chtěla odlišovat od hardrockového klišé ostatních souputníků…
DEATH ON TWO LEGS – klavírní introdukce jakoby vystřižená z Fryderyka Chopina a pak hned nástup mohutné harmonie s řadou destruktivních zvuků napovídá, že se zde bude dít něco pompézně okázalého a sugestivně vypodobněného. Po tom grandiózním nástupu se přihlásí zpívané téma a další postupy střídají v podstatě rockovou písničku s výtečně proaranžovanými pasážemi, které posouvají celý opus k divadelnímu ztvárnění. Z interpretace Freddieho Mercuryho cítím zjevnou nadsázku a teatrální projev. Jeho hlas je suverénně vyzrálý, má patřičné ostří a široký záběr. Zdráhám se označit skladbu art rockem, ale do klasického hard rocku je tady rovněž daleko. V každém případě bobtnající nápady a energie.
LAZING ON A SUNDAY AFTERNOON – klavírní party znějí rozmarně jako v divadelním vaudevillu. Je tady potřebný patos a stylizace do předválečných časů jak v instrumentaci, melodické lince, tak ve způsobu vedení hlasů a rytmiky. Brian May ovšem přijde se svým rockovým podílem elastické kytary a skladba je téměř nečekaně ukončena. Zajímavá stylizace.
I'M IN LOVE WITH MY CAR – hardrockový nástup syrové kytary, klavíru a pompézního soundu vrací Queen do názorného příkladu rocku sedmdesátých let s mocnými sborovými nástupy hlasů, které se posouvají k opernímu vyznění s řadou osobitých proměn. Myslím, že tady se v mnohém Queen mohou potkávat s The Who, třebaže srovnání nelze brát stoprocentně vážně, ale některé momenty z Tommyho a Who's Next zde vnímám, třebaže interpretace jde vlastní nedostižnou cestou. Žádný dotek blues, ale jasná písňová forma, kořeněná porcí syrového a dravého rockového podílu. Kapela šlape jako švýcarské hodinky. Vyjma Mercuryho a občas Maye bych tady vyloženě neakcentoval nějakého individualistu – líbí se mi hlavně jako celek. Nečekaný závěr s kytarovou destrukcí a chrochtavými zvuky je hodně nenadálý, ale možná jako ironická tečka(!?).
YOU'RE MY BEST FRIEND – preparované elektrické piano téměř swinguje. Tento model rockové skladby mi připomíná Paula McCartneyho a Wings v polovině sedmdesátých let. Mercury je ale samozřejmě ještě o kategorii lepší zpěvák než Paul (při vší úctě), ale skladba vychází z podobných kompozičních postupů, kde se kapela nestydí za vokální party a písničkový charakter propilovaný rockovými soustruhy a důraznou rytmikou. Potvrzuje se mi, že písničkářský model kapele není cizí a že je v něm velmi doma.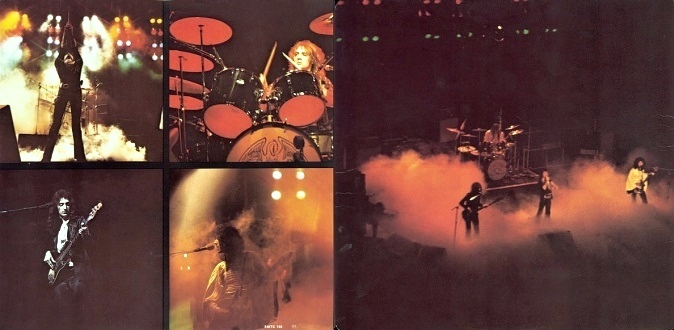 '39 – další písničkový podíl. Z pozadí výtečně seřízené vokální party a pak playbacky správně zvonicích akustických kytar (ani tady nemohu dokonale zapudit vliv Paula McCartneyho), jakoby jeden od druhého opisoval. Osobně mi to nevadí. Je to způsob kompoziční práce, a v jistém ohledu i aranžérské postupy. Interpretace už je ovšem zcela queenovsky nedostižná a dotvářet artové prvky v klasické, málem "countryové", melodii mi přijde překvapivé, ale přesto silné a přesvědčivé. Píseň je z dílny Briana Maye, který si ji také bezprostředním způsobem zazpíval.
SWEET LADY – hardrockový motiv stále zabírá a tak jsme uprostřed výtečného vokálního a přímočarého rytmického podílu basů a bicích s řeřavými elektrickými kytarami. Rytmické proměny z přímočarosti do nečekané polyrytmie jsou překvapivě výborné. Baskytarové party Johna Deacona mě dostávají. V předešlých basových linkách hrál sice skvěle, ale víceméně předvídavě. Tady se ten rozdrobený rytmus promění v divoký zápas sršňů a přicházejí sem jiné prvky. Brian May popřeje svým kytarovým partům zrychlenou jízdu v exhibičním pojetí a mě nezbývá než chválit.
SEASIDE RENDEZVOUS – klavír je oblíbený Mercuryho nástroj a přichází s ním další odlehčení v divadelním pojetí. Skladba je opět vhodná pro scénické ztvárnění. Mercury se proměňuje z rockera na lva salonů a retrohudba dvacátých a třicátých let je zde interpretována opět s výraznou nadsázkou, ale s řadou komediálních finesů. Posluchač se nestačí divit, co se do lehce přes dvouminutové skladby všechno vejde. Nic zde ale není přebito a předimenzováno. Je obdivuhodné, jak se kapela vyrovnala s tímhle hudebním modelem.
THE PROPHET'S SONG – tajemný šum z prostoru a zadumané kytarové party jsou k předešlé písni velmi kontrastní. Dynamika je potlačena mírně v pozadí a pak se pojednou jako lavina přižene do popředí s výrazným a rytmicky zdůrazňovaným nástupem bicích. Aranžování sborů se zde děje opravdu v divadelním pojetí scénické hudby. Odlišným způsobem než u Uriah Heep, Genesis nebo Caravan. Mercuryho mocný vokální podíl pracuje na plný plyn a spojování jednotlivých detailů se děje s velkým důrazem. Skoro se mě chce říci, jako by se nechával v některých okamžicích May jako autor inspirovat Carminou Buranou od Carla Orffa. Ovšem vokální nálet vyprecizovaných sborů je opravdu bezchybný a mistrovsky provedený. Lidský hlas má úžasnou moc a sílu, když je správně zpracováván a tohle je toho jedinečný příklad. Po vokální stránce asi jedna z nejoriginálnějších skladeb, kde se pracuje s lidskými hlasy vůbec!
LOVE OF MY LIFE – kooperace klavíru, akustické kytary, harfy a lidského hlasu. Mercury zpívá velmi vroucně a pateticky odevzdaně. Každému slovu a každému písmenu jakoby vkládal svůj význam. Milostný song zpívaný s velkým nasazením. Také Deaconovy basy vystupují do popředí, zatímco Mayova kytara mírně dobarvuje tuhle rozevlátou harmonii a musím uznale pochválit technicky velmi vyspělé klavírní party s klasickou průpravou. Od prvního alba kapela urazila, soudě podle tohoto konceptu, opravdu slušný kus cesty úspěšným směrem!
GOOD COMPANY – opět návrat do retrohudby dvacátých a třicátých let. Milovníci Queen mě odpustí, ale tady ten podíl Paula McCartneyho (Martha My Dear, Honey Pie, You Gave Me The Answer…) cítím velmi čitelně. Je tu ovšem nový prvek – ukulele, které by na rockové desce člověk sotva očekával, ale tady je součástí atmosféry, která se mezitím proměňuje s řadou dalších nepředpokládaných okamžiků. Pořád ovšem s vysokou mírou vkusu, nadsázky a skvěle zvládnutým instrumentálním parkem za přítomnosti jazzového bandu. Velmi stylotvorné.
BOHEMIAN RHAPSODY – přichází zcela určitě majstrštyk na albu. Ano, tady jsou Queen velmi silní po všech stránkách. Výrazná melodická linka, harmonické proměny a brilantní pěvecký výkon za doprovodu rockového "orchestru". Je tady cítit opravdu podíl artificiální hudby. Postupy a vyznění jednotlivých pasáží s grandiózním vzestupem a s expresivními proměnami instrumentace a lidského hlasu.
Vlastně přemýšlím, jestli znám od Queen lepší skladbu, lépe vypracovanou a interpretovanou. Italská opera a vůbec vliv velké italské školy a možná i germánský wagnerovský podíl. Famózní sbory jsou nedostižné a to už sem vstupuje nekompromisní rockový podíl syrové elektrické kytary a hřmotných bicích. Vygradované téma vrhá spoustu zvláštních kaleidoskopických odstínů a volá po divadelním ztvárnění s kostýmy, světly a širokou scénou. Ano, i po tolika letech opravdový majstrštyk, který nijak nevyčpěl.
GOD SAVE THE QUEEN – anglická hymna na závěr v patetickém vyznění teatrálního modelu s širokým rozevlátým dopadem na posluchače je i epilogem tohoto grandiózního projektu.
A Night At The Opera je podle mého názoru umělecký vrchol Queen. Myslím, že ani předtím a už vůbec ne ani potom nic podobného nenatočili a pokud bych vybíral z jejich tvorby jedno ukázkové album, pak by moje volba padla právě sem. Myslím, že i z historického hlediska zde bylo dosaženo vrcholu, který nelze překonat a myslím, že Británie může být hrdá na to, že Queen hráli pod jejich vlajkou.
Škoda, že osmdesátá léta přinesla pro mě (a zdaleka ne jenom pro mě) velké rozčarování z jejich ryze popové orientace a vizuální stylizace, kdy bylo promarněno jejich progresivní hudební cítění. Ale to už je jiná písnička a ta do téhle recenze nepatří.
Pět hvězdiček!
Původně zveřejněno 3. 8. 2013, editoval Borek
SKLADBY:
A1. Death On Two Legs (Dedicated To… ) (Freddie Mercury) 3:44
A2. Lazing On A Sunday Afternoon (Freddie Mercury) 1:07
A3. I'm In Love With My Car (Roger Taylor) 3:05
A4. You're My Best Friend (John Deacon) 2:50
A5. '39 (Brian May) 3:30
A6. Sweet Lady (Brian May) 4:02
A7. Seaside Rendezvous (Freddie Mercury) 2:14
B1. The Prophet's Song (Brian May) 8:20
B2. Love of My Life (Freddie Mercury) 3:34
B3. Good Company (Brian May) 3:17
B4. Bohemian Rhapsody (Freddie Mercury) 5:59
B5. God Save The Queen (trad.; arr. Brian May) 1:12
Nahráno: srpen – listopad 1975 ve studiích Sarm East, Roundhouse, Olympic, Rockfield, Scorpio a Lansdowne
Zvuková režie: Mike Stone a Gary Lyons
Aranže: Queen
Produkce: Roy Thomas Baker a Queen
OBSAZENÍ:
Freddie Mercury – zpěv, piano
Brian May – kytary, zpěv (A5 a B3)
Roger Taylor – bicí nástroje, zpěv (A3)
John Deacon – basová kytara, el. piano (A4)
A Night At The Opera
Queen
Prog Rock
EMI
1975
LP
12