Pink Floyd v letech 1966-1970 vystoupali po x schodech do poměrně spousty pater a otevřeli mnoho dveří, ale přeci jen, byly dveře, před kterými se zastavili a neodvážili se vstoupit dál. No a tady nastupují Tangerine Dream, legendární německá kapela, zejména v raném období propojující psychedelický space rock s žánrem škatulkovaným pod progresivní elektroniku. 
Space rockové instrumentálky na albu Alpha Centauri zjednodušeně řečeno dost připomínají třeba live stranu alba Ummagumma od Pink Floyd, zejména kompozici A saucerful of secrets.
V jistém slova smyslu mi celé rané období Tangerine Dream připomíná (a v dobrém slova smyslu splývá) tak trochu různé variace na skladbu A saucerful of secrets. Ale v žádném případě tu nemůže být řeč o nějakém… pubertálně zaslepeném neinvenčním napodobování. Tangerine Dream prostě jen, jak jsem napsal v úvodu, šli odvážně dál. Mnohem dál. Nebyli nijak svázáni tím, že jsou a že by měli znít jako rocková kapela (nemluvě o tom – nechci sem tahat politiku – ale… škoda, že nad námi tehdy "bděl soudruh" – co by třeba i u nás bylo bývalo vzniklo…) a výsledek byl ten, že se ve svém svobodném letu orla i kosmonauta dostali hodně daleko… Do těžko stravitelných končin, kde třeba bažina splývá s barevnými průlety vesmíru v koktejlu vaší bičované fantazie, aby zase po chvíli vše spočinulo v ledově černé tříšti prázdnoty kosmu, který se může zaplnit třeba… zlověstně mlčící stojatou vodu… Album je kromě kosmicky klávesových krajin okořeněné skladby polidšťující flétnou, ale každopádně na Jethro Tull zapomeňte.
Řada skupin pohybující se v současnosti v elektronickém undergroundu / trance music / progressive house / downtempu v podstatě vědomě či nevědomě vychází z postupů, které možná znějí svěže novátorsky, ale byly tu ve skutečnosti už dávno před tím v podobě hudby např. Tangerine Dream. Už jen za tohle si zaslouží tahle kapela když nic jiného, tak respekt.
Teď si tak uvědomuju, že je poměrně zajímavé, kolik německých kapel bylo ovlivněno psychedelickými Pink Floyd (Pink Floyd do roku 1971), nejen Tangerine Dream, ale třeba také slavní a podstatně rockovější Amon Düül II, ale už ne tolik post darksideovskými Pink Floyd… Já vím, byli tu Eloy ve svých transvestit oblečcích ;-), ale stejně…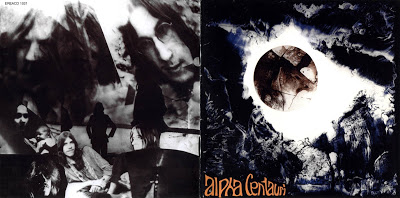 Postskriptum:
Na takovou třeba páteční nebo sobotní půlnoc po pár sklenkách červeného vína mě napadá jen málo věcí, které by mě bavily víc, než hudba např. Tangerine Dream nebo skupin této kapele podobných… Dávám čtyři z pěti hvězd.
SKLADBY:
1. Sunrise In The Third System (4:20)
2. Fly And Collision Of Comas Sola (13:03)
3. Alpha Centauri (22:00)
SESTAVA:
Edgar Froese – guitar, bass, organ, voice, Fx,
Christoph Franke – percussion, Lotos flute, piano harp, zither, VCS 3 synth
Steve Schroyder – Hammond & Farfasia organs, voice, percussion, electronics
+
Udo Dennenberg – flute
Roland Paulyck – VCS 3 synth
Alpha Centauri
Tangerine Dream
Krautrock, Experimental
Ohr
1971
LP
3