Pain of Salvation je švédska progresívna metalová skupina. Hoci sú jednou z najstarších skupín v danom žánri, väčší ohlas vzbudili až v polovici 90. rokov.
Gitarista, spevák a skladateľ Daniel Gildenlöw založil skupinu s názvom Reality v r. 1984. Mal vtedy iba 11 rokov. Zmenu názvu na Pain of Salvation urobil v r. 1991. Podľa Daniela, názov symbolizuje rovnováhu medzi dobrom a zlom, svetlom a tmou, životom a smrťou.

Približne do vydania druhého albumu skupina prešla viacerými personálnymi zmenami. V r. 1996 prizvali klávesáka Fredrika Hermanssona a začali hľadať spoločnosť, ktorá by im vydala nahrávky. Rozposlali demá s nádejou, že podpíšu zmluvu s  dôležitou firmou.
Na začiatku r. 1997 skupina začala nahrávať prvý album Entropia v profesionálnom štúdiu Roasting House vo Švédsku. V auguste t. r. debut vydali v Ázii so všeobecne pozitívnou odozvou. Entropiu možno považovať za hudobne najrôznorodejší album s vplyvom Gentle Giant, funky, soul – od jemných pasáží po energické. Na albume sa nesústredili na jednu tému, ale na tri príbehy, ktoré sa rozvíjajú v tom istom čase.
Po vydaní Entropie trochu zosilnel medzinárodný záujem o skupinu.

Výraznejší úspech prišiel až v r. 1999 s druhým albumom, One Hour by the Concrete Lake. Na celom svete boli pozitívne odozvy v rockových časopisoch. Album zaujal spoločnosť InsideOut, s ktorou potom podpísali zmluvu. Napriek tomu, že album bol považovaný za kvalitné dielo, Gildenlöw to videl inak. Vraj hudba tu je "homogénnejšia" a nie sú tu pretavené rôzne vplyvy ako na iných albumoch skupiny.
V r. 2000 skupina koncertovala po Európe, počas septembra a októbra s novoprogresívnou skupinou Arena.
V r. 2001 "prišla bomba", keď vydali album The Perfect Element, Part I. Konečne sa dostavilo obrovské ocenenie od médií a fanúšikov na celom svete. Hudobne, aj v textoch album ukázal temné stránky života. Témami sú napríklad psychické a fyzické násilie počas detstva a dospievania, sexualita, drogy, láska, bolesť, zlosť, porážka, zúfalstvo, hanba a rôzne dôsledky a vzájomné vzťahy týchto faktorov pri formovaní osobnosti. Hudba, ktorá sprevádza menované témy, je ešte temnejšia ako na predošlom albume.
Vo februári 2001 prvýkrát vycestovali do USA a hrali ako "headliners" na festivale ProgPower USA.
Štvrtý štúdiový album Remedy Lane vydali v r. 2002. Opäť bol veľmi dobre prijatý – fanúšikmi progresívneho rocku aj progresívneho metalu. Pokladali ho za dovtedy najlepší album Pain of Salvation. Remedy Lane je tiež koncepčný album, ale oproti témam z predošlých albumov je obsahovo ľahší na pochopenie. Pojednáva napr. o stratenej láske, túžbe, pocitoch a ľudských vzťahoch. Daniel postavil príbeh na svojom aktuálnom vzťahu, takže ide čiastočne o autobiografiu.
Ešte v r. 2002, počas turné s albumom Remedy Lane, ich skupina Dream Theater požiadala, aby im robili predskokanov na ich európskom turné s albumom Six Degrees of Inner Turbulence.
V r. 2004 nahrali akustický koncert s vybranými hosťami, vyšiel pod názvom 12:5. Je to nádherná hudba, považovaná za viac ako "Unplugged". Sú tu nové skladby, ale aj staršie, no tie sú v novej interpretácii.
A potom prišlo veľdielo. Po skončení turné s Remedy Lane, v rokoch 2003-4 pracovali na ich najambicióznejšom projekte, na koncepčnom albume o prírode, existencii Boha i ľudstva a ako sa navzájom ovplyvňujú. Ešte pred nahrávaním v štúdiu, pripravené skladby mnohokrát hrali v kostýmoch, s javiskovými kulisami, obrazovými projekciami a s 9-členným orchestrom The Orchestra of Eternity. Po týchto vystúpeniach hudbu naďalej dolaďovali a spresňovali. Vo februári r. 2004 začali nahrávať a v septembri t. r. vydali album s názvom BE.
Ako to obyčajne býva s veľkými ambíciami, toto dielo rozdelilo fanúšikov skupiny. Jedni cítili veľkú náročnosť albumu na hranici pochopenia, iní (fanúšikovia progresívneho metalu) zase boli sklamaní prílišným ponorením do progresívneho rocku. A ďalší, väčšinou noví fanúšikovia so záujmom o prog rock, boli priťahovaní "revolučným zvukom" a BE pokladali za najlepší album Pain of Salvation.
Po hudobnej stránke je BE odlišný od ostatných albumov skupiny. Väčšinou upustili od prvkov progresívneho metalu a vložili tu prepracované časti komplexného prog rocku, vrátane 9-členného orchestra.
Od r. 2004 skupina odštartovala "embargo" na koncerty v USA z dôvodu povinného snímania otlačkov prstov všetkých cudzincov.
V r. 2006 požiadali Danielovho brata Kristoffera Gildenlöwa, aby opustil skupinu, lebo žil v Holandsku a nezúčastňoval sa skúšok s ostatnou skupinou vo Švédsku.
V r. 2007 vydali šiesty album, Scarsick. Moderný sound á la "BE" zmizol a nastúpil nový metal. Album je viac orientovaný na jednotlivé skladby, čo predtým skupina nerobila, a preto aj obdržal zmiešané recenzie. Podľa Daniela je Scarsick druhá časť trojdielneho konceptu The Perfect Element. Iná  prezentácia konceptu je nazvaná "he" (on) a pokračuje v príbehu mužskej postavy, ktorá uvádza The Perfect Element, Part I.
2. marca 2007 koncertovali v Amsterdame a nahrali druhý live album s DVD – Ending Themes: On The Two Deaths Of Pain Of Salvation, ktorý vyšiel v roku 2009, čo bolo dosť odvážne vzhľadom na zmiešané prijatie štúdiového Scarsick.
Ešte počas turné v r. 2007 oznámili, že dlhoročný bubeník Johan Langell chce opustiť skupinu, aby sa mohol sústredene venovať rodine. Avšak zostal v skupine do konca turné a kým sa všetky jeho party nenaučil nový bubeník, Francúz Leo Margarit.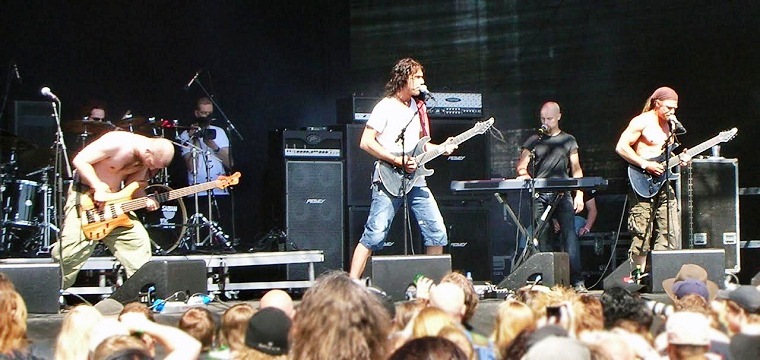 V r. 2008 sa udiala ešte jedna personálna zmena. Basgitarista Simon Andersson, ktorý nahradil Kristoffera, odišiel a skupina počas turné využívala služby basgitaristu Pera Schelandera.
Rok 2009 bol dosť zlý pre Pain of Salvation. Zrušili im dva hlavné projekty z dôvodu bankrotu SPV, vlastníka značky InsideOut (nahrávacia spoločnosť skupiny). Súčasne bolo zrušené turné Progressive Nation 2009 (spolu s Dream Theater a Beardfish) z dôvodu úplného nedostatku financií. Toto turné malo byť pre skupinu prvé v USA od r. 2004. Ďalší dôsledok bankrotu SPV bol odklad vydania albumu Road Salt. Daniel Gildenlöw vyhlásil, že aspoň má viac času pracovať na albume a rozšíriť ho. Skupina sa snažila danú situáciu využiť pozitívne pre seba. A tak sa po prvýkrát ocitli v Austrálii ako predskokani na turné Dream Theater.
V tom istom roku vydali EP Linoleum, akýsi predvoj k Road Salt.
Napokon sa s titulnou skladbou albumu Road Salt kvalifikovali na Melodiefestivalen 2010, čo je švédska časť Eurovision Music Contest. To im umožnilo osloviť veľkú časť švédskej verejnosti. V sprofanovanej súťaži s degradovanou kvalitou popu ďalej nepostúpili.
V máji r. 2010 vydali prvú časť albumu, Road Salt One. Album navrátil späť rockovú tvár Pain Of Salvation. Je tu ešte väčší vplyv 70. rokov ako na BE a skupina urobila všetko, aby album znel akoby bol nahratý pred 40. rokmi. Zašli až tak ďaleko, že upravili sound nahrávok, aby zneli menej čisto.
Druhá časť albumu, Road Salt Two, vyšla v septembri 2011. Podľa slov Daniela Gildenlöwa, koncepcia albumov Road Salt je úplne iná ako u predošlých albumov.  Nie je to príbeh, odohrávajúci sa chronologicky ako na starších albumoch. Teraz ide o niekoľko paralelne bežiacich historiek. Ide tu o porovnanie situácií a reťazca udalostí, porovnanie s cestami – ktoré cesty si chceme vybrať a ktoré cesty nás privedú na rôzne miesta. Z tohoto uhla pohľadu je možno vidieť veci v rôznej perspektíve ako sú bežne videné.
Na prelomne rokov 2011/12 došlo k významnej zmene v zostave skupiny. Odišli Johan Hallgren a Fredrik Hermansson. Do bandy prijali basgitaristu Daniela Karlssona, ale hrať bude na klávesy (vypomáhal na koncertnom turné). Gustaf Hielm sa vrátil ako hráč na basgitaru a tiež nastúpil nový gitarista Ragnar Zolberg.
Posledný, doteraz vydaný album, je z r. 2014 a má názov Falling Home. Je to akustický album a nová je iba prvá skladba s rovnomenným názvom. Ostatné sú prerábky starších skladieb a dve cover verzie.
Na rok 2016 skupina ohlásila nový album s pracovným názvom In The Passing Light of Day.
Súčasná zostava:
Daniel Gildenlöw – spev, gitara, lýra, mandolína, basgitara, klávesy
Gustaf Hielm – basgitara, double bass, vokály
Léo Margarit – bicie, perkusie, mandolína, vokály
Daniel Karlsson – klávesy, perkusie
Ragnar Zolberg – gitara, mandolína, vokály
DISKOGRAFIA:
Štúdiové albumy
1997 – Entropia
1998 – One Hour by the Cxoncrete Lake
2000 – The Perfect Elemnet, Part I
2002 – Remedy Lane
2004 – BE
2007 – Scarsick
2010 – Road Salt One
2011 – Road Salt Two
2014 – Falling Home
2017 – In The Passing Light of Day
2020 – Panther 
EP
2009 – Linoleum
Live albumy
2004 – 12:5
2005 – BE (Original Stage Production)
2009 – Ending Themes (On the Two Deaths of Pain of Salvation)
2016 – Remedy Lane Re:lived
Video
2005 – BE (Original Stage Production)
2009 – Ending Themes (On the Two Deaths of Pain of Salvation)
Zdroje:
www.progarchives.com/artist.asp?id=284
www.painofsalvation.com/past.htm
http://en.wikipedia.org/wiki/Pain_of_Salvation