V roce 1996 Filip Topol dle svých vlastních slov "vypustil koně z ohrady", pil opravdu víc než hodně a na koncepčním albu Hořící holubi to je trochu znát. 
Pamatuju si, že někdy v té době si Filipa pozvali do jednoho dnes už neexistujícího rádia a nestřízlivý Filip nám ukázal, že mu každopádně nechybí smysl pro humor, byť poněkud absurdní. Do rádia se dovolala jedna fanynka-pseudointelektuálka a rozčilovala se, jak to, že on, legenda českého undergroundu, se leze zviditelňovat do rádia a bla bla bla… a závěrem se Topola zeptala, jestli si nepřipadá jako opička v kleci. Filip Topol bez váhání vypálil: "Ne, já se necejtim jako opička v kleci, já se cejtim jako klec v opičce." 
To jen tak na okraj, aby tenhle pokus o recku nebyl tak vážný. Filip Topol uměl být hodně vtipný a se sebelítostí si rozhodně netykal. Je ale fakt, že osobně ho řadím do stejné kategorie prokletých, přecitlivělých umělců jako cik cak namátkou Baudelaire, Poe, celá česká literární dekadence konce devatenáctého století, Petr Iljič Čajkovskij, Rick Wright a jiní lidé obdivovaní např. v čítankách… kam se už Filip Topol mimochodem také dostal…
Album bylo nahrané v roce 1996 v Brně už pouze v tříčlenné sestavě Luděk Horký – baskytara, kytara, David Skála – bicí nástroje a vibrafon a samozřejmě Filip Topol – zpět, klávesy, piano. Je také pochopitelně autorem textu, procházejícího celým albem jako jeden celek… jako taková… ponurá bajka. Asi nejzajímavější na tomto albu je fakt, že (podobně jako na nahrávce Sestra), Filip výjimečně opustil stoličku u klasického klavíru a my tak uslyšíme v hojné míře elektrické klávesy, temné a experimentující, přesto se v hudbě nějaká ta mozartovská klasicistní hudební kudrlinka přece jen objeví. Textově je album nejednoznačné jak ukázka podivného symbolismu. Když jsem se na to samotného Filipa Topola jednou ptal, čeho že jsou vlastně Hořící holubi metaforou, Filip se zamyslel a řekl mi jen: "To by bylo na dlouhý vysvětlování."

Album je prostě textově a hudebně odvážné. Oproti v podstatě líbivě přístupné předchozí nahrávce, bestofce Národ psích vojáků (velmi dobře prodávané) je tohle krok úplně jinam, do alternativní zarostlé hudební krajiny připomínající kraje Zajíčkových DG 307 – Topol zde opravdu nijak nezpívá, jen deklamuje… Z čehož asi firma Indies neměla radost, tržby z prodeje byly mnohem menší… Ani saxík mi tady nechybí… Mimochodem, ke kritice Topolova zpěvu/nezpěvu bych uvedl asi toto: Topol sice nebyl žádný Pavarotti, ale… nekonfliktní profesionální zpěv nikdy nebylo to, co bych na nahrávkách Psích vojáků vyhledával nebo co by mi chybělo.
Na maximální počet bodů tohle poměrně přehlížené album nedosahuje (ani na netu se o něm nedočtete nikde skoro nic), ale to jen v porovnání s ostatními alby. Mě baví, ale zkrotím v rámci objektivity své nadšení a dávám zasloužené "jen" čtyři body z pěti možných.
SKLADBY:
1. Kněz předběhl tramvaj – ještě nic neví (6:14)
2. Vše uprostřed (34:54)
— Veverka na stromě první vidí
— Krajina a hořící holubi
— Město a nic
— Údiv veverky a rozmluva se stromem
— Slova Ducha
— Píseň hořícího holuba
— Veverka odchází
— Slova Ducha
— Město a šepoty
— Muž vchází do města
— Muž prochází městem
— Muž vidí
— Muž se otáčí a vidí ženu
— Muž jde k ní
3. Kněz se křižuje a tramvaj stojí (3:00)
SESTAVA:
Filip Topol – zpěv, slova, klávesy, piano
David Skála – bicí nástroje, vibrafon, šepoty
Luděk Horký – basová kytara, kytara, šepoty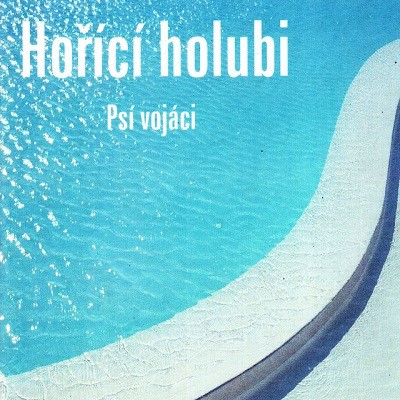 Hořící Holubi
Psí Vojáci
Indie Rock, Avant Garde, New Wave
Indies Records
1997
CD
3