Jestliže bluesrockové Bakerloo bývá řazeno mezi zapomenuté skupiny, o jeho přímém následovníkovi jménem Hannibal to platí několikanásobně.
Otěže nové formace zcela převzal Adrian Ingram a jeho rukopis je znát. Album o šesti dlouhých a ještě delších skladbách přináší prvotřídní jazzové hardrockování, na jehož zpřístupnění širšímu spektru posluchačstva má jistě zásluhu i zdatný producent Rodger Bain.
Spolehlivě nabudit dokáže hned počáteční dvojice albových klenotů Look Upon Me a Winds of Change, stejně jako Boyceův emotivní projev, který mi padnul do ucha na první poslech a rovněž později ozdobí každou pasáž, ve které dostane příležitost. Mírnou potíž zkraje působila jen nejrozsáhlejší kompozice Bend For A Friend, už jsem tomu preludování ale přivyknul. Ba, jeho atmosféru si dokážu vychutnat prakticky stejně jako impozantní hutnou bluesovku 1066, připomínající bitvu u Hastings. Druhou instrumentálku Wet Legs zato vnímám především jako předehru před strhujícím finále, které obstará jediný kolektivně psaný song Winter, jemuž vévodí perfektní Ingramova kytara.
Zmíněná bitva navždy změnila Anglii, ani mimořádný obsah alba však nic nezměnil na faktu, že britská scéna přelomu šedesátých a sedmdesátých let pohřbila Hannibala bez náležitých poct.
SKLADBY:
A1. Look Upon Me 6.13
A2. Winds Of Change 7.26
A3. Bend For A Friend 10.27
B1. 1066 6.28
B2. Wet Legs 4.44
B3. Winter 8.06
Autorem všech skladeb je Adrian Ingram, s výjimkou Winter (Ingram/Griffiths/Parkes/Boyce)
Nahráno: v Island Studios, Londýn (1970)
Zvuková režie: Roger Beale
Produkce: Rodger Bain
Design přebalu, fotografie: Keef
SESTAVA:
Alex Boyce – zpěv
Adrian Ingram – sólová kytara
Jack Griffith – basová kytara
John Parkes – bicí
Cliff Williams – tenor saxofon, klarinet
Bill Hunt – varhany Hammond, lesní roh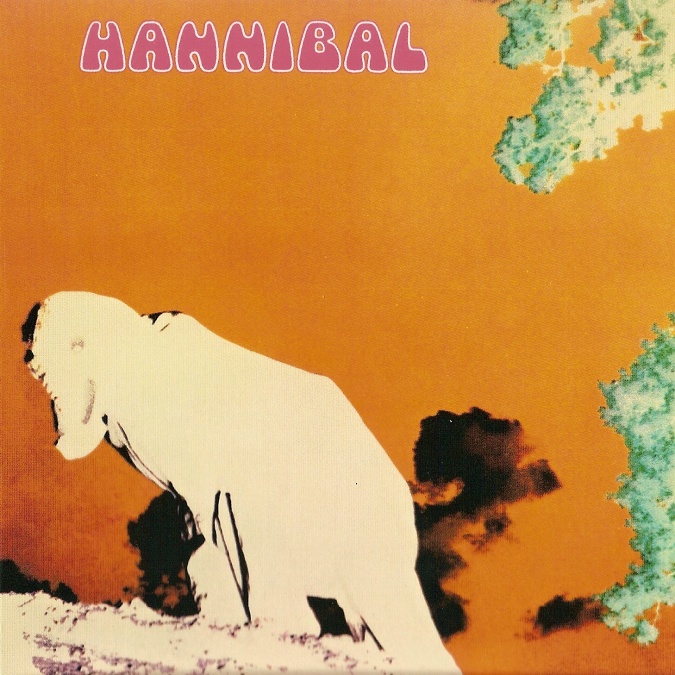 Hannibal
Hannibal
Prog/Jazz/Hard Rock
B & C Records
1970
LP
6