CD Mellow Records ‎– MMP 255  /1996/
Jediné album skupiny Fabio Celi e gli Infermieri (Fabio Celi a zdravotní sestry) je další italskou, sběrateli vyhledávanou raritkou. Vyšlo v roce 1973 u malé neapolské firmy Studio 7, ale moc se neprodávalo – jednak díky malé promotion a druhak zásluhou cenzury ze strany státní televize RAI. Ve skladech tak zůstala řada neprodaných kopií, které se na trh dostaly až někdy v průběhu devadesátých let. Sehnat se tak dají relativně snadno, ale levné nejsou. Oficiální reedice na CD  se album dočkalo zásluhou labelu Mellow Records v roce 1996 a kromě původní nahrávky obsahuje ještě další dvě skladby navíc. Vyrobeno však bylo pouhých 500 kusů (limitovaná edice), které se v zahraničních aukcích prodávají za ceny od 30 do 50€. Stránky italianprog sice zmiňují ještě další dvě vydání na značce Canaria, ale o těch discogs taktně mlčí…
Skupina pochází z okolí Neapole a založil ji klávesista a zpěvák Antonio Cavallaro vystupující pod pseudonymem Fabio Celi. Debutovala singlem v roce 1968 (ještě jako Fabio Celi & i Pop), ale prakticky vzápětí změnila nejen své jméno, ale i hudební orientaci. A to dost podstatně. Ovlivněná kapelami The Doors, Iron Butterfly, Vanilla Fudge, nebo Deep Purple se vrhla na klávesově zaměřenej psychedelickej rock a brzy proslula svými divokými show, při kterých používala hodně ohně a barevného kouře. Sám Fabio Celi se nechával na pódium přitáhnout v zavřené rakvi, aby byl při poslední skladbě spoután do svěrací kazajky. Tedy nevím jak vám, ale mě to připomíná počínání jistého Vincenta Fourniera.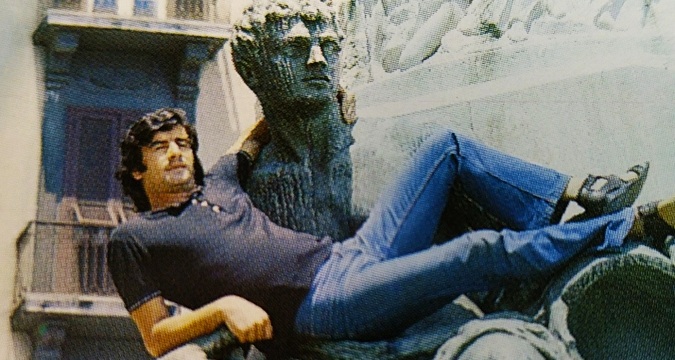 Album Follia vyšlo v roce 1973, ovšem sám Cavallaro tvrdí, že bylo nahráno už v roce 1969 na čtyřstopej magneťák Revox. Pokud by to byla pravda, tak klobouk dolů. V tom případě by Infermieri předběhli hudební svět – no, minimálně ten italskej – o několik let a dneska by byli v encyklopediích na prvních stránkách hned vedle King Crimson. Osobně tomu sice moc nevěřím, ale je zajímavé (a zároveň zábavné) sledovat tu polemiku na internetových fórech. Názory fanoušků se přiklánějí na obě strany a na datu "výroby" se neshodnou (ovšem respektované stránky John's Classic Rock uvádějí rok 1969), ale bez pádného důkazu to těžko někdo rozsoudí.
Původní album obsahovalo šest hypnotickejch skladeb s výborným zvukem, ale pro našince nezvyklým mixem. Cavallarův vokál je hodně vytaženej a v některejch případech vyloženě ruší. Jeho výkřiky "follia", doprovázené ďábelským smíchem by mohly nejednomu způsobit šok a těžké spaní a i mě chvíli trvalo, než jsem si na to zvyknul. Antonio navíc ani moc nezpívá, spíš deklamuje kousavé a ironické texty plné zášti k tehdejší garnituře. Bez nějakejch servítek se obouvá do zkorumpovanejch politiků a soudců, kritizuje bující kriminalitu, drogovou závislost, nebo vzrůstající prostituci. Proto ta cenzura ze strany RAI a pokud si ty texty najdete a přeložíte, zjistíte, že se na jejich aktuálnosti vlastně vůbec nic nezměnilo. Díky jisté dávky anarchie se o Infermieri občas píše jako o první punkové kapele světa a je fakt, že kytara v titulní skladbě má ten nápřah opravdu takřka punkovej…
Původní vinylové album se od CD reedice liší nejenom počtem, ale aj pořadím skladeb. Budu se tedy řídit vydáním od Mellow Rec. a jako první je tu svižná – a výborná – L'artista sadico. Už její minutu dlouhá instrumentální předehra je parádní, ale najednou, co to slyší ucho mé? Nepřipomíná mi to nějak podezřele něco od Deep Purple z období In Rock a Fireball? O nich je sice známo, že si "půjčovali" kde se dalo, ale kdepak ti by k tomuhle přišli? Byli snad v Itálii na dovolené? Ve třetí minutě navíc přijde ke slovu vynikající kytarové sólo (takovej italskej Blackmore) a když prakticky vzápětí dojde ještě k atraktivnímu souboji kytary a kláves, mnu si bradu a pomlaskávám spokojeností. Netvrdím, že je to opsané, ale minimálně inspiraci britskou hard rockovou scénou tady Infermieri rozhodně nezapřou.
A úplně stejné je to aj v titulní – a mé nejoblíbenější – Follia. Díky zpěvu je to acid rockovej underground jak prase, ale muzika tady tepe a tiká, jak švýcarské hodinky a ten ústřední kytarovej lauf prostě miluju. Výborné klávesové sólo opět připomíná Deeps a snad ještě markantnější je to v následující Il capestro. Tady jako kdyby si ke klapkám odskočil samotnej Jon Lord a spustil jízdu ve stylu Highway Star…
První tři kousky odsejpaj v kvapíkovém tempu a první zvolnění přichází až se skladbou Il presidente. Ta se svým pojetím blíží k symphonic rocku a díky dvěma klávesistům to v ní bzučí jak ve včelím úle. Fabio Celi se tu dokonce pokouší o zpěv a pokračuje v tom i v krapet "rozervané" Uomo cosa fai. Hvízdá to v ní o 106 a připomíná to Moog, ale kdepak. Gli Infermieri se prakticky nikdy nevymanili z undergroundu a měli hluboko do kapsy. Tak drahej nástroj si nemohli dovolit a podobného zvuku (údajně) docílili vlastnoruční úpravou varhan Farfisa. Možná jo, možná ne, ale zní to fakticky dobře.
Následující dvě písničky – Via Gaetano Argento a Fermi tutti è una rapina – pocházej ze singlu natočeného v roce 1971 a svou jednoduchostí se zbytku materiálu poněkud vymykaj. Podle dostupných informací je natočila stejná sestava, jen kytaristu Coppu nahradil Silvio Feo a zřejmě ten bude mít na svědomí ta kapánek trýznivá sóla na saxofon.
Jako poslední je tady Distruzione a kapele jako kdyby pomalu docházel dech. Tempem i náladou se to sice podobá písničce Uomo cosa fai, ale Celi působí unaveným a rezignovaným dojmem. Jako kdyby vzdal ten věčný, donkichotský boj s větrnými mlýny a smířil se s osudem…
Hodnocení bych viděl mezi trojkou a čtyřkou a protože to nelze, dám čtyři. Jednak mě přitahuje ta aura tajemna, která se kolem kapely rozprostírá a taky se mi líbí ten poněkud experimentální přístup k vlastní tvorbě, kterým se výrazně odlišuje od tehdy běžně vydávané produkce.

Cédéčko od Mellow Records obsahuje jen kotouček a čtyřstránkovej booklet, který je kopií obalu původní LP. Uvnitř jsou titěrným písmem vytištěné texty v italštině, sestava a tracklist. Víc nic, ale hraje báječně a jsem šťastnej, že ho mám.
SKLADBY:
Original Edition:
1. Follia
2. Uomo cosa fai
3. Il capestro
4. L'artista sadico
5. Il presidente
6. Distruzione
Mellow Records MMP255:
1. L'artista sadico (5:20)
2. Follia (5:36)
3. Il capestro (5:00)
4. Il presidente (6:20)
5. Uomo cosa fai (6:50)
6. Via Gaetano Argento (2:50) – bonus track –
7. Fermi tutti è una rapina (2:55) – bonus track –
8. Distruzione (5:16)
SESTAVA:
Fabio Celi – tastiere, voce
Ciro Ciscognetti – tastiere
Luigi Coppa – chitarra, armonica
Rino Fiorentino  – basso
Roberto Ciscognetti – batteria, percussioni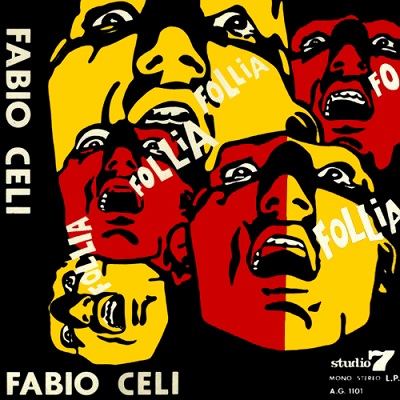 Follia
Fabio Celi e Gli Infermieri
Psychedelic Rock, Prog Rock
Studio 7
1973
LP
6
CD Mellow Records ‎– MMP 255 /1996/