CD RCA – ND 75244
Při psaní recenze předcházejícího alba Chocolate Kings jsem trochu reptal, bručel a stěžoval si na skutečnost, že už to není ono. Přitom to byla deska ještě docela úspěšná a neobvykle nízká prodejní čísla měla jen doma v Itálii. Zpěvák Bernardo Lanzetti se v kapele rychle zabydlel, ovšem další změna v sestavě na sebe nenechala dlouho čekat. Snad únava z nekonečných turné dopomohla tomu, že Marconiho pekárnu opustil jeden z jejích zakládajících členů, houslista Mauro Pagani a kterého nahradil – aspoň na nějaký čas – Gregory Bloch.

Deska Jet Lag se natáčela v Kalifornii (na předměstí Los Angeles) a je výrazně ovlivněna v té době módním jazzrockem. Byla také poslední s texty v angličtině a tak ji berme jako závěrečnej pokus o úspěch na mezinárodní scéně:
Instrumentální Peninsula je křehkou introdukcí s brilantní akustickou kytarou. Následující "titulka" Jet Lag je nejdelší skladbou na desce, rozdělená do tří vzájemně nekompatibilních celků a instrumentálně tomu nemám absolutně co vytknout. Před posluchačem se postupně vyloupne hned několik dechberoucích pasáží a jednoznačně nejslabším článkem je pro mě Lanzettiho zpěv. Nějak se nemohu zbavit dojmu, že jeho angažmá u PFM bylo šlápnutím vedle a že mu mantinely, ve kterých se v té době tvorba kapely ubírala, byly moc těsné. V instrumentálce Storia in 'LA' nejde ani tak o instrumentální orgie, jako spíš o navození příjemné atmosféry. Což se také, díky originálně znějícím klávesám Flavia Premoliho, daří. Jako první výraznější zaváhání tak cítím až u skladby Breakin In, která mě prostě nemá – ani přes veškerou snahu – čím zaujmout.
Pěkná hra houslí uvádí jedinou píseň v italském jazyce, Cerco la lingua. Svou členitostí se mi líbí a pěkná melodie tentokrát sedla i Lanzettimu. Třetí a poslední instrumentálka Meridiani si zřejmě klade jediný cíl a to ohromit posluchače hráčskou ekvilibristikou. Hlavní pozornost na sebe strhávají kytara a basa s bicími, jenže tomu chybí nějaký výraznější leitmotiv a tak mě ta machrovačka nechává vcelku chladným. To Left-Handed Theory už je z jiného těsta a jde o parádní, jazzrockovou nakládačku. A když se z pravého kanálu začnou drolit tóny elektrického piana, jako bych slyšel Martina Kratochvíla s jeho Jazz Q. Album končí trochu nevýraznou skladbou Traveler, která se té jazzrockové škatulce docela vymyká. Bohužel, ale ani ona nedokáže napravit rozpačitý dojem, který z jeho poslechu mám…
Hodnotím tedy podobně, jako Chocolate Kings. Za dvě a půl hvězdičky zaokrouhlené nahoru. Deska má sice pěknej a křišťálově čistej zvuk, i pár silnejch momentů by se našlo, ale jako celek mě neohromila. Poslouchám ji opravdu zřídka a myslím, že většina fanoušků se bez ní obejde.
Původní album vyšlo naráz hned v několika zemích (USA, Kanada, Německo, Itálie, Japonsko) a není nijak vzácné, ani drahé. Navíc je k mání aj řada reedic. Moje nedatované CD od RCA obsahuje, kromě černými písmenky potištěného kotouče, ještě osmistránkovej booklet s kredity, sestavou, texty a jednou čb fotografií.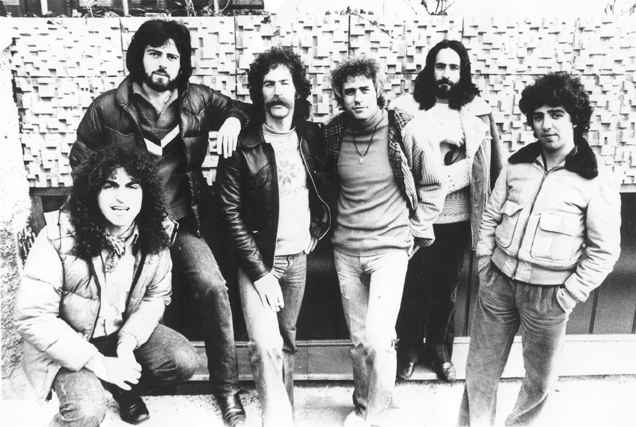 SKLADBY:
1. Peninsula  2:35
2. Jet Lag  9:10
3. Storia in 'LA'  6:25
4. Breakin In  4:10
5. Cerco la lingua  5:34
6. Meridiani  5:57
7. Left-Handed Theory  4:11
8. Traveler  5:39
SESTAVA:
Bernardo Lanzetti – lead vocals
Franco Mussida – electric & acoustic guitar, 12 string guitar, mandocello, vocals
Flavio Premoli – organ, piano, Mellotron, harpsichord, Minimoog, vocals
Gregory Bloch – electric & acoustic violin
Patrick Djivas – bass, fretless bass, vocals
Franz Di Cioccio – drums, Minimoog, vocals
NOTES:
Recorded at "Kendun Recorders", Burbank, California, in January 1977 and "Scorpio Sound Studio", London in February 1977.
Mixed at "Scorpio Sound Studio", London, in February, 1977.
Mastered at "RCA Studio", London.
Jet Lag
PFM (Premiata Forneria Marconi)
Prog Rock, Jazz Rock
Zoo Records
1977
LP
8
CD RCA – ND 75244