CD Mercury – UICY-94527   /2010/
Album Storia o leggenda je osmým studiovým zářezem Le Orme a vyšlo v roce 1977…
Deska se nahrávala v Paříži v říjnu výše uvedeného roku a při podrobnější analýze se dá vypozorovat, že těch pár týdnů pobytu ve "městě módy a zamilovaných" mělo na její kompozici nemalej vliv. Aldo Tagliapietra si ve svých textech pomohl několika slovíčky ve francouzštině (refrén skladby Il quadro), Tony Pagliuca sáhnul po tahací harmonice a hlavním zdrojem inspirace pro závěrečnou instrumentálku Al mercato delle pulci se stal tradiční pařížskej "blešák". I přes znatelný posun směrem k jednodušší, písničkovější formě je to pěkná kolekce a ve svém osobním žebříčku ji řadím výš, než podobně zaměřené album Smogmagica z roku 1975.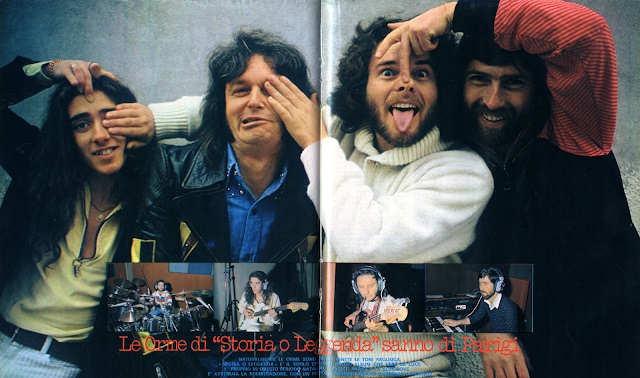 Zkrátka a dobře, písničky mají tentokrát navrch a tak není nutné tenhle kotouček nějak zvlášť rozpitvávat. Aldo Tagliapietra zpívá vroucně, procítěně a libozvučná italština je rajskou hudbou pro moje, kraválem v Kolbence zkoušená ouška. Rytmiku to má sice umírněnou, ale aranžmá skladeb pečlivé a hlavně, hlavně jsou tady melodie. Dramaticky klenuté, přitažlivé a …sladké.  Jojo, je to řádně přislazená italská káva, ovšem diabetes mi zatím (klep klep) nehrozí a čas od času si zamlsám rád.
Z tohoto konceptu malinko vyčnívaj tři skladby. Il musicista je sice neméně melodická, ale daleko svižnější, živelnější a obsahuje aj špetku té progrese a instrumentálního muzicírování. Na poměry alba je to opravdu kumšt, s brilantním výkonem kytaristy Germana Serafina. Dalším záchytným bodem je v pořadí pátá Se iovo lavoro. Jestli s ní Le Orme udělali díru do světa netuším, ale nějak takhle si představuju hit. Je to sice až triviálně jednoduchá, ale neobyčejně chytlavá skladba vystavěná na souhře zpěvu a bombastických, hřejivě znějících syntezátorů. Sice mi to připomíná jednu tuzemskou popinu, ale nechť.
Celou desku pak uzavírá instrumentální jízda Al mercato delle pulci a to už je panečku jiné kafe. S fernetem. Le Orme tady předvádějí, že jsou přece jenom ti rockeři a po krátké předehře se vyhrnou, jak velká voda. Je to nadupané a energické, aneb konec dobrý, všechno dobré…
Musím se zmínit ještě o obalu. Stejně, jako v případě alba Uomo di pezza (1972) pochází z ateliéru Waltera Mac Mazzieriho a je skutečně nádherný. Já v tom sice vidím nějakou sprosťárnu (stejně tak by to mohla být i bitevní scéna), ale to už je taková moje úchylka a v LP formátu to muselo být teprve pokoukání.
Je to velmi dobrá, příjemně se poslouchající placka bez disharmonickejch disonancí, vhodná k jakékoliv příležitosti. Její obsah si sice netroufám označit za progresivní rock, ale milovníkům italského bigbítu by se mohla líbit. Za mě 3,5.
SKLADBY:
1. Tenerci per mano – 4:40
2. Storia o leggenda – 5:05
3. Il musicista – 4:47
4. Come una giostra – 4:30
5. Se io lavoro – 4:20
6. Un angelo – 4:50
7. Il quadro – 4:10
8. Al mercato delle pulci – 4:05
SESTAVA:
Aldo Tagliapietra – Basso Fender, Voce, Arpa indiana
Tony Pagliuca –  Organo Hammond, Polymoog, Minimoog, Pianoforte, Harmonium, Fisarmonica
Michi Dei Rossi – Batteria Pearl, Marimba, Glockspiel e percussioni varie
Germano Serafin – Chitarra elettrica Fender, chitarre acustiche
Storia O Leggenda
Le Orme
Rock
Philips
1977
LP
8
CD Mercury – UICY-94527 /2010/