Tajomný názov – psychedelic hard rock v podaní Light Of Darkness. Nešlo o žiadny utajený projekt, v ktorom by hudobníci vystupovali pod pseudonymami, to nie, ale prakticky sa o skupine nič nevie. Ani Reinhart Kotzsch, ktorý je autorom priloženého textu na CD od Second Battle, toho veľa nezistil. Tak aspoň základné fakty. 
Skupina vznikla v roku 1970 v nemeckom Hamburgu. Išlo o spojenie troch hudobníkov zo Škótska a jedného Nemca, ktorý si sadol za bicie. Bol ním Manfred Bebert. Škótsku časť zostavy tvorili Byron Grant (gitara, husle), Mike Reoch (basová gitara, klávesy, harmonika, flauta) a John Latimer (spev, klávesy). Ich predstava bola jasná – hrať tvrdo.
Nešlo však o žiadnych nováčikov. Mike a Byron, obaja narodení v meste Brechin, hrali spolu v beatovej kapele Tremors, ktorá mala na svojom konte album Tremors Beaten An – Die Knüller (1965). Dlhšiu dobu sa pohybovali na klubovej úrovni a pošťastilo sa im otvárať zopár koncertov The Rolling Stones v Nemecku. John patril medzi ostrieľaných borcov tamojších klubov a Manfred s veľkou pravdepodobnosťou účinkoval v niektorej z mnohých podôb Tremors.
Light Of Darkness spojil osud so známym hudobníkom a producentom. Bol ním Herbert Hildebrandt-Winhauer, člen veľmi populárnej nemeckej beatovej skupiny The Rattles a z jeho bohatej producentskej činnosti spomeniem "iba" debut Lucifer's Friend (1970). Chlapík s mnohoročnými skúsenosťami a kontaktmi na vplyvných ľudí z hudobnej branže pomohol kapele k demo nahrávke, ktorú ponúkol firme Philips. Pozitívna reakcia na seba nenechala dlho čakať a muzikanti dostali šancu.
Všetko vyzeralo byť na dobrej ceste. Chalani si dali záležať a Herbert odviedol profesionálnu prácu. Skupina zaznamenala 6 autorských skladieb a jednu cover verziu, Soul Francisco, ktorej autorom je americký hudobník Tony Joe White. Country rockový originál (1968) o dĺžke 2 minút Light Of Darkness zmenili na nepoznanie a urobili z neho 10-minútovú hard rockovú smršť. A to isté sa dá povedať o celej nahrávke. Lee Dorian, britský hudobník, zakladateľ vydavateľstva Rise Above Records a jeho sublabelu Rise Above Relics, ktorý sa venuje zabudnutým nahrávkam zo 60. a 70. rokov, o doske Light Of Darkness, ktorá vyšla v roku 1971, povedal: "Kapela Light Of Darkness ponúkla svoju zmes tvrdého progresívneho blues so všetkou surovou krásou. Nemusíme ju považovať za najoriginálnejšiu skupinu tohto obdobia, ale jej jediný album je určite zaujímavým artiklom pre fanúšikov raného hard rocku a tvrdého zvuku. Prirovnal by som ju k britským súborom Writing On The Wall, Red Dirt, Stack Waddy a môjmu veľmi obľúbenému Edgar Broughton Band."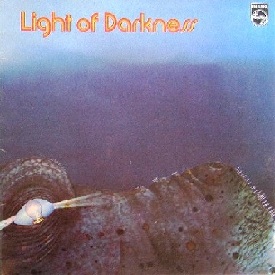 Chalani to úplne nevzdali, hoci to nemali jednoduché. Hlavne promotéri sa k nim nesprávali dvakrát úctivo a zväčša sa dočkali uštipačných poznámok a vtipov na adresu Škótov. Napriek tomu odohrali niekoľko koncertov a zúčastnili sa zopár krautrockových festivalov, ale bez podpory vydavateľskej firmy to ďalej nevládali utiahnuť a kapitolu Light Of Darkness sa rozhodli uzavrieť ešte v tom istom roku. V 1972, s krížikom po funuse, prišla s LP španielska pobočka Philips.
Nahrávka si rokmi udržiavala povesť tajomného favorita a cena pôvodného výlisku sa šplhala čoraz vyššie. Určitú zásluhu na tom mali aj nemeckí dídžeji, ktorí skladbu Soul Francisco pripomínali v éteri. Medzi zberateľmi má veľkú hodnotu aj dnes.
V roku 1980 sa vďaka ZYX Records objavil Light Of Darkness s alternatívnym obalom. Na propagácii diela sa najviac podieľala nemecká firma Second Battle, ktorá sprístupnila dve vydania LP (1990 a 2000) i CD (1992 a 1998). V roku 2014 sa k nej s vinylom pridala značka Long Hair.
DISKOGRAFIA:
1971 – Light Of Darkness (Philips)
Zdroj: vlastné CD od Second Battle.