Milujem hudbu Kena Hensleyho, zbožňujem nezameniteľný skladateľský rukopis tohto umelca v službách Uriah Heep, rád počúvam jeho sólové nahrávky. Tým som vlastne povedal všetko podstatné a mohol skončiť…
Výberovky, najväčšie hity, kompilácie. Množstvo názvov, obsah zväčša totožný. Čo je za tým? Túžba nahrávacích spoločností a hudobníkov po peniazoch? Skutočná snaha priblížiť hudbu dotyčného interpreta neznalým záujemcom? Tieto otázky sa stále preberajú a budú preberať, výberovky sústavne vychádzajú a budú vychádzať. Čo s touto kolekciou hitov uriašovského kráľa? Má to opodstatnenie, význam? Je to iba fanúšikovská vášeň, ktorá nás núti mať všetko, čo vydajú tí naši favoriti? Oplatí sa zainvestovať?
Ken Hensley v roku 2004 prijal ponuku ruskej strany a nanovo nahral 12 skladieb zo svojho čarodejníckeho diára. Tento hudobník mi prirástol k srdcu v momente, keď som mal tú česť prvýkrát v živote počuť skupinu Uriah Heep. Sú to jeho pesničky, jeho tvorba, preto má výsostné právo nakladať so svojím duchovným bohatstvom podľa vlastného uváženia. Fanúšikovia to buď prijmú, alebo nie. Ja to beriem. Obľubujem jeho spevácky prejav, rešpektujem nové podanie klasických čísiel, milujem The Wizard, vychutnávam nádheru Illusion, krásu Circle Of Hands, prežívam výnimočnosť osobného favorita menom Rain….
Takto by som mohol pokračovať až do konca. Niektoré skladby sú takmer vernou kópiou svojich originálov, iné obohatené a vkusne natiahnuté majstrovstvom autora a jeho hostí. Mikrofón je pevne v rukách Kena, spieva výborne. A tie jeho hammondky, nádhera! Vzdávam hold a úctu všetkým hammondkárom v rockovej hudbe; Jon Lord, Keith Emerson, Mark Stein a ďalší, máte môj neskonalý obdiv a rešpekt! Prvý však u mňa vždy bol, bude a navždy zostane Ken Hensley. Nie je lepší skladateľ, hudobník či spevák, iba natrvalo zaujal miesto na najvyššom stupni v mojom rockovom srdci.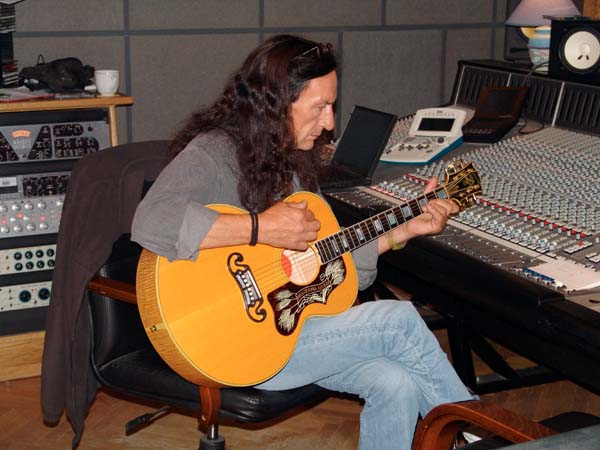 Všetka česť Kenovi, skláňam sa pred majstrovstvom hudobníkov z Ruska, svoju prácu odviedli na výbornú. Preto, z úcty k originálnym nahrávkam a pôvodným muzikantom, hodnotím kolekciu The Wizard's Diary "iba" 4 hviezdičkami.
Ken, ďakujem Ti za nádherné chvíle pri Tvojej hudbe!
SKLADBY:
01. The Wizard (Ken Hensley/Mark Clarke) 3:03
02. Illusion (Ken Hensley) 5:05
03. Circle Of Hands (Ken Hensley) 6:22
04. Rain (Ken Hensley) 3:44
05. Weep In Silence (Ken Hensley/John Wetton) 5:24
06. Feelings (Ken Hensley) 4:41
07. Sweet Freedom (Ken Hensley) 6:43
08. Lady In Black (Ken Hensley) 8:00
09. Free Me (Ken Hensley) 4:11
10. July Morning (Ken Hensley/David Byron) 8:30
11. Stealin' (Hensley) 8:21
12. Easy Livin' (Ken Hensley) 2:37

Produced by Ken Hensley
Arranged by Ken Hensley
Executive producers: Eugene Koltunov & Gleb Nossyrev
Recorded at Pedro Studios, Moscow, Russia, June 2004, engineer: Alexander Barmakov
Mixed at T-Loop Studios, Alicante, Spain, engineer: Tommy Lopez, assistant engineer Robert Flash
Mastered by Robert Flash & Tommy Lopez at The Basement
Photos Alexander Barmakov
Design Pavel Semenov at 'Nine Design'
Artwork Yuri Zadimivko
ZOSTAVA:
Ken Hensley – lead & harmony vocals, electric, acoustic & rhythm guitars, slide solos, organ, synthesizer, piano, Moog, tambourine & cowbell
+
Russia Presidential Symphony Orchestra (1,4,9,10)
Andrey Shatunovsky – drums
Alexey Ostashev – bass guitar
Igor Kozhin – guitar solos
Vadim Nazarov – acoustic & electric piano
Irina Rodilez, Raisa Saed-Shakh, Andrey Kolchugin & Oleg Kozura – backing vocals 
The Wizard's Diary
Ken Hensley
Hard Rock
Horsepower Records
2005
CD
12