CD Bella Casa – CASA12BOX /2012/
Box Set, CD 5
Mám rád horory, mám rád aj zombie a za jeden z nejpovedenějších bijáků s hordou nemrtvých v hlavní roli považuji dynamickej snímek Dawn of the Dead, natočenej podle klasické filmové předlohy režiséra George A. Romera z roku 1978. Možná, že jste ten film někteří z vás viděli a vzpomenete si na skupinku čtyř zoufalců zabarikádovanejch v moderním nákupním centru, odolávající přesile oživlých mrtvol i drancujícímu motorkářskému gangu. Remake je parádní, ale na původní verzi se podepsal zub času a dnes už by asi nikoho neohromila. Zoufale pomalé zombie jsou spíš k smíchu a bát by se jich mohlo leda tak malé dítě. A tak potěší aspoň pár akčních scén, slušné gore efekty a především hudba. Tu dělali Goblin a tak si ji pojďme v krátkosti přiblížit: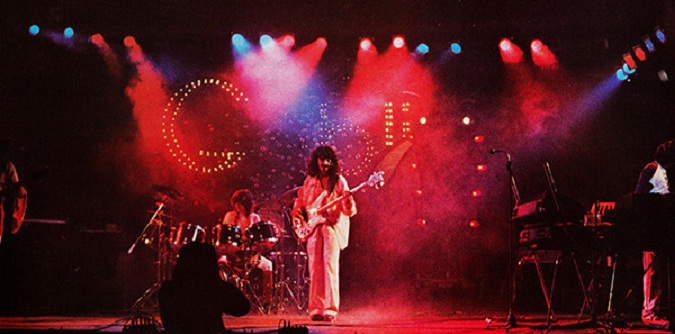 Originální album mělo italsky klasických 30 minut a obsahovalo deset stop. Goblin se tentokrát vykvajzli na nějaké instrumentální exhibice a veškerej svůj potenciál vložili do budování napětí. Většina skladeb se tak nese v tíživé atmosféře a přesně o tom jsou aj první dva tracky – L'alba dei morti viventi a Zombi. Ten první se loudá, jako pohřební průvod a druhej je chladnější než berla mrazilka. Nicméně, oba jsou výborné a patří k nejlepším číslům celého soundtracku.
Prvním vybočením z nasazeného kurzu je hlukovka Safari. Nomen omen – zvuky džungle, perkuse a povykující domorodci. Už si ani nevybavuju, ve které scéně se tenhle rambajs objevil, ale naštěstí to trvá sotva dvě minutky. Další "srandička" se skrývá pod názvem Torte in faccia. Dort v obličeji. Ve filmu je několik odlehčujících sekvencí, ke kterým vyhrává tato – až nestoudně – veselá kabaretní melodie a břinkající honky tonky piáno připomíná staré grotesky plné šlehačkovejch bitev…
Atmosférickej štych Ai margini della follia je takovou tou klasickou sugestivní vsuvkou, určenou ke ždímání emocí před plátnem se krčícího obecenstva. Mnohem raději mám hybnější a v dobrém slova smyslu chytlavější pecku Zaratozom, ve které se konečně blýskne aj kytarista Massimo Morante. Ostatně, neméně dobrá je i následující La caccia. Z větší části temná a dramatická, ale s krásnou, melodickou a prosluněnou vsuvkou se sólem na mandolínu. Skladba Tirassegno koketuje s country music a po ní přichází další vynikající pecka – Oblio. Film Noir. Ságo navodí cigaretovým dýmem prostoupenou atmosféru jazzového klubu, ze kterého se nedá odejít. Klávesová melodie v "refrénu" skladby je opojně závratná a saxofonové sólo jakbysmet. Je to takovej zlatej hřebíček do rakvičky, protože poslední Risveglio jest již jen krátkou klavírní etudou.
Bonusů je celkem sedm. Vypíchnul bych především alternativní verzi úvodní L'alba dei morti viventi, protože se opravdu výrazně liší a náplň soundtracku tak skutečně obohacuje. Chutňoučký je i jazz rockový nášup Zombi (Supermarket), s vynikajícím klávesovým sólem a také dráždivě přitažlivá Zombi (Sexy). To ostatní jsou víceméně zbytečnosti a skuhrání zombíků v posledním tracku si mohl vydavatel rovnou odpustit.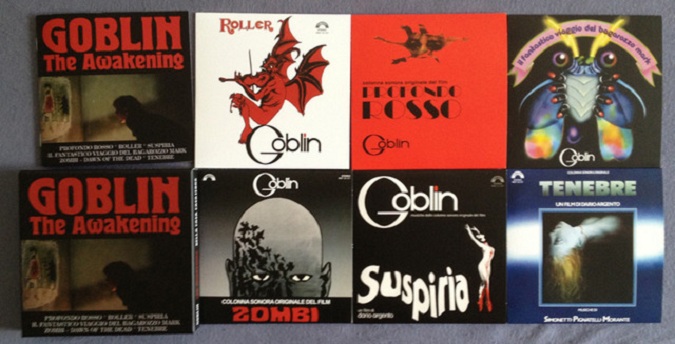 Na předcházejících albech Goblin lovili především v art rockových vodách a tohle je první, které je stylově tak rozmanité. A vůbec to není na škodu, protože hudba funguje úplně v pohodě aj bez filmu a jedinej track, nutící mě skočit o numero dál je Safari.
SKLADBY:
01. L'alba dei morti viventi   –  6:07
02. Zombi   –  4:26
03. Safari    –  2:13
04. Torte in faccia    –  1:59
05. Ai margini della follia   –  1:34
06. Zaratozom   –  3:39
07. La Caccia  –  3:40
08. Tirassegno  –  2:53
09. Oblio   –  5:15
10. Risveglio   –  1:07
Bonus tracks:
11. L'alba dei morti viventi (Alternate Take)   –  5:21
12. Ai margini della follia   –  1:44
13. Zombi (Sexy)   –  2:22
14. Ai margini della follia (Alternate Take)   –  3:40
15. Zombi (Supermarket)   –  3:16
16. L'alba dei morti viventi (Intro – Alternate Take)   –  0:48
17. Zombi (The Living Dead's Voices!)   –  2:10
SESTAVA:
Agostino Marangolo: drums, piano, percussion
Massimo Morante: acoustic & electric guitars, bass, mandoline
Fabio Pignatelli: bass, acoustic guitar
Claudio Simonetti: Fender Rhodes, electric piano, Hammond organ, Moog synthesizers, violin, Mellotron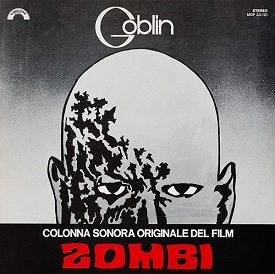 Zombi (Colonna Sonora Originale Del Film)
Goblin
Soundtrack
Cinevox
1978
LP
10
CD: Bella Casa - CASA12BOX /2012/