CD Mellow Records ‎– MMP 121 /1992/
Debutové a na dlouhou dobu jediné album skupiny Murple patří k těm nejvýraznějším italským chuťovkám a tak jsem toužil po tom, zařadit ho do své domácí sbírky. Ovšem shání se docela blbě a než se mi podařilo ten svůj cíl splnit, uteklo pěknejch pár let…
Původní album vyšlo u německého vydavatele BASF Fare v roce 1974 a jeho cena v bazarech a aukcích se pohybuje okolo 400 Euro. První reedice na CD (a zároveň aj první reedice vůbec) se dočkalo zásluhou italského nezávislého labelu Mellow Records v roce 1992 a další se objevily až o deset let později díky pirátům Akarma. Teprve v roce 2011 se na trh dostala výpravná edice s bonusovým DVD od AMS a tu zatím poslední poslali do světa Belle Antique z Japonska (2020). Ovšem v podobě docela nákladného SHM-CD.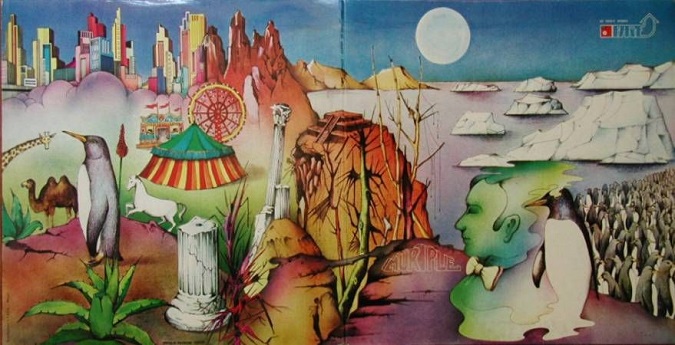 Já jsem měl eminentní zájem o verzi s bonusovým DVD (se záznamem comebackového vystoupení) a tak jsem se snažil splašit rozkládací vinyl repliku od AMS, ovšem ta už byla dávno rozebraná a tak jsem byl nakonec rád za onu vůbec první reedici od Mellow, z roku 1992. Navíc se mi ji podařilo koupit v naprosto dokonalém stavu a tak vypadá, jako kdyby zrovna vyběhla z fabriky. Klasická plastová krabka obsahuje černým písmem potištěnej kotouček a pěknej, čtyřstránkovej booklet s originální obálkou a mnoha (maličkými) fotografiemi. Zajímavostí je vložená knížečka s koncepčním příběhem a texty, protože s něčím podobným – byť v daleko lepším provedení – jsem se setkal snad jenom u CD The Prince of Heaven's Eyes irskejch Fruupp.
Bizarní koncepční storka vypráví smutnej příběh tučňáka Murpleho, ubíjeného každodenní neměnností a rutinou. V touze po dobrodružství se tak raději vzdá bezpečí své kolonie, opustí přirozené prostředí a vydá se do světa. Během svého putování je však uloven lidmi a donucen vystupovat v cirkuse. Nakonec skončí v ZOO a své dny pak dožije jako součást expozice na malém, plastovém ledovci.
Po hudební stránce jde o klasickej symphonic prog s prvky vážné hudby, minimem zpěvu v italštině a kouzelnou atmosférou. Necelých 34 minut dlouhé album obsahuje dvě rozsáhlé suity rozporcované do šesti kapitol a je jasné, že každá z nich zabrala celou stranu původní LP. Cédéčko však načte pouze dva tracky a která z částí zrovna hraje se člověk může akorát domnívat. Prim hrají především klávesy a slyšet jsou hlavně varhany, které doplňují všelijaké, dobově znějící syntezátory. Svůj prostor však dostane aj čisté piano a třeba úvod druhé skladby – Preludio e scherzo – právě v podání piana je parádní klasickou vsuvkou. Nechybí ani elektrická kytara, ale její role je spíš podružná a v podobě táhlých sól si ji plní vesměs v doprovodech.
Hudba je to sice propracovaná a přiměřeně náročná, ovšem zároveň aj neobyčejně přístupná a tedy bez nějakejch rušivejch elementů. Žádná orchestrula diabolika, disharmonika, ani akademika, ale klasická Itálie. Dalo by se to přirovnat k raným Genesis, šmrncnutejm umírněnějšími ELP a z italské scény mě napadají Reale Accademia di Musica, Latte e Miele, nebo Le Orme. 
Kapela se do svého tučňáka naprosto zbláznila a přizpůsobila mu nejenom obal desky, ale i veškeré propagační materiály a pódiovou prezentaci. Prakticky na žádném vystoupení v letech 1971-73 nesměl chybět nafukovací tučňák v nadživotní velikosti a spousta dalších propriet. Přístup to byl jistě originální, ale skupině moc nepomohl a poté, co se BASF rozhodli s podporou italského progresivního rocku definitivně seknout, se rozpadla. Album nakonec vyšlo až několik měsíců potom, co bylo nahráno a bez jakékoliv podpory od vydavatele zcela zapadlo. Na své znovuobjevení a zasloužené uznání si muselo počkat pěknejch pár let…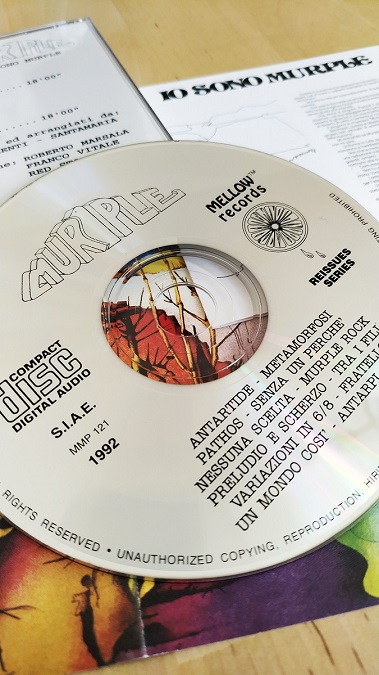 Zkrátka a dobře, je to výborná muzika a malou výtku bych měl jen k výslednému zvuku. Nevím jak ostatní reedice, ale ta od Mellow Records je udělaná z původní vinylové desky a tak to šumí a praská, jako kdybych seděl u gramofonu. Není to nic neobvyklého a setkal už jsem se s tím v případech alb skupin Laser, Madrugada, nebo Gruppo 2001, ale trošičku mě to mrzí. Zvlášť, když remaster dostupnej na Spotify (2012) hraje líp a bez slyšitelnejch lupanců.  Čtyři a půl.
SKLADBY:
Side A – Suite 1 – 17:37
01. Antartide
02. Metamorfosi
03. Pathos
04. Senza un perché
05. Nessuna scelta
06. Murple rock
Side B – Suite 2 – 16:37
07. Preludio e scherzo
08. Tra i fili
09. Variazioni in 6/8
10. Fratello
11. Un mondo così
12. Antarplastic
SESTAVA:
Pier Carlo Zanco – voce solista, coro, organo, piano, Eminent, sintetizzatore, contrabbasso ad arco
Pino Santamaria – chitarre elettriche, chitarra acustica, chitarra 12 corde, voce solista, coro
Duilio Sorrenti – batteria, gong, tumbadoras, timbales
Mario Garbarino – chitarra basso, bongos, triangolo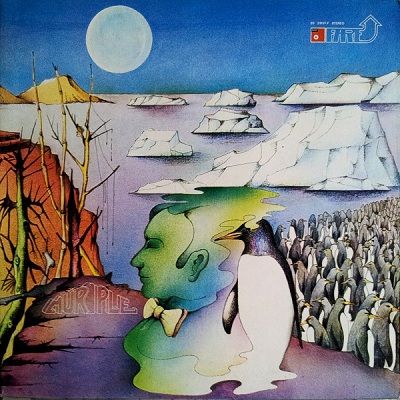 Io Sono Murple
Murple
Prog Rock
BASF Fare
1974
LP
2
CD Mellow Records ‎– MMP 121 /1992/