CD Numero Uno, Sony BMG Music Entertainment ‎– 88697343682  /2008/
Acqua Fragile byla jednou z mála italskejch kapel s texty v angličtině, ale bylo jí to houby platné – úspěch a sláva byly vyhrazeny jiným. Trochu víc se o ní začalo mluvit vlastně až teprve v souvislosti s odchodem Bernarda Lanzettiho k Premiata Forneria Marconi a to už bylo krátce před jejím rozpadem…
Acqua Fragile pocházej z Parmy a vznikli v roce 1971 z trosek skupiny Gli Immortali. V rozletu jim pomohla skutečnost, že se dostali pod manažerská křídla Franca Manoneho (k jehož ovečkám patřili aj PFM), kterej jim zprostředkoval vystoupení před zahraničními hvězdami typu Soft Machine, Curved Air, Uriah Heep, nebo Gentle Giant. Mám za to, že okolnostem předcházejícím podepsání smlouvy s labelem Numero Uno to jen prospělo.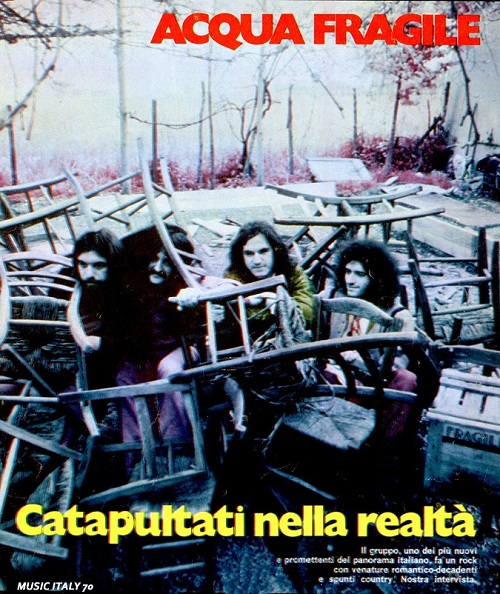 Bezejmenný debut spatřil světlo světa v červnu 1973 a jeho obsah bych charakterizoval jako symphonic prog s prvky folku. Výraznými znaky jsou pečlivě sezpívané, na west coast (a také Gentle Giant) odkazující vokály, pěkné melodie a zvukomalebná klávesová kouzla ála Genesis.
Hned na úvod je tady velmi pěkná, ambiciózní a téměř sedm a půl minuty dlouhá Morning Comes. Propracovaná, členitá (jak se na progresivní rock sluší a patří), s nepřeslechnutelnými kytarovými sóly a pestrou paletou kláves. Zrovna tady jsou ty reminiscence na Genesis – a to i díky poměrně podobnému sólovému zpěvu – docela silné. Hodně recenzentů přirovnává hudbu Acqua Fragile k legendárním Gentle Giant a jestli jsou tu "obříci" někde opravdu slyšet, tak v následující Comic Strips. Její rytmus je komplikovanej až běda a vokální linka – hlavně v prostřední části skladby – hodně nápadná. Pravdou je, že ta inspirace je tady zřejmá, ale hlavu jim za to drbat nebudu…
Pod názvem Science Fiction Suite bych hledal všechno možné, ale akustickou folkovou píseň? A přece je tomu tak. Rytmika si dá pohov a tak si můžu vychutnat výbornou práci zvonivejch akustik a úžasně vrstvené vokály. Hned čtyři z pěti členů kapely zpívali a tady jsou pořádně slyšet. Po vkusné baladě Song from a Picture přichází další z vrcholů alba, kterým je prog rocková nakládačka Education Story. Je neuvěřitelné, kolik nápadů dokážou kapely podobného ražení nacpat na plochu čtyř minut. Její úvod je až nečekaně razantní, ovšem prakticky vzápětí se zvrtne do chytlavejch instrumentálních eskapád obohacených lahůdkovými vokálními kouzly.
Akustická písnička Going Out (ze stejného soudku, jako Science Fiction Suite) je jen chvilkou oddechu před závěrečnou náloží Three Hands Man, která je mým jednoznačně nejoblíbenějším kouskem na desce. Od samotného začátku čapne a nepustí. Svižné tempo, tikající rytmus, neobyčejně působivé klávesy a nápadů jak z klobouku kouzelníka Pokustóna. V poslední třetině suity se ozve jednoduchá pouťová melodie, které se Acqua Fragile okamžitě chytěj a dál jí rozvíjí. Její vyústění do grandiózního finále s gejzíry perlivých kláves je už jen logickou a fascinující tečkou za celou deskou.
Původní asfalt vyšel u labelu Numero Uno a není nijak zvlášť vzácnej, ani drahej. Sehnat se dá za celkem rozumnou cenu, ale v roce 2016 vyšla i jeho zbrusu nová reedice. Vydání na CD je celá řada, to poslední – od Esoteric Recordings – je na trhu od roku 2011. Edice od Numero Uno/Sony Music hraje výborně a navrch nabídne ještě čtyřstránkovej booklet obsahující sestavu skupiny, tracklist a pět – vesměs hodně nezřetelnejch – fotek.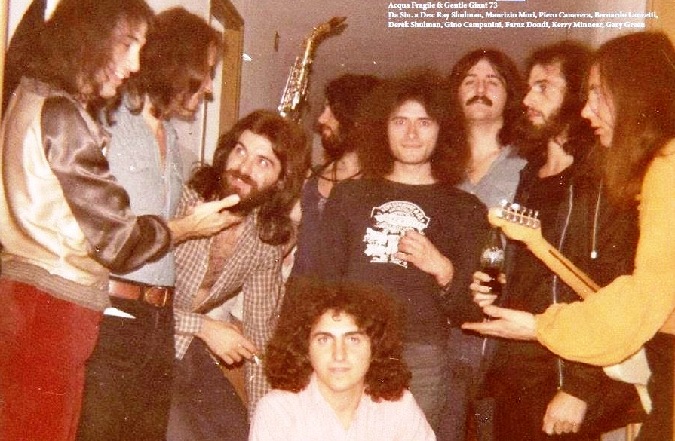 Před šesti lety jsem tohle album ohodnotil za plnej počet, ale od těch dob mi ušima proteklo moře další (nejen) italské hudby. Mohu tedy srovnávat a dnes už mi debut Acqua Fragile nepřipadá tak výjimečnej, jako tenkrát. Jednu hvězduli sundám, ovšem ty čtyři udělím rád.
SKLADBY:
1. Morning Comes (7:22)
2. Comic Strips (3:56)
3. Science Fiction Suite (5:54)
4. Song from a Picture (4:09)
5. Education Story (4:12)
6. Going Out (2:56)
7. Three Hands Man (8:07)
SESTAVA:
Gino Campanini – chitarra elettrica acustica e voce
Piero Canavera – batteria, chitarra acustica e voce
Franz Dondi – basso
Bernardo Lanzetti – voce e chitarra
Maurizio Mori – tastiere e voce
Acqua Fragile
Acqua Fragile
Prog Rock
Numero Uno
1973
LP
7
CD Numero Uno, Sony BMG Music Entertainment ‎– 88697343682 /2008/