Ten termín jsem poprvé zaznamenal někdy na přelomu sedmý dekády s osmou na letenský burze v souvislosti s kapelou Point Blank. Líbil se mi její název stejně jako přebaly desek a co si vybavím, pělo se tam na ni i dost chvály. Ve snaze přiblížit mi o co kráčí, borec zasvěceně povídá: "jižanskej rock, vole… dvě tři kytary rozumíš, jízda jak prase, vole" a začal hoblovat imaginární nástroj, do rytmu házet bosou hlavou a přidal několik dalších jmen představitelů žánru, z nichž jsem si zapamatoval jenom Blackfoot. K bližšímu kontaktu ale tenkrát nedošlo. Tři kytary, proboha na co? Kdyby tam radši šoupli hammondky…
Odstup jsem si zachovával i v průběhu osmdesátek, na jejichž konci mi jižanský rock připomněl Josef Vlček v publikaci Rockové směry a styly: "Forma bělošského elektrifikovaného blues, vyvinutá v sedmdesátých letech na jihu USA. Od poloviny sedmdesátých let fúzuje tento styl s country rockem téže oblasti. Je typický dlouhými improvizacemi několika sólových kytar – v podobě boogie se blíží k hard rocku. V textech je patrný velmi výrazný lokální patriotismus."
Na konci hesla byla uvedena zhruba dvacítka titulů doporučených k poslechu (mj. Anytime, Anyplace, Anywhere; Rio Grande Mud, Brothers and Sisters, Gimme Back My Bullets, Siogo), ale testování se znovu nekonalo. Výherní kombinaci jsem si představoval jinak.
Během další dvacetiletky jsem se posunul k hranicím Jihu jen o píď, když jsem neodolal vzpomínkám a pořídil první dvě alba starých známých Point Blank na jednom CD, které mi přišlo pod ruku při hrabání v dávno zrušeném bazaru na Smíchově. K serióznějšímu průzkumu jižanského území mě nastartoval až kolega Piťo věnováním prvních dvou alb Molly Hatchet. Z celé řady následně vyzkoušených tras (Allman Brothers Band, Black Oak Arkansas, Blackfoot, Little Feat, Lynyrd Skynyrd, The Outlaws, ZZ Top, 38 Special…) mi po čase vykrystalizovala favoritní dvojice Lynyrd Skynyrd a Blackfoot, kterou jsem tehdy shodou příznivých okolností slyšel i naživo a oba zážitky navíc okořenil střetem s hejkalem, dalším nadšeným propagátorem southern rocku na území někdejší federace.
Molly Hatchet jsem jako svůj třetí pilíř žánru přijal s kratším odstupem, který zapříčinil absenci na všech dosavadních koncertech kapely v ČR. A asi jsem si zasloužil, že poslední avizovaný vystoupení 9. 12. 2012 v Praze, na který už jsem byl nachystanej, bylo nakonec "z technických důvodů" zrušeno. Nic to však nezměnilo na faktu, že i tahle jacksonvillská banda se stala nedílnou součástí mých denních playlistů i domácí sbírky.
Stručnou reminiscenci se jistě sluší uzavřít pár slovy o muzice samotné. Začnu "od konce", tuctem titulů z diskografie Molly Hatchet.
Molly Hatchet (Epic, 1978)
"Říkají mu Death Dealer. Nemilosrdný lovec démonů, nikdy nesundávající černou masku. Je usazen v sedle statného oře, jehož nozdry chrlí oblaka pekelného dýmu. Pevnou rukou třímá válečnou sekyru, připraven poltit lebky nepřátel…"
Takhle barvitě svedl psát o svých oblíbencích ex-kolega Apache, stetson dolů! Jen proto jsem si tenkrát v bazaru na Krakovský pořídil hatchetovský debut, za kilo jako poškozenej kus. Přehrát se opravdu nedal, ale přebal byl v dobrým stavu a přestože si na podobný výjevy nijak extra nepotrpím, Frazettovo dílo mě oslovilo.
S muzikou samotnou to byla trochu jiná story. Toho jižanskýho boogie, co se na mě na začátku vyvalilo, bylo množství větší než malý a vlastně se vždycky těším, až konečně uslyším první tóny vydařené bluesovice The Creeper a o parník lepší druhou stranu desky s vrcholem v Hollandově životadárným fláku Cheatin' Woman. Především kvůli nim jsem nad zběsilou vražedkyní nezlomil hůl dřív, než jsem ji pořádně poznal.
3.0/5.0
Flirtin' with Disaster (Epic, 1979)
Nejprodávanější titul v bezmála půlstoletých dějinách Molly Hatchet? Dvakrát platinová #19 Billboardu s Frazettovým Temným královstvím na přebalu slibovala spravení chuti po lehce rozpačitém debutu, ale realita byla proti.
Valící se rozjezd Whiskey Man_a s osobně veleoblíbenou foukačkou je sice příslibem, ovšem záhy je po nadějích. Další prodloužená jízda! A znovu se roztočí boogie kolotoč a není k zastavení… Pravda, fanoušky oblíbený frontman Danny Joe Brown mi tady nepřijde tak často bez chuti a bez zápachu jako tomu bylo na prvním albu, ale jinak? Nebýt skladby s trefným názvem Boogie No More, která se po nenápadném úvodu rozjede jak inflace v Zimbabwe, ponuré balady Long Time a skočného finále Let the Good Times Roll, jež si v ničem nezadá se stonesovskou předělávkou It's All Over Now, dopadl by tenhle flirt s jižanským rockem skutečně katastrofálně. Ale yankee to vem. Bude líp.
2.0/5.0
Beatin' the Odds (Epic, 1980)
A ani to tak dlouho netrvalo. Na třetím albu nejenže odzvonilo jednotvárným lekcím jižanského boogie, ale co víc, za mikrofonem se zjevil zpěvák s jiskrou v hlase. Že je mužem na svém místě přesvědčuje Jimmy Farrar při každé příležitosti, kterou mu nestydatě krátká stopáž alba (32:35) nabídla. S přehledem si poradí s titulní vypalovačkou, ryzími hardrockovicemi (Double Talker, Sailor), jímavou baladou The Rambler, (slide)kytarovými přestřelkami (Few And Far Between, Get Her Back), "povinným" coverem Penthouse Pauper tentokrát z dílny Creedence Clearwater Revival, hutnou riffovicí Poison Pen i prvním náznakem majstrštyku v podání Molly Hatchet Dead And Gone. Stylová rozmanitost albu neškodí, zamrzí jen, že Frank Frazetta, resp. jeho Conan Dobyvatel tu nakreslili tečku za kooperací s kapelou.
3,5/5.0
Take No Prisoners (Epic, 1981)
Od desky s tak lákavým názvem (zařazení Little Richardova hitu Long Tall Sally beru jako pomyslnou splátku Davidu Byronovi, měl tyhle kousky rád) jsem si sliboval hodně a čím dál víc od ní taky dostávám. Duetový omyl Respect Me in the Morning s Joyce Kennedy, pěvkyní z funkyrockových Mother's Finest i pasáže se slovutnou dechovou sekcí Tower of Power v Lady Luck sice dál spolehlivě vyvolávají boltus alergicus, avšak dojem, že by se tu hnedle všechen prach vystřílel už v rozjezdovém tsunami Bloody Reunion vzal pomalu za své. Medicínou, která na ušní alergii spolehlivě zabírá, se ukázaly být jak Hollandovy kapky Power Play, tak svižná Loss of Control, basistovo jadrné číslo All Mine i rozparáděná Don't Mess Around.
Manowarskou hrůzu na obálce má na svědomí další legenda žánru fantasy, peruánský Američan Boris Vallejo.
2.5/5.0
No Guts … No Glory (Epic, 1983)
Ba, bez odvahy není slávy. A bez práce nejsou koláče. Nevídaný autorský vzestup Dave Hlubeka, znamenitý výkon zbrusu nové rytmiky West/Borden a podle všeho i návrat staronového frontmana, ovšem v mnohem lepší formě než minule, daly vzniknout jednomu z nejlepších titulů hatchetovské diskografie. S výjimkou plytké country hitovky Kinda Like Love, kterou bohatě vykompenzuje skvělý přebal se snímkem Boba Seidemanna pořízeným ve westernovém parku Six Gun Territory v Silver Springs na Floridě, si na albu užívám každou notu. Skladba Fall of the Peacemakers se poprávu dávno stala klasikou, ze zdvořilé vzdálenosti jí tady na paty šlapou zejména hymnický song What's it Gonna Take? z pera kanadského zpěváka Garyho O' (Connora) a Hlubekova uhrančivá instrumentálka Both Sides. Poslednímu albu pod dohledem hvězdného producenta Toma Wermana chybí k dokonalosti jen pár inchů.
4,5/5.0
The Deed Is Done (Epic, 1984)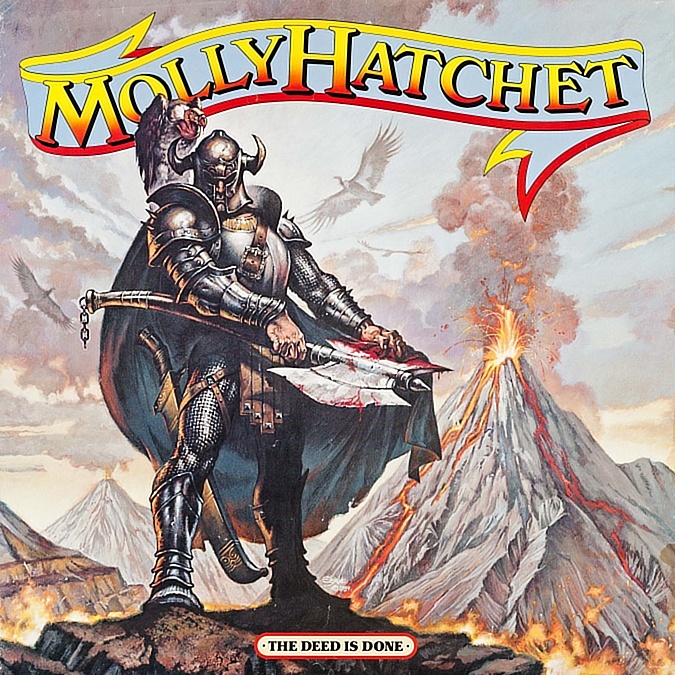 V půli osmdesátek žánru zrovna pšenka nekvetla, tož příklon ke komerčnějšímu soundu možno pochopit. A svou roli jistě sehrál fakt, že odejitého Hollanda nenahradil kytarista, ale minule jen hostující klávesák John Galvin. A že bylo tohle album pro starý fanoušky neskousnutelným soustem? Dá se tomu rozumět, osobně ho ale vnímám jako další kvalitní nahrávku s celou řadou echtovních tracků s výrazným přispěním autorského žoldáka jménem Tom DeLuca, spoluautora famózního otvíráku Satisfied Man a trojice zpěvných songů (Backstabber, Stone In Your Heart a Man on the Run), v nichž sborové "ná-na-na-ná" ani "ó-oooo" nemůže skalního fanouška Uriah Heep vykolejit, naopak. Vhodně sem zapadla i Galvinova synťáková miniatura Intro Piece, plnotučná šestiminutovka She Does She Does ozdobená skvostným ságem Jima Horna i Hlubekova instrumentálka Song for the Children, která dá vzpomenout na znamenité finále minulého alba.
Autorem zlověstného přebalu je černý Američan Ezra Tucker.
4.0/5.0
Lightning Strikes Twice (Capitol, 1989)
Vyhazov od Epic Records a odchod autorské opory Hlubeka nevěstil nic dobrýho, ale neslyším to zdaleka tak tmavě, bo se dobře osvědčil jak Bobby Ingram, tak i většina materiálu dodaného zvenčí. Na startu je sice na můj vkus toho boogie'rollnictví až příliš, v dalším průběhu to však bohatě vyváží pestrá směsice stylů. Ozve se tu snesitelné country No Room on the Crew, netuctový popík Find Somebody New blues s foukačkou i bez (I Can't Be Watching You, The Big Payback), krasosmutná balada Goodbye to Love, neurazí ani kissácká halekačka Hide Your Heart a ve finále nadchne netypická náladovice Heart of My Soul. Co na tom, že album v atraktivním Tuckerově obalu neuspělo, že hlavouni z RCA o další spolupráci ztratili zájem a formace 8. července 1990 v Toledu ohlásila svůj poslední koncert. Pro mě je Lightning Strikes Twice šťastnou sedmou.
V osmadevadesátém si název alba vypůjčili pro svou píseň Iron Maiden. Tentokrát zůstalo jen při tom a neopakoval se případ krádeže celých pasáží textu, jak se přihodilo "zapomenutým" Beckett…
3,5/5.0
Devil's Canyon (SPV, 1996)
O žádným jiným albu z katalogu kapely jsem neslyšel tak často jak o Ďábelským kaňonu. A není divu. Sestava bez jediného původního člena pod vedením Bobbyho Ingrama obstála na výbornou, náhradní frontman Phil McCormack ještě o fous líp. Úvodní půltucet skladeb je strhující, nedá vydechnout. Down from the Mountain se hrdě hlásí ke kořenům, hřmotná Rolling Thunder a umně vystavěná titulka jsou Brownovou skladatelskou rozlučkou par excellence, nový kytarista Bryan Bassett naopak premiérově přispěl ohromně působivou Heartless Land, zlatý hřeb alba však pro mě představuje song Tatanka popisující situaci původních obyvatel Severní Ameriky. Automaticky mi při něm naskakuje dialog ze spaghetti westernu Keoma: "Tati, kvůli čemu to bylo?"… "Co?"… "Válka. Nikdy jsem to nepochopil."… "Válka? Nevím to jistě. Myslím, že když jsme zmasakrovali indiány, chtěli jsme udělat něco šlechetnýho a tak jsme dali svobodu černochům. Teď se cítíme dobře a můžeme vyřídit zbylý indiány."
Jo a The Journey? Je geniální, kultovní status jí náleží plným právem, o něco slabší druhou polovici zbytečně dlouhého alba ale sama neutáhne.
Poprvé se nahrávalo v Germánii.
4.0/5.0
Silent Reign of Heroes (SPV/CBH, 1998)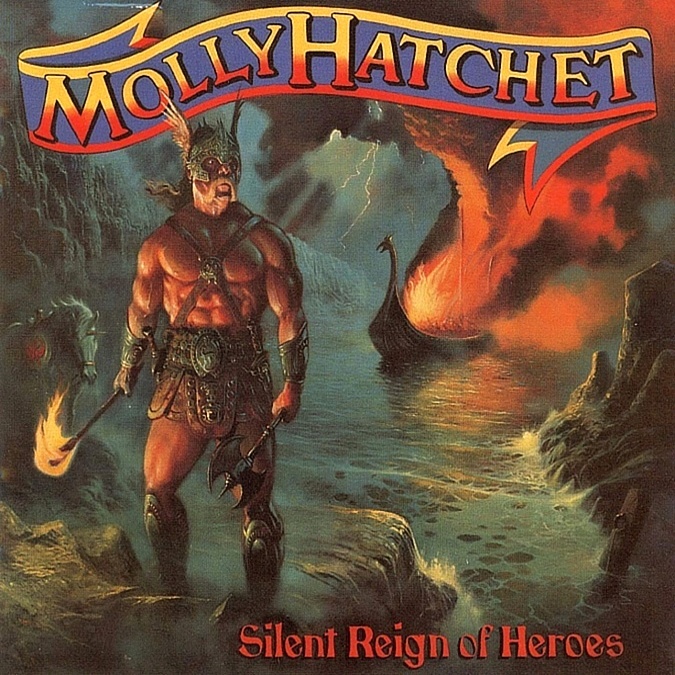 Jedinečné dílo, které u mně zafungovalo na první dobrou už od úvodních tónů zpěvného otvíráku Mississippi Moon Dog, z něhož možno cítit westernovou atmosféru, jež se táhne celým albem jak režná nit. Titulní song si v ničem nezadá s dosud nejsvětlejšími okamžiky v dějinách souboru a zařazení do škatule s nesmrtelnostmi si u mně vykoledovala taky vlažnotempá Saddle Tramp, jež by obstála snad v každém snímku Sergia Leoneho. Povzbudit, potěšit a pobavit však svedou i všechny okolní kousky, stejně jako mimořádné výkony Phila McCormacka a pianisty Johna Galvina, kterýmu bych neváhal udělit titul hrdina kapitalistické práce. Pro mě každopádně dost důvodů, abych právě tohle album označil za nejpovedenější položku hatchetovské diskografie. Nic to, že na finálový semiakustický remake Fall of the Peacemakers jsem si musel chvilku zvykat.
Poutavý přebal je znovu dílem anglického umělce Paula Raymonda Gregoryho, s nímž Molly Hatchet začali spolupracovat na minulém albu a zopáknou si to i na těch dalších.
5.0/5.0
Kingdom of XII (SPV, 2000)
Kdepak, do angažovaného veteránského songu Heart of the USA s hitovým potenciálem se navážet nebudu, bo vlastenectví je v případě synů Jihu naprostou přirozeností, zatímco u nás frčí projevy jako je úcta k vlajce jen při hokeji. One Last Ride a Dreams of Life coby další variace na téma skynyrdovského Free Bird_u? Proč ne, užívám si je maximálně, je to rajská hudba. Náramně vhod přijde i loudavá Why Won't You Take Me Home s popěvkem nakažlivým jak virus (jak jinak dneska) a baladoidní Turn My Back on Yesterday v tempu ještě rozvážnějším. Však netřeba se pořád jen někam hnát. Přidanou hodnotu vyváženého díla tvoří rovněž houslová smršť Charlieho Danielse v Gypsy Trail, atmosférická dokonalost Kickstart to Freedom, či akustická úprava Edge of Sundown od Brownova Bandu, známá z živáku Double Trouble Live. Odečet vlastně jen za další nesmyslný Stouny a jedno utahaný country. Při bezmála hodinový stopáži to zas není tak špatný skóre.
Poprvé zvučil Nikolo Kotzev.
4.5/5.0
Warriors of the Rainbow Bridge (SPV, 2005)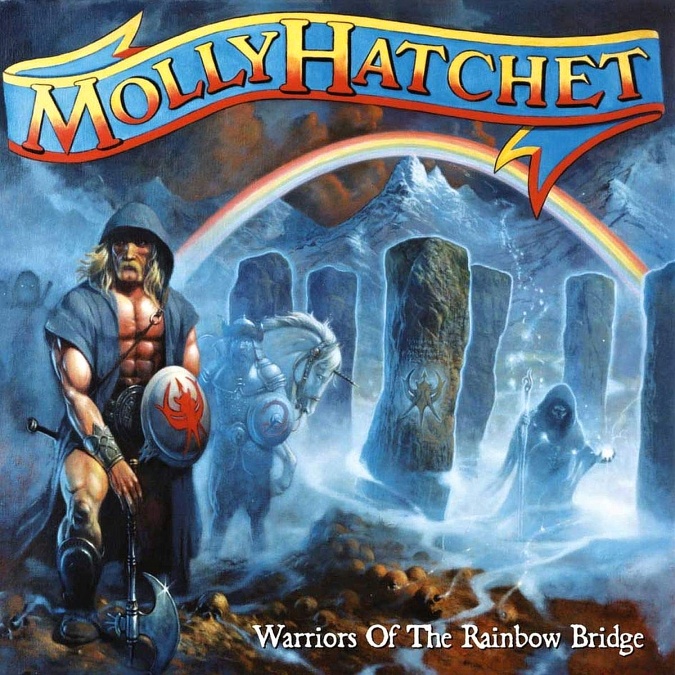 V rozhovoru pro web Swampland.com mapující kulturu předmětné oblasti Danny Joe Brown potvrdil, že před lety sám doporučil McCormacka na svoje místo: "Jo, udělal jsem to, Phil je dobrý zpěvák i člověk," ovšem na otázku, jaké jsou jeho pocity ze současných Molly Hatchet, odpověděl: "Bobby na tohle jméno nemá žádný právo, sakra. Měl by to nazvat The Bobby Ingram Band."…
Album spatřilo světlo světa dva měsíce po Brownově smrti. Do sestavy se sice vrátil zakladatel Dave Hlubek, autorské otěže ale dál pevně svírali Ingram s McCormackem. Jen oni vědí, proč Válečníky z duhového mostu oděli do metalovýho hávu, kterej kapele nepadnul. Leccos naznačí už úvodní Son of the South, kterou drží nad vodou aspoň chytlavý refrén, jinak mi s výjimkou záblesků v Get in the Game a Behind the Bedroom Door, nevšední balady Flames Are Burning a starého dobrého Rainbow Bridge, jenž je poctou Ingramově zesnulé manželce Stephanie, většina materiálu spolehlivě splývá v metalickou šeď, ještě šedší než byly uniformy vojáků Konfederace.
2.0/5.0
Justice (Steamhammer, 2010)
Úvodní Been to Heaven, Been to Hell ještě kráčí ve stopách vyšlapaných minulým albem, ta cesta ale nevede ani do nebe ani do pekla, vede nikam. Přitom potřebná energie, dynamika a zemitost neschází ani dalšímu dění, jen už se tu zbytečně tolik netlačí na sekeru. Ani není třeba, když je po ruce dostatek nápadů. Netvrdím, že všechny mě uhranuly, některý bych korigoval (synťákový rozjezd Deep Water, patos v baladě As Heaven is Forever), na hraně je i úvod Fly on Wings of Angels ač beru, že k tragickému příběhu Somer Thompsonové hlas její sestry patří, řada skladeb však snese to nejpřísnější měřítko. Nad jiné bych vypíchnul nezbytný patriotický příspěvek American Pride, jenž ctí kořeny, potemnělou I'm Gonna Live 'til I Die, jíž ani tísnivá atmosféra neubere z přitažlivosti a epickou titulní skladbu, jež se stala další hatchetovskou klasikou. A zmínit třeba i málokdy slýchaný výkon frontmana, Zlatý kondor za rok 2010 patří jemu. Naopak za největší problém alba považuju jeho stopáž přes 65 minut, ale co už…
4.0/5.0
Předělávkové tituly Southern Rock Masters (2008) a Regrinding the Axes (2012) jsem slyšel minimálně, proto je nehodnotím. Z živáků vlastním jen 2LP Double Trouble Live (1985) sestavené z koncertů v texaském Dallasu a domovském Jacksonvillu a čerstvě jsem pořídil album Battleground (2019) s aktuální jednokytarovou sestavou Molly Hatchet.
Věřím na brzkou shledanou pod červenou vlajkou s modrým svatoondřejským křížem posetým bílými hvězdami, jež je symbolem jižanské identity, tradice a kultury. Heritage not hate!