Sobotní návštěva burzy LP (i CD) ve strašnickém Kulturním domě Barikádníků ve mně vyvolala řadu vzpomínek nejenom na burzování za komančů, kdy jsem neděli co neděli vyrážel vlakmo směr Praha pro nové úlovky na Letnou nebo do Motola, zřídka i Krče, ale taky na první porevoluční koncert Uriah Heep v hlavním městě. Důvod? Jednak se to v sále deskama kapely jen hemžilo a druhak zrovna toho večera Mickova družina pořádala ve Fóru Karlín několikrát odloženou půlstoletou birthday párty.
V mezidobí se změnilo mnohé. Režim, republika, dovolený, auťáky, média, hodnoty, ale Uriah Heep jsou tu s námi pořád. Jasně že ani u nich nezůstalo všechno při starým, kapelník Box ale dokázal udržet značku při životě i v těch nejnejistějších dobách zkraje 80. let a dodnes se svou formací neúnavně objíždí svět a sem tam vydá i novou desku. Klobouk dolů!
Rád bych smeknul i před svou pamětí, ale znáte to… Každopádně mě zbytky spojených vzpomínek vrátily až na konec roku 1987, kdy se Uriáši po skončení veleúspěšného turné v CCCP představili ve dnech 20. – 22. 12. třikrát i u nás (2x Ostrava plus Hradec Králové) s programem kopírujícím moskevská vystoupení, nahrubo zachycená na albu Live In Moscow / Сам В Москве (1988).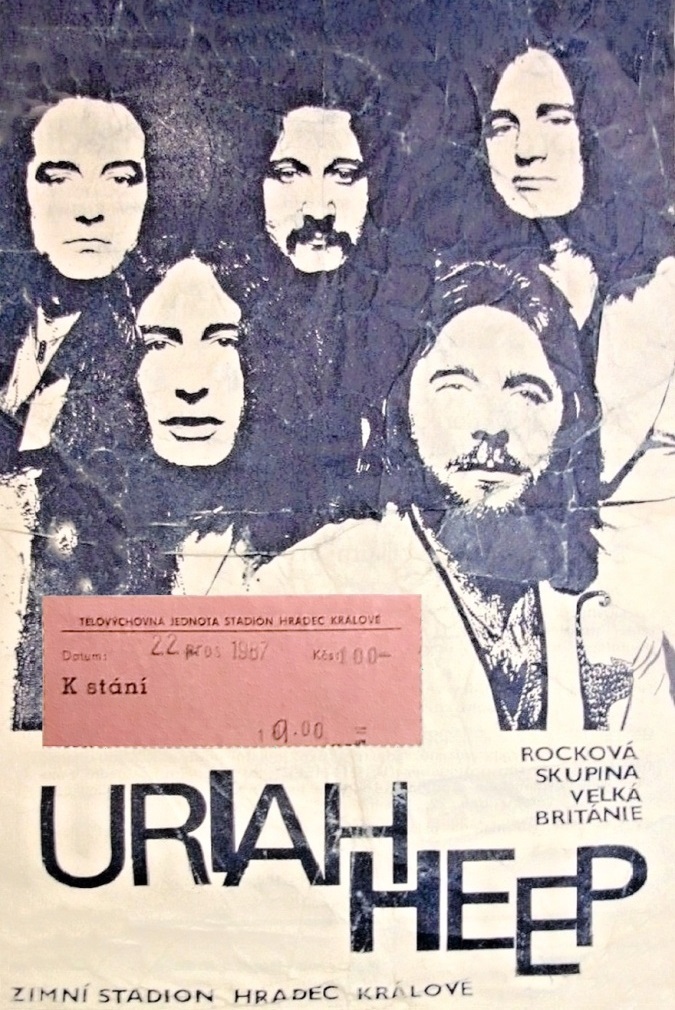 Jejich atmosféru dokonale přiblížila slova jednoho z přímých účastníků: "Vzpomínám, jak si dědci z pořadatelské služby zacpávali rukama nohama své dechovkou hýčkané boltce před přívalem decibelů (těch teda bylo opravdu neúrekom, zvukaři asi zapomněli přehodit šavle z moskevského stadiónového nastavení) a jak marně hlídali vlastnoručně pečlivě zarovnané židličky před náporem blahem pološílených rockerů. Shawův chvějivý vokál s coverdalovským pnutím slušně ladil se starším repertoárem, takže i skalní puristé se mohli radovat vespolek." (JM)
S nepopsatelným pocitem zmaru jsem se tehdy o akci dověděl s nepatrným zpožděním a jen slabou útěchou mi byly archiválie, jež mi s líčením ještě čerstvých dojmů přenechal jeden z burzovních známých, znající můj zanícený vztah ke kapele. Obě relikvie jsem si přesto hýčkal spolu s nadějí, že snad bude nějaké příště.
Dočkal jsem se za čtyři roky. Evropské turné Uriah Heep k albu Different World (1991) mělo v plánu dvě zastávky v Československu: Košice (6. 12.) a Prahu (8. 12.). Lupen jsem pořídil v předstihu hned jak to šlo a doma pro jistotu víc než jindy poslouchal post-Hensleyho alba včetně novinky, o které se dalo dočíst, že byla prvním albem Uriah Heep, jež v Británii nedoprovázel žádný singl a v Severní Americe dokonce nebylo ani vydáno (stane se tak až s mnohaletým zpožděním na CD).
"Nemáme představu, v jakém nákladu vyšla naše poslední deska," pravil v předkoncertním rozhovoru Mick Box a zároveň přiznal, že ani v domovině nemají Uriah Heep na růžích ustláno: "Je to pro nás těžké hlavně proto, že muzika se v Anglii pořád strašně rychle mění a náš hard rock už tam jednoduše nefrčí."
Problémy zmlsaných britských posluchačů mě ale obcházely velkým obloukem. Těšil jsem se moc a v den D chvátal ke Sportovní hale, kde se nedala přehlédnout dominanta v podobě obřího stetsonu. Zasvěcenými z hloučku čekajících nám bylo ozřejmeno, že to Láďa Křížek před pár dny vyprodal halu při turné k albu Zlatej chlapec a klobouk že je jeho symbolem. Do nevěřícného kroucení hlavou k nám dorazila informace, že se máme přesunout do spodní části areálu k nedávno dokončené Pyramidě, kam byl koncert Uriah Heep pro malý zájem přesunut.
Cože? To si děláte prdel. Jakože Křížek jo, ale Uriáši ne? První koncert, dva roky po revoluci?! Rána mezi oči a na solar ještě před startem. I s odstupem třiceti let cítím, že tohle se nemělo stát…
Ale zpátky do nálady a na místo činu. Ve zkonsolidované sestavě, která vydrží beze změny celá dvě desetiletí a právem si vydobude přívlastek "druhá klasická", nastoupili Uriah Heep chvíli po půl sedmé a k dalšímu zklamání mnohých, včetně autora těchto řádek, dali záhy na srozuměnou, že tentokrát se žádné best of show konat nebude. Naopak, zarputilá propagace (nej)novějšího repertoáru překročila meze sympatického odhodlání a pomalu zaváněla arogancí bez respektu.
Co si vybavím, tak v první půlce koncertu zazněla ze zlatého období jen jediná skladba (Stealin'), zato z aktuální velmi průměrné desky se toho večera dostalo hned na pět kousků. Pravda, již prokládaných songama, kvůli kterým většina z nás (vžil se údaj 3 000 – 3 500 diváků) dorazila. A bylo to právě podání trojice klasických čísel The Wizard, July Morning a Gypsy, jež mi s nemnoha mladšími nahrávkami (za všechny Mister Majestic) přeci jen dalo štempl na kvalitu a budoucnost týhle sestavy. I proto jsem ji následně hájil před kdekým a nakonec dost dlouho i sám před sebou.
Všechny chmury se totiž zdály být definitivně zapomenuty v neskutečné atmosféře panující v narvané minihale během finálovky Lady In Black. Až dodneška. Tyto řádky budiž potvrzením, že srdce odpouští, ale hlava nezapomíná.
Na další pražský koncert Uriah Heep v sedmadevadesátém jsem od nás vyrazil už sám. I několikrát potom. Nic nepomohlo přesvědčování, že kapela šlape jak za mlada (platí pořád), že Bernie nemá hlasivky o nic víc opotřebovaný než ostatní veteráni za mikrofonem, ani sled vesměs vydařených studiových alb.
Sám jsem tečku za živými střety s kapelou napsal po vystoupení na pardubickém Friend Festu 2017. I proto v sobotu nenásledoval kolektivní přesun do Karlína, ale do jednoho z bytů, kde jsme jak za starých časů do noci poslouchali pořízená elpíčka. Nemělo to chybu.
SESTAVA:
Bernie Shaw – zpěv
Mick Box – sólová kytara
Trevor Bolder – baskytara, zpěv
Phil Lanzon – klávesy, zpěv
Lee Kerslake – bicí, zpěv
SETLIST (bez záruky):
Blood On Stone (Different World, 1991)
Stealin' (Sweet Freedom, 1973)
Which Way Will The Wind Blow (Different World, 1991)
Bad Bad Man (Raging Silence, 1989)
One On One (Different World, 1991)
The Other Side Of Midnight (Head First, 1983)
Mr. Majestic (Live In Moscow, 1988)
The Wizard (Demons And Wizards, 1972)
Different World (Different World, 1991)
July Morning (Look at Yourself, 1971)
First Touch (Different World, 1991)
Rich Kid (Raging Silence, 1989)
Gypsy (Very 'eavy… Very 'umble, 1970)
Easy Livin' (Demons And Wizards, 1972)
That's The Way That It Is (Abominog, 1982)
Lady In Black (Salisbury, 1971)
FOTO Z KONCERTU od mně neznámého autora: