Jméno Marillion jsem poprvé uslyšel v létě roku 1989. Do té doby jsem vůbec netušil, že uskupení podobného jména existuje, takže nabídka lístků na brněnský říjnový koncert v Mariánském údolí mě nechávala chladným. Jak víme, ona to stejně byla bouda a samotní Marillion ani netušili, že by měli v nějakém Brně hrát. Každopádně semínko nedůvěry bylo zaseto a kapelu jsem neprozíravě odsunul do škatulky nezajímavých.
Uplynuly tři desítky let, během nichž se doba, a především můj posluchačský vkus změnily. Poučen poslechem skupin Yes a Genesis jsem se odhodlal vyzkoušet i jejich následovníky. A jelikož se s tvorbou hudebních uskupení rád seznamuji chronologicky, pro začátek jsem si pořídil první dvě alba z období, kdy za mikrofonem stál charismatický zpěvák Fish. Musím se přiznat, že se jednalo o přímý zásah a obě alba mě postupně uchvátila.
Prvotina Script for a Jester's Tear vyšla roku 1983. Británie té dobybyla ve znamení rozmachu heavy metalových skupin, silně o sobě dávali vědět novovlnní romantici a irští U2 se pomalu chystali k cestě za celosvětovou slávou. Do té doby víceméně neznámá skupina přichází s debutem, který jako by zdánlivě zaspal dobu a ustrnul někde v sedmdesátých letech v gabrielovských teatrálnostech. Jednotlivé skladby jsou dostatečně košaté a svou strukturou lehce připomínají rozsáhlé kompozice tolik typické pro tvorbu progresivních uskupení ze sedmdesátých let. Avšak podezírat hudebníky z pouhého kopírování Genesis by bylo příliš zjednodušující. Kompozice, které nám skupina na albu předkládá, jsou sice možná mladšími příbuznými písní z desek Nursery Cryme a Foxtrot, zároveň nepostrádají větší rockový drajv a tah na branku. Také délka jednotlivých kompozic se zkrátila, pryč jsou rozsáhlé dvacetiminutové suity, s jejichž vstřebáním by mohli mít někteří posluchači doby postpunkové určité problémy.
Marillion se nám představují jako dokonale sehraný stroj na vyvolávání emocí. Od úvodní kompozice Script for a Jester's Tears až po závěrečný protiválečný opus Forgotten Sons jsem vtažen do jiného světa plného kouzelných melodií a nečekaných zvratů. Při každém poslechu objevuji něco nového, co jsem do té doby svým ubohým sluchem nerozeznal. To je zvláště patrné u nejdelší skladby na této podmanivé desce, u písně The Web. Vždy mě zaujme něčím novým, překvapujícím. Pokaždé si také náležitě vychutnám nádhernou Rotheryho kytaru v uhrančivé Chelsea Monday. Za to sólo by se nemusel stydět ani sám David Gilmour. A při závěrečné náloži skrývající se pod jménem Forgotten Sons jsem již plně jménu Marillion oddán a omlouvám se hudebníkům, že jsem snad někdy o jejich schopnostech pochyboval.
Deska Script for a Jester's Tears je jedním z mých pozdních objevů. Mohlo to přijít dřív, ale jak se věkem mění vkus, tak se snažím vracet ke skupinám, o nichž sice vím, ale z různých důvodů jsem se jejich tvorbou nezabýval. Nyní se to snažím napravit a tato recenze budiž malou splátkou dluhu, který k tvorbě Marillion stále mám.
P. S. Recenzi jsem napsal v roce 2019 a od té doby se má sbírka nahrávek Marillion o něco rozrostla. Musím říct, že zatím dost dobrý.
Seznam skladeb:
Script For A Jester's Tear – 8:42
He Knows You Know – 5:23
The Web – 8:52
Garden Party– 7:19
Chelsea Monday – 8:17
Forgotten Sons – 8:23
Sestava:
Fish – zpěv
Steve Rothery – kytara
Mark Kelly – klávesy
Pete Trewavas – basová kytara
Mick Pointer – bicí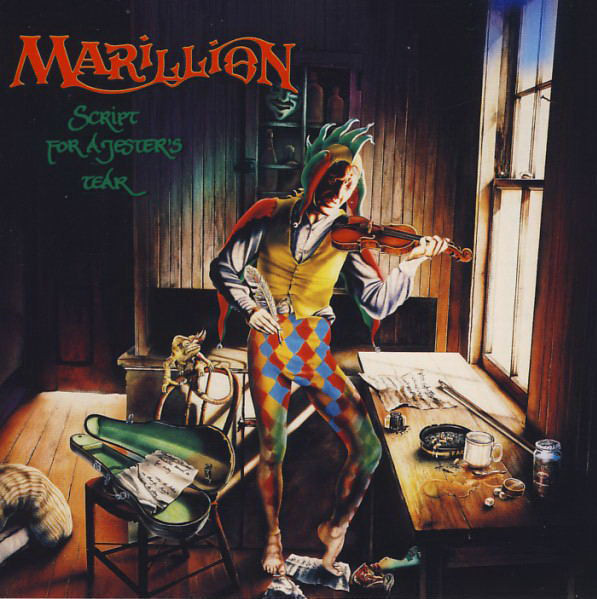 Script for a Jester's Tear
Marillion
Prog rock
Parlophone
1983
6
CD Parlophone – 7243 5 27115 2 9