Výborný koncert německé legendy kosmické progresivní elektroniky tvořený materiálem neobjevivším se na žádné studiovce. 
Dvě dvacetiminutové pulsující skladby, Ricochet, Part One a Ricochet, Part Two. Kromě elektronických ploch doprovází první (ale i druhou) kompozici floydovsky psychedelický zvuk elektrické kytary. Dělá tak nahrávku mnohem přístupnější než např. náročné kompozice na desce Zeit. Druhá část začíná krásným klavírním motivem doprovázeným klávesy, znějícími jak nebeská flétna.  Poté se to "rozjede" do pro Tangerine Dream klasicky tajemné, kosmické atmosféry.
Přítomnost mellotronu, a zejména pak klavíru, skutečných (mám alespoň takový dojem) bicích a kytary (která opravdu často zní, jako by si David Gilmour odskočil od nahrávání Ummagummy) činí toto nadčasové dílo německé progresivní elektroniky skousnutelné i pro fandy zaměřené na rockovější styl hudby. Předložené hudební téma má totiž v sobě určitou rytmiku a nezní až tak repetitivně jako např. alba jejich bývalého kolegy Klause Schulzeho. Díky tomu je posluchačova pozornost (pokud se chce soustředit) udržována stále v pozoru. Aniž by jí to bránilo volně se vznášet a proplouvat vesmírem vlastní fantazie.
Někteří by album (a podobný styl hudby) mohli odsoudit pro určitou jednotvárnost (a já to i dokážu pochopit). K tomu bych mohl říct to (kromě jasného faktu, že prostě každému se líbí něco jiného), že monotónnost se může stát v elektronické muzice trochu relativním pojmem mimo jiné jednoduše proto, že každý cítíme jinak a máme jinak nastavené hranice. Nemluvě o tom, že monotónnost můžete brát jako odsouzení i jako pochvalu. 🙂
Mám takový dojem, že jsem četl v knížce o Zappovi jeho dobrou odpověď na otázku, jestli v hudbě Stravinského nebo Varèse nepostrádá emoce. Frank Zappa odpověděl, že to záleží na tom, jak definujete slovo emoce 🙂 . Podobná úvaha/odpověď by se dala aplikovat i na hudbu Tangerine Dream.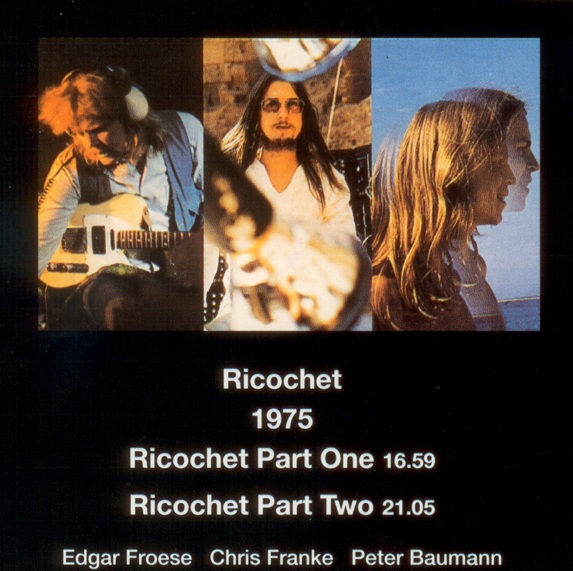 Sečteno a podtrženo, pro mě a podle mě Zásadní nahrávka, kde Atmosféra se dá krájet jak hermelín, takže dávám plných pět bodů.
SKLADBY:
1. Ricochet, Part One (17:03)
2. Ricochet, Part Two (21:11)
SESTAVA:
Edgar Froese – synthesizer, bass, guitar, keyboards, composer
Peter Baumann – keyboards, drums
Chris Franke – keyboards
Ricochet
Tangerine Dream
Electronic, Experimental, Ambient
Virgin
1975
LP
2