ANEB VITALITA A ENERGIE MADE IN MAGNUM
MAGNUM. Žádná jiná kapela mě nedala tolik za vyučenou jako právě oni. Právě s Magnum jsem se nejvíc vytrestal tím, že jsem začal prozkoumávat jejich diskografii odzadu. Portfolio britských pomp-rockerů je natolik bohaté a obsáhlé, že je opravdu těžké si vybrat, kam se při seznamování s nimi vrtnete. Já začal tehdy aktuální deskou Princess… z roku 2007, která spadá do fáze číslo dva (i když při důkladném rozboru stylových etap souboru, možná až někam do fáze č. 5) po rozpadu souboru (třetí studiovka znovu nastartovaných Magnum). Této i následující záležitosti jsem okamžitě podlehl, ale s každou další novou deskou Magnum znatelně slábli, až se mi zprotivili natolik, že jsem je přestal skupovat, sledovat a ty poslední věci i rychle prodal. Zkoušel jsem některé záležitosti z konce osmdesátých let i průběhu devadesátých, ale nebylo to ono. Až po dlouhé době jsem si dal za úkol, podívat se na zoubek i začátkům této kapely. Začal jsem to brát zpětně od Storytellers dolů, to znamená od půli osmdesátek až na konec let sedmdesátých.
A pak jsem už jen nevěřícně nechápal. Každá starší a starší deska mi připadala namakanější, zajímavější, kreativnější, prostě lepší. Pětaosmdesátka mi imponuje, Eleventh Hour ještě víc, Chase the Dragon je bomba totální a recenzované album číslo II snad i jejich majstrštykem. Po x letech jsem konečně Magnum přisoudil status mé velmi oblíbené kapely, která to nejlepší vypotila hned na samém startu své dlouhatánské kariéry. Dnes je jejich tvorba prakticky mrtvá. Ač se může zakládající duo Clarkin/Catley snažit sebevíc, už hezkých pár let je jen karikaturou své někdejší slávy.
Dnešním Magnum znatelně chybí energie služebně dokonce o jednu dekádu starších Uriah Heep (i když Magnum prý vznikli daleko dřív, než vydali svůj debutní materiál), čuch a talent napsat poutavé skladby po vzoru Deep Purple, nebo nějaká štipka vlastní sebereflexe a vůně kreativity, kterou disponují například dnešní Styx, či Kansas.
Ale vraťme se nazpátek do samého počátku Magnum. Ti podobně jako temní kolegové Black Sabbath pocházejí z průmyslového města Birmingham ležícího ve střední Anglii. Na rozdíl od svých kolegů však hrají muziku zcela odlišnou, dalo by se říci až pozitivní a uchu příjemnou. Během své existence prošli několika menšími stylovými obměnami, ale esence pompézního rocku byla v jejich tvorbě přítomna odjakživa a vlastně až dodnes. Ve svých začátcích zněli více rockově, chvílemi přičuchli k heavy metalu a s koncem osmdesátek výrazně otočili k zaoceánskému A. O. R. a popu.
Druhá deska v sobě ztělesňuje přesně to, co mám na podobné muzice rád. Je nadita vzletnými, působivými a silnými melodiemi. Melodiemi, které dráždí smysly a k popovému kýči a vlezlosti amerických band mají hodně daleko. Poutavými a výraznými vokály, bohatými sbory, mohutnou klávesovou hradbou i šlapající dunící rytmiku.
Pompézně střižený úvod Great Adventure s tajemnými Catleyho frázemi, se v různých obměnách postupně přerodí do nádherných akustických motivů z pera Tony Clarkina. Skladba šlape ve středních tempech a postupně obměňuje dynamiku a nespočet nápadů. Dvojka Changes má mnohem měkčí a uhlazenější charakter. Je to hitovka cílena na prvotní smysly s touhou získat si na svoji stranu davy. Není špatná, ale na albu bude tou nejslabší. To třetí The Battle naběhne hned od počátku do ostrého tempa, Catley zpívá jako bůh a Clarkin prostřídá elektriku s akustikou. I klávesy si tady urvou velkou část pro sebe. Ještě lepší je tajemná If I Could Live Forever. Pompa jako hrom, klavír a vůbec celá kapela šlape v mírně baladickém tempu. Pátá Reborn jako by vypadla z nejlepších alb Uriah Heep. Kapela má tolik nápadů a dokáže je tak ladně propojit, že z jejich esencí může vzniknout skutečně vybroušený rockový drahokam.
Druhá půle začíná pochodovou So Cold the Night s výrazným podílem kláves a klavíru. Na odlehčenější strunu brnkne Foolish Heart, ale perla strany B nese název Stayin' Alive. Smyslná balada na Queen-ovský způsob s prvotřídní instrumentací a Catleyho velice solidními intonačními schopnostmi. Závěrečná dvojice Firebird (s dunícími španělkami jak ze staré sedmdesátkové školy) a jazzověji rozvolněná All of My Life udělají pěknou tečku za albem, které produkoval basák Ten Year After, podepsaný též pod nejlepšími počiny kapely Ufo – Leo Lyons.
A1. Great Adventure 4:49
A2. Changes 3:13
A3. The Battle 2:06
A4. If I Could Live Forever 3:59
A5. Reborn 5:42
B1. So Cold The Night 3:55
B2. Foolish Heart 3:07
B3. Stayin' Alive 3:18
B4. Firebird 4:45
B5. All Of My Life 4:40
Autorem všech skladeb je Tony Clarkin
Nahráno: Music Centre Studios, Wembley
Aranže: Magnum
Producent: Leo Lyons
Bob Catley – zpěv
Tony Clarkin – kytara
Wally Lowe – basová kytara
Richard Bailey – klávesy, flétna
Kex Gorin – bicí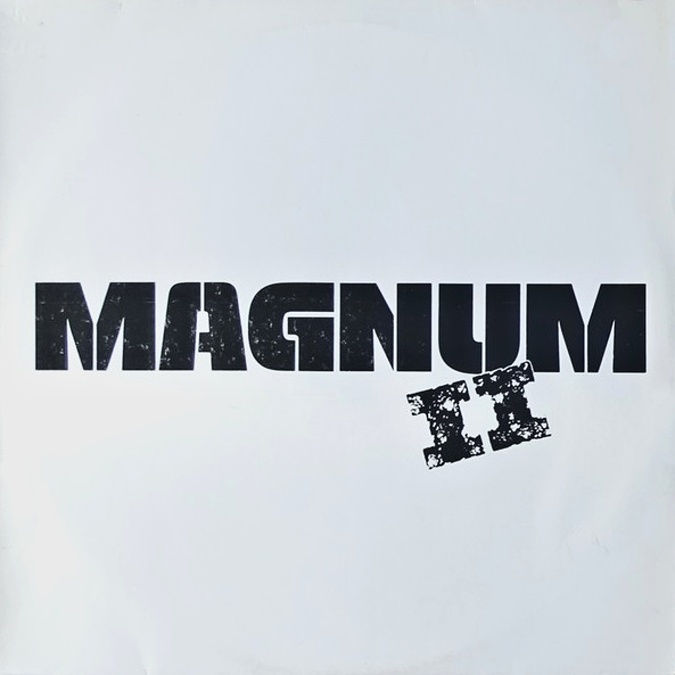 Magnum II
Magnum
AOR
Jet Records
1979
LP
10