35th Anniversary Edition, Black Widow Records, BWRCD108-2   /2007/
Mýty a legendami opředená Jacula byla jednou z nejoriginálnějších kapel své doby. To je bez debat. Jenomže na druhou stranu kolem ní koluje tolik nejasností, polopravd a protichůdnejch informací, až jsem z toho jelen… 
Skupina vznikla v roce 1969 a tvořila ji vskutku roztodivná společnost: dvacetiletý filosof, skladatel a kytarista Antonio Bartoccetti, zhruba stejně stará Doris Norton a čipernej, takřka sedmdesátiletej varhaník Charles Tiring. V první fázi existence (1969-73) Jacula vyprodukovala dvě alba – ve vlastním nákladu vydané a distribuované In cauda semper stat venenum (1969), které o tři roky později následoval ještě oficiální debut Tardo pede in magiam versus. Kvůli těm titulům v latině se to malinko plete a aby toho nebylo málo, tak mají obě desky úplně stejnou, hororovou obálku s tím rozdílem, že ta "mladší" je v barvě. Nutno podotknout, že obal v tomhle případě přesně vystihuje aj samotnej obsah – hudba je to psychedelická a sugestivní, založená na mohutném soundu chrámových varhan. Překypuje hororovou atmosférou a je plná úzkosti, mystiky a okultismu.
Tohle všechno jsou oficiální a snadno dohledatelné informace. Ale už jsem četl i názory, že Bartoccetti lže. Že to úplně první album nikdy neexistovalo a jeho pozdější reedice (2001) je jen podvrh. Že takhle ocelově tvrdou kytaru by v roce 1969 nikdo nenahrál. Že jeho následující tvorba pod hlavičkou Antonius Rex zní úplně jinak a bla bla bla… Jenomže podobnejch dezinformací a konspiračních teorií je plnej internet a čím víc se v tom hrabu, tím víc se do toho zamotávám… Raději tedy nechám historii historií a pokusím se představit velmi pěknou reedici oficiálního debutového alba Tardo pede in magiam versus (1972), vydanou labelem Black Widow v roce 2007.
Temná psychedelie, spiritualismus, esoterismus a okultismus. Texty dílem v italštině, dílem v latině, ale aj ve špatné angličtině. Albu vládnou klasické varhany doplněné baskytarou a už od prvních okamžiků úvodní U.F.D.E.M. je cítit hmatatelné napětí. Hotovej trauermarš, jak ze zámku hráběte Orloka! A z krapet hysterického a teátrálního vokálu Doris Norton (Fiamma Dallo Spirito) tuhne krev v žilách…
Praesantia domini je jedenáct minut dlouhou duchařskou seancí, jejíž první část vyplňuje tentokrát velice klidná a povznášející hra liturgických varhan. Druhá polovina kompozice je vyhrazena nějakému zaklínání (nebo vyvolávání duše zemřelého?) v latině, které ukončí teprve velkolepý nástup chrámových varhan.
Naprosto z jiného těsta je následující Jacula Valzer. Piáno, fujarka, šmrdlající kytara a dívčí vokál beze slov. Mýtina uprostřed temného hvozdu, tanec lesních panen a uvolnění po předcházejícím napětí.
Skladba Absolution je přílepkem, který na původním albu chyběl. A je dobře, že tady je, protože jako jediná nabídne i sólo pořádně zkreslené elektrické kytary a v kombinaci se zpěvem gregoriánského sboru jde o velice dráždivou záležitost. Ke skladbě vznikl i videoklip, který je v podobě CD-ROMu součástí bonusové výbavičky.
Podobně poklidná, jako Jacula Valzer je i skladba Long Black Magic Night. Jejím podkladem jsou pěkné, kovově klapající klávesy, které v sólových výstupech doplňují flétnička a housle. Až potud by bylo vše v pořádku, ovšem dívčím hlasem deklamovaný monolog ve špatné angličtině je snad až příliš dlouhým…
Tečku za celým albem píše závěrečná a téměř deset minut dlouhá exhibice varhaníka Charlese Tiringa. Deset tisíc mil pod mořem, Nautilus a kapitán Nemo. Pro člověka milujícího tenhle nástroj to může být zajímavá zkušenost, ovšem těm ostatním to nejspíš přijde opět malinko zdlouhavé.
Jedno je jisté, tahle potrava nebude pro každého. Polovina posluchačů bude zděšená a druhá se u toho bude kapánek nudit. Album je vhodné pro jedince, kteří si libují v duchařskejch seancích, špacírujou po hřbitovech, kamarádí se s vlkodlaky, upíry a jinou podobnou havětí a v mlze na blatech choděj venčit psa Baskervillského. Já mám mystéria, záhady a horory rád a tak mi podobná hudba vyhovuje. Ovšem mému naturelu ještě o něco bližší jsou až teprve pozdější alba pohrobka Antonius Rex. Především Neque semper arcum tendit rex (1974), nebo Praeternatural (1980). Ale o nich až někdy příště.
Ještě pár slov k samotnému vydání – rozkládací digipak (triple gatefold) je parádní a byl by ozdobou jakékoliv sbírky. Dvacetistránkovej booklet obsahuje spoustu stylovejch fotografií, několik textů a sleeve note v italštině.



SKLADBY – 35th Anniversary Edition:
1. U.F.D.E.M.   (8:55)
2. Praesentia domini   (10:50)
3. Jacula Valzer   (6:18)
4. Absolution   (8:28)
5. Long Black Magic Night   (6:18)
6. In Old Castle   (9:45)
Extra track:
Absolution (CD-ROM video)
SESTAVA:
Antonio Bartoccetti – guitar, bass, vocals
Fiamma Dallo Spirito – lead vocals, violin, flute
Charles Tiring – organ, synthesizer [Moog], vocals
Franz Parthenzy – medium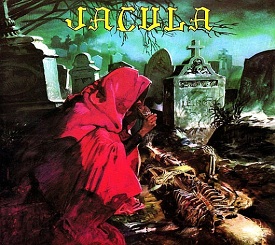 Tardo Pede In Magiam Versus
Jacula
Prog rock
The Rogers
1972
LP
5
CD: Black Widow Records, BWRCD108-2 /2007/