Po dvojalbu Physical Graffiti let vzducholodi začal směřovat mírně dolů. Zemská přitažlivost si začala vybírat svou daň a tím nemyslím jenom Plantův úraz na ostrově Rhodos. Každopádně další deska Presence byla nahrána v poměrně rekordním čase třech týdnů v závěru roku 1975 a na pultech obchodů se objevila v dubnu příštího roku. Když si prohlížím její obal a vidím na něm záhadný tmavý předmět, napadá mě, že by to mohl být zástupný symbol něčeho nadpřirozeného, co řídí naše konání, a nemusíme tomu říkat zrovna Bůh.
Ale dost planého filozofování, předmětem našeho zájmu budiž především hudba. Skupina zde překládá sedm skladeb, jimiž se snaží dokázat, že i po šesti skvělých, mnohdy novátorských albech má stále čím překvapit. A hned úvodní kompozice ukazuje skupinu v jiné podobě, než na kterou jsme byli zvyklí. Desetiminutový opus Achilles Last Stand sice postrádá onen bluesový fundament, ale ten si vynahrazuje neskutečnou energií valící se na posluchače téměř po celou dobu trvání písně.
Po klidném intru se píseň rozběhne rychlostí dobře trénovaného závodního koně, základní motiv je neustále atakován dalšími a dalšími výpady Pageovy kytary a Plantův hlas se zvolna dostává do těch výšin, na něž jsme od zpěváka jeho formátu uvyklí z předchozích nahrávek. Kdesi v pozadí však jako bych cítil lehkou únavu a mladistvé jiskření z počátků společné tvorby se pomalu, ale jistě vytrácí. Na druhou stranu se mi velice líbí Bonhamova hra na bicí, která celou píseň posunuje až někam k heavy metalu.
Ke druhé písni For Your Life jsem se musel prokousávat podstatně delší dobu a nakonec jsem si ji velice oblíbil. Page zde doslova hýří nápady a ukazuje, že ještě v žádném případě nepatří do starého železa. Zatímco funky Royal Orleans kolem mě prosviští a nechá mě víceméně chladným, čistokrevná hardrocková pecka Nobody's Fault But Mine mi opět potvrdí, že Page dokázal vytvořit riffy ohromující intenzity, které by nechaly chladným snad jen mramorovou sochu.
Svižný rock and roll Candy Store Rock s výrazným Plantovým zpěvem ukazuje model, který skupina použila již dříve několikrát a možná i lépe. Hots On For Nowhere je příležitostí, aby Bonzo potěšil svým neandertálským způsobem bubnování. Page kolem základního motivu splétá typické kudrlinky, ale i tak píseň na mě působí trošku kolovrátkovým dojmem. Poslední skladbou na desce je čistokrevné blues Tea For One, další dokonalé skloubení úžasného vokálu a kytarového mistrovství a parádní tečka na závěr.
Myslím si, že album Presence je velice dobrá deska. Sice ji nehodnotím jako vynikající, ale oceňuji její syrovost. Vzducholoď sice ubrala na výšce, ale pořád to byl slušný let.
SKLADBY:
1. Achilles Last Stand (Page/Plant) 10.:22
2. For Your Life (Page/Plant) 6:20
3. Royal Orleans (Page/Plant/Jones/Bonham) 2:58
4. Nobody's Fault But Mine (Page/Plant) 6:27
5. Candy Store Rock (Page/Plant) 4:07
6. Hots On For Nowhere (Page/Plant) 4:43
7. Tea For One (Page/Plant) 9:27
SESTAVA:
John Bonham – bicí, perkuse
John Paul Jones – baskytara
Jimmy Page – kytara
Robert Plant – zpěv, harmonika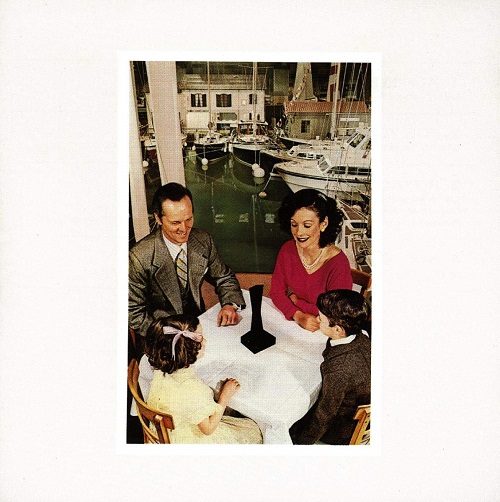 Presence
Led Zeppelin
Hard rock
Swan Song
1976
LP
7
CD