Ačkoliv hard rockeři z Anglie Son Of A Bitch vystupovali po tamních  klubech od poloviny sedmdesátých let, žádnou desku se jim tehdy nepodařilo natočit. V roce 1978 došlo nejen k personálním změnám, ale i názvu a tak se od této doby kapela začala nazývat Saxon. 
Původní, zakládající hráči však postupem času odcházeli, až nakonec v roce 1995 zůstal u Sasů z původních členů jen zpěvák Biff Byford a kytarista Paul Quinn. Zbylé tři pětiny – odpadlíci – kytarista Graham Oliver, bubeník Pete Gill a basák Steve Dawson oprášili svůj původní název  Son Of A Bitch. Sestavu doplnili o bývalého axemana ze skupiny Saracen – Haydna Conwayeho a zpěvákem se stal Ted Bullet, který před tím nazpíval několik desek s německými Thunderhead.
Trvalo to jen pár měsíců a byl napsán dostatek písní, aby zaplnil řádné album. Kapela vybrala význačné studio Revolution, který vlastnil  zvukový inženýr Andy MacPherson, který se podílel mimo jiné na albech Erica Claptona nebo The Who. Ten společně s kapelou vyprodukoval šťavnatou heavy desku s názvem Victim You, která vyšla v roce 1996.
Bohužel, Zkurvysyni neměli smlouvu s konkrétním labelem, tak desku vydávaly různé firmy, které nechtěly pravděpodobně dávat mnoho financí na propagaci. Je to škoda, jedenáct old school heavy skladeb jako by vypadlo z první poloviny osmdesátých let, tedy doby největší slávy britského metalu. Některé kousky působí, jako by si je muzikanti nechali v šuplíku z dob, kdy působili u Saxon. Taková je třeba Past The Point, Love Your Misery nebo hit Old School. Některé jsou přímočařejší ve stylu AC/DC (Drivin' Sideways a Evil Sweet Evil), další zase melodičtější odnoží street metalu (Treacherous Times), nebo Motörhead (More For Me) či Judas Priest (titulní Victim You). Dojde i na ploužák s kytarovým sólem jak od Slashe z Pistolí a Růží (I Still Care). Trochu mě vyděsila jen úvodní  Bitch Of A Place To Be, kde jsem cítíl inspiraci u grunge, jinak jako celek to byla příjemně barevná exkurze do dob vlády osmdesátkového ostrovního metalu.
Dnes je to vyhledávaná deska pro pamětníky. Já ji mohu jen chválit. Výbornej a řezavej zvuk kytar, solidní zpěvák, jen rytmika mi přijde občas méně nápaditá a monotónní. To je však jen jeden drobný nedostatek na této velmi povedené kolekci.
Kapela odjela několik turné, potom se však něco zadrhlo. V roce 1998 odešel zpěvák  Ted Bullet a poté i bubeník Pete Gill. Kapela zabředla do soudních tahanic o práva na název Saxon a nad tímto repertoárem se navždy zavřela voda. Ač se nejedná o žádné přelomové, či zásadní album, rád si ho občas poslechnu.
Zde je raritní klip z tohoto alba:
SKLADBY:
01. Bitch Of A Place To Be
02. Drivin' Sideways
03. Past The Point
04. No-One's Gettin' Over
05. Treacherous Times
06. Love Your Misery
07. I Still Care
08. Old School
09. More For Me
10. Evil Sweet Evil
11. Victim You
SESTAVA:
Ted Bullet – Vocals
Graham Oliver – Guitars
Haydn Conway – Guitars
Steve Dawson – Bass
Pete Gill – Drums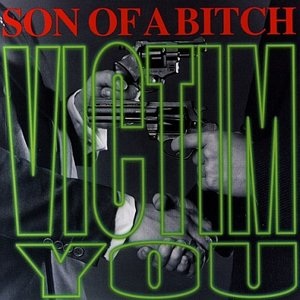 Victim You
Son Of A Bitch
Hard Rock, Heavy Metal
Victor Entertainment
1996
CD
11