Na rozdiel od drvivej väčšiny znalcov i fanúšikov – v hudbe, ktorú pod značkou King Crimson robil a robí Robert Fripp & co., mám podstatne radšej obdobie "Belewovské", teda od roku 1981, keď sa dovtedy neustále sa personálne meniaca kapela stabilizovala. Mimoriadne talentovaný americký spevák a gitarista Adrian Belew sa vtedy stal Frippovým spoluhráčom.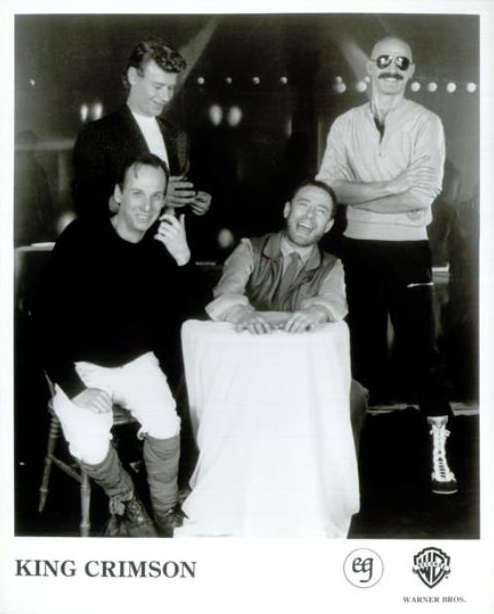 Skutočne považujem roky 1981–1984 za najlepšie časy King Crimson, aj keď ide o obdobie troch vydaných, takmer rovnocenných, albumov bez zásadnejších novátorských a vývojových zmien v ich muzike. To, čo stvárajú štyria geniálni muzikanti na Discipline, Beat a tejto doske, je podľa mňa niečo ťažko prekonateľné a napodobiteľné. Na LP/CD Three Of A Perfect Pair vlastne všetko dotiahli k dokonalosti vo svojom spôsobe tvorenia a komponovania.
Prvá strana pôvodného vinylu obsahuje štyri melodické skladby (vo Frippovskom ponímaní melodiky), s výborným výkonom Belewa za mikrofónom. Titulnú Three Of A Perfect Pair hrával Adrian v akustickej verzii naživo (mohli ste to vidieť aj na pražských koncertoch King Crimson).
Druhá strana albumu je pravý opak: Až na vokálny fragment v kompozícii Dig Me je vlastne celkom inštrumentálna. Ale ako! Vyše dvadsať minút sa na Vás valia ťažké industriálne a experimentálne hutné zvuky zo skreslených gitár a Frippertronicu. Do toho sa pridáva virtuozita Tony Levina na stick basgitare a mix akustických a elektrických bicích, často jazzovo znejúceho Billa Bruforda. Skutočné inštrumentálne orgie len pre silnejšie nátury! Koncept albumu je z môjho uhlu pohľadu skutočne efektný a brilantný. Gradácia od melodičnosti ku vyložene ťažkým hudobným plochám, na to má odvahu vo svete art rocku asi len Mr. Fripp.
V globálnej tvorbe King Crimson sa k tomuto albumu, spolu s Discipline, vraciam jednoznačne najradšej!
SKLADBY:
– "Left Side" –
1. Three Of A Perfect Pair (4:11)
2. Model Man (3:56)
3. Sleepless (5:20)
4. Man With An Open Heart (3:00)
5. Nuages (That Which Passes, Passes Like Clouds) (4:42)
– "Right Side" –
6. Industry (7:22)
7. Dig Me (2:59)
8. No Warning (3:28)
9. Larks' Tongues In Aspic, Part III (6:01)
ZOSTAVA:
Adrian Belew – lead vocals, fretted & fretless guitars, synth
Robert Fripp – guitar, synth
Tony Levin – Chapman Stick, bass, synth, backing vocals
Bill Bruford – acoustic & electric drums
Three Of A Perfect Pair
King Crimson
Prog Rock, Experimental
EG
1984
LP
8