"Ztracené" album progrockové legendy, ve svých nejlepších letech v Itálii hrající např. jako předkapela skupině Van der Graaf Generator. Natočené v roce 1979, ale vyšlo až v roce 1992. 
Píše se rok 1979 a je to znát… Latte e Miele podstatně zjednodušili svou hudbu. Pryč je ta italsky hravá, nenucená koketerie s vážnou hudbou a jazzem, slyšitelná na předcházejících, vynikajících albech.
Úvodní skladba King Of Darkness nám představí zvuk kláves poplatných době, ale hudba, melodie jako taková, není špatná. Jedná se o instrumentálku, kterou si dokážu představit v nějakém filmu. Následující skladby jsou anglicky zpívané a tady se mi ale začínají ježit vlasy na hlavě hrůzou. A to je mám hodně krátké. Diskopop I Don't Wanna See You je těžká příšernost a nemůžu uvěřit tomu, že ji složila kapela, která je podepsaná pod předcházejícími alby. Proč? Klaus Schulze, Daevid Allen, Robert Wyatt, Holger Czukay nebo Irmin Schmidt (oba posledně jmenovaní z Can) nikdy takhle hluboko (ani nijak jinak hluboko) neklesli… Burnin' Out je další uječený diskopop a já se opravdu přemáhám pokračovat v poslechu, protože poslouchám přesně to, co nevyhledávám. Panebože, já jsem ale trpělivý člověk. Poslouchám dál a doufám, že se dočkám nějakého překvapení v podobě zajímavé skladby. Jenže rozčarování pokračuje. A příjemné překvapení nepřichází. Nečekal jsem další Papillon, ale ani takovouhle hrůzu. Fakt ne.
Fanoušci, očekávající cokoli, co kapela nabídla na svých předcházejících albech, zde budou slušně řečeno zklamáni. Byť rok vzniku nahrávky může být sám o sobě určitým varováním.
Dal jsem tomu dvakrát šanci a končím; fuj, nevermore… Kapela alespoň dokázala ještě jednou nabrat dech, v roce 2009 překvapila zajímavým, koncepčním albem o dobrodruhovi Marcu Polovi.
SKLADBY:
01. King Of Darkness (3:36)
02. Master Of The Time (3:32)
03. I Don't Wanna See You (3:18)
04. Burnin' Out (4:17)
05. Life Is Just A Game (4:08)
06. Nobody's Comin? (3:29)
07. Stasera (3:16)
08. Angela (3:56)
09. Fumetti Rosa (3:31)
10. Un Colpevole Mago (2:57)
11. Rock'n'roll Star (4:03)
12. American Time (3:10)
13. Dimenticare, Ricominciare (3:40)
14. Immagini Di Un Porto (3:56)
SESTAVA:
Massimo Gori – guitar, bass, vocals
Luciano Poltini – keyboards, vocals
Alfio Vitanza – drums, guitar, vocals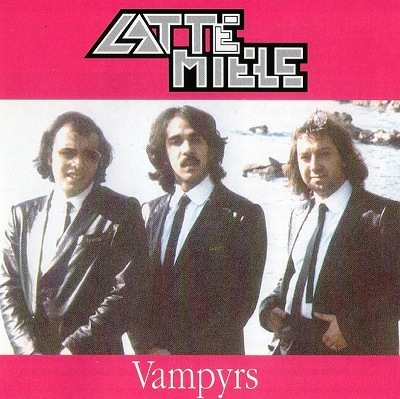 Vampyrs
Latte E Miele
Rock
Mellow Records
1992
CD
14