CD Cinevox Record – CD OST 703/s
V původním vydání a dobrém stavu jedna z nejvzácnějších položek italského progresivního rocku, která se na discogs nabízí v relaci 3 900 – 7 000 Euro. A to už je tedy pořádná, pro běžnýho smrtelníka těžko představitelná láce. Naštěstí je k mání řada reedic, i když ani s nimi to nebylo vždycky jednoduché tak, jak by se na první pohled zdálo…
První cédéčko a vinyl vydali v Japonsku v druhé polovině osmdesátých let, ovšem v Evropě se album na CD objevilo až v roce 1993 zásluhou italského labelu Vinyl Magic. Běžněji dostupným se tak stalo teprve v novém tisíciletí a to především díky nosičům od AMS a Cinevox Record. Nedatovanou CD reedici od Cinevox jsem si koupil teprve před pár týdny a podle katalogového čísla CD OST 703/s by mělo jít o repress vydání z roku 2010. Trochu jsem se bál remasteru a s ním související přeřvané hlukové koule, ale moje obavy vzaly za své již s prvním stisknutím tlačítka play. Hraje to dobře a myslím, že fanoušek kvalitního přednesu bude spokojenej.
S na dlouhá léta jedinou plackou Cherry Five je to zamotaná historie, ale nechtěl bych vás zahrnout lavinou nic neříkajících dat a exoticky znějících jmen. Jednotlivé zdroje si navíc vzájemně docela odporují, nicméně v krátkosti to bylo asi takhle:
Album se nahrávalo v roce 1974 (i když hodně zdrojů uvádí datum 1. duben – 1. červen 1975), lisovalo o rok později a u Cinevox Record vyšlo 9. ledna 1976, pod katalogovým číslem SC 33/27 a v limitovaném počtu 400 kopií. Něco se dostalo na pulty prodejen a zbytek zůstal ve skladech římské společnosti, která je koncem osmdesátých let zlikvidovala, aby uvolnila místo pro kompaktní disky…
Desku natočila sestava ve složení Claudio Simonetti (klávesy), Massimo Morante (kytary), Fabio Pignatelli (basa), Tony Tartarini (sólo zpěv) a Carlo Bordini (bicí), ale vyšla anonymně, pod jménem neexistující kapely Cherry Five. Tou dobou už totiž první tři jmenovaní sklízeli úspěch jako Goblin a vydavatel měl strach z poškození jejich závratně se rozjíždějící kariéry. Na obálce původního vydání byli dokonce uvedení jen zpěvák s bubeníkem (ti už v kapele Goblin nefigurovali) a zbytek sestavy zůstal skryt. Teprve na pozdějších reedicích se objevila celá skupina s informací, že všechny skladby na desce složili Simonetti s Morantem.
Hudba Cherry Five je hodně ovlivněná tvorbou slavnějších vzorů z britských ostrovů a není divu, protože Claudio Simonetti a Massimo Morante žili nějakej čas v Londýně, kde měli možnost načerpat dostatek inspirace. Slyšet tady můžeme především Yes, v menší míře ještě Genesis a díky Simonettiho klávesám také ELP. Pro italskou kapelu neobvyklým je zpěv v angličtině a celé mi to připomíná situaci kolem alba Sun supreme (1975) krajanů Ibis. Kolem něj však kroužím s odstupem, protože kostrbatá stavba a sebepožírající komplikovanost jsou pro mě takřka nepřekonatelnou překážkou. Ani Cherry Five nejsou úplně snadným soustem a vyžadují soustředěnej poslech, do ucha mi však lezou mnohem líp a již dneska vím, že se k nim budu vracet daleko častěji, než k Ibis.
Přesně čtyřicet tři minut dlouhé album obsahuje šest skladeb, ale The swan is a murderer byla z důvodu omezené kapacity vinylového kotouče rozdělená na dvě části. Těch skladeb je tedy ve skutečnosti jen pět, v délce od necelejch osmi, po devět a půl minuty. Je nad slunce jasné, že nepůjde o žádné "odrhovačky", ale o propracovanej materiál s dlouhými instrumentálními vsuvkami, řadou nečekaných zvratů, odboček a změn. V kapele to byl samej virtuóz a tak to uhání v neskutečném nasazení a tempu, s rytmikou šlapající na plnej výkon. Vytažená, jak kaňour chrochtající baskytara nemá chybu a Bordini za bicími připomíná utrženej vagón. Jenom připomínám, že v té době už měl dávno venku album Opera prima (1973), které nahrál ve dvojici s dalším klávesovým kouzelníkem Paolem Rustichellim. Jen oni dva a nikdo jiný…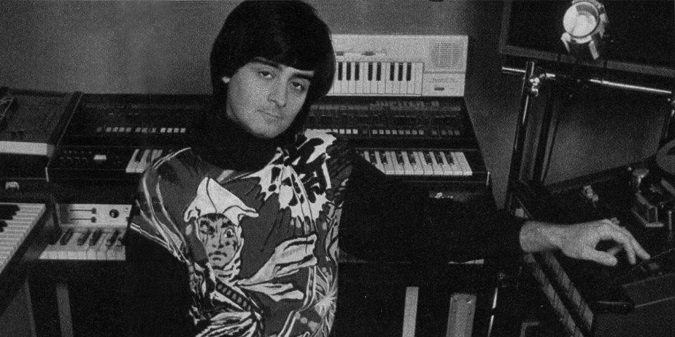 Arzenálem klávesových nástrojů obklopený Simonetti je kapitolou sám pro sebe a mám dojem, že na žádném jiném albu už se nevyřádil tak, jako tady. Chvílemi se nemůžu ubránit dojmu, že slyším aspoň čtyři nástroje najednou a chtěl bych vidět, jak by tenhle materiál prezentoval živě. Jsou to virtuózní bakchanálie a fanoušek analogovejch kláves si u nich cvrnkne blahem. Škoda, že se popisek na obalu omezuje jen na zjednodušený výraz "tastiere", protože by mě zajímalo, co za nástroje Simonetti nakonec použil. Ovšem jestli máte rádi mellotron, tak ten je tady taky. Hodně mellotronu a hned v úvodní Country grave-yard mi svým krásně archaickým zvukem připomněl debutové album britských (a mou maličkostí zbožňovaných) Spring (1971).
Jistou zajímavostí je fakt, že dvě z pěti skladeb se jmenují po Simonettiho starších projektech. Jeho první, opravdu významná kapela byla Ritratto di Dorian Gray a působila v letech 1970-71. Slušné renomé si vydobyla především v Římě a vystoupila i na slavném Festivalu di Caracalla v roce 1971, ovšem žádný oficiálně vydaný materiál se po ní nedochoval. Po návratu z vojny založili Simonetti s Morantem  skupinu Oliver a říkali si tak až do okamžiku přerodu v Goblin. Ovšem proč materiál z alba Cherry Five nevyšel pod hlavičkou Oliver už dneska netuší ani Simonetti.
Dalším pozoruhodným okamžikem je přechod mezi oběma díly skladby The swan is a murderer. První strana desky končila a druhá začínala stejnými, strašidelnými zvuky za doprovodu hrací skříňky a ten samý efekt Simonetti použil i na debutovém albu Goblin, slavném soundtracku Profondo rosso (1975). Na mém CD je to v pořádku, ale na Spotify jsou obě části chybně pojmenované a přehozené. Tím pádem na sebe nenavazují a nechápu, jak se něco takového mohlo stát. Ovšem potěšilo mě v podobném duchu natočené outro – vrzne víko od klavíru, pianista spustí závratně rychlou melodii a prásk! Někdo ho zastřelí…
Je škoda, že se tohle firmou přehlížené a zatajované album k lidem nedostalo včas a se vší parádou, ale tak už to holt někdy chodí. Nakonec buďme rádi za to, že se vůbec dochovalo a že už si ho můžeme bez problémů koupit. Myslím, že fanouškům méně známého art rocku typického pro první polovinu sedmdesátých let by se mohlo líbit. CD od Cinevox Record je ve standardní jewel case s transparentním trayem a čtyřstránkovým bookletem. Ten nabízí reprodukci původní obálky a historii skupiny v italštině od Claudia Fuiana.
3,5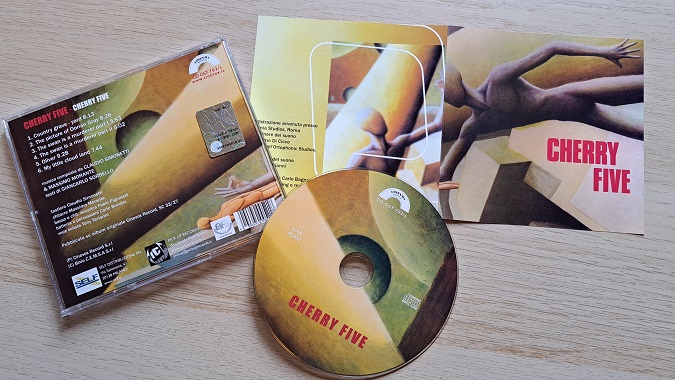 SKLADBY:
Lato A
1. Country grave-yard – 8:19
2. The picture of Dorian Gray – 8:28
3. The swan is a murderer (Part I) – 3:53
Durata totale: 20:40
Lato B
4. The swan is a murderer (Part II) – 5:05
5. Oliver – 9:30
6. My little cloud land – 7:43
Durata totale: 22:18
SESTAVA:
Claudio Simonetti – tastiere
Tony Tartarini – voce solista
Massimo Morante – chitarre
Fabio Pignatelli – basso e chit. acustica
Carlo Bordini – batteria e percussioni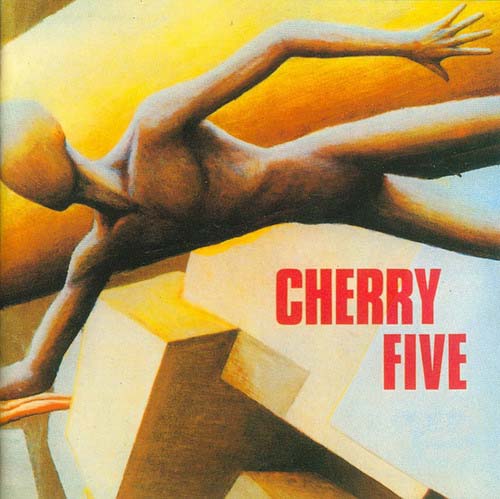 Cherry Five
Cherry Five
Prog Rock
Cinevox Record
1976
LP
6
CD Cinevox Record – CD OST 703/s