Box Set Universal Music Italia s.r.l. – 0602527319346 /2010/
New Trolls patřili k těm nejpopulárnějším italským skupinám své doby a o šanci stát se tou vůbec nejúspěšnější se připravili sami…

V roce 1972 už to v kapele bublalo, jak v natlakovaném papiňáku a její zakladatelé – Vittorio De Scalzi a Nico Di Palo – si šli po krku takovým způsobem, že už se to nedalo dál vydržet. Nastal nevyhnutelnej rozvrat a oba znesváření kohouti pokračovali v hudební kariéře s novými, nebo "staronovými" spoluhráči. De Scalzi založil kapelu N.T. Atomic System a Di Palo kývnul na jméno Ibis. Dlužno dodat, že tomu bylo až po hlasování čtenářů v anketě vyhlášené časopisem Ciao 2001 a debut z roku 1973, Canti d'innocenza, canti d'esperienza, vyšel ještě "anonymně", pouze s otazníkem na obalu desky. Prvním albem pod jménem Ibis se tak stalo až Sun supreme, vydané v roce 1974 u firmy Polydor. 
O jak ambiciózní materiál se jednalo svědčí už krátkej pohled na tracklist, kterej obsahuje pouhé dvě, na různé kapitoly a podkapitoly rozdělené skladby a nemusím snad ani dodávat, že každá z nich zaplnila celou jednu stranu původní vinylové desky. Z výše uvedeného vyplývá, že by mohlo jít o art rock a taky že jo. Pořádně komplikovanej, notabene s texty v angličtině a tak mi to italskou kapelu nepřipomíná ani náhodou. To spíš Yes.  
Stačilo mi zaslechnout předehru úvodní Vision of Majesty a začal jsem se vrtět. Něco mi to připomínalo, ale chvilku trvalo, než jsem tomu přišel na kloub a inspiraci bych hledal v Roundabout. Celej Steve Howe. První track se nese v poklidném duchu, ale trochu mi vadí vokální linka. Zpěv samotnej je v pořádku, sice trochu vyšší a v anglině, ale v pořádku. Jenom tomu chybí kloudná melodie a tak nemám, čeho se chytnout a bude hůř…
S nástupem do tří strof rozdělené Travelling the Spectrum of the Soul dostávám ránu, jak od elektrického ohradníku. Naprosto nekompromisní nátěr s prvky jazzu, komplikovanou rytmikou a do vejšek tahaným zpěvem vstřebávám opravdu těžko a tak to do mě leze, jak do chlupatý deky. Myslím, že by se to dalo přirovnat k těm nejnáročnějším pasážím The Gates of Delirium a to je co říct.
V první části následující The Valley of Mists si můžu trochu odfrknout, i když s melodiemi je to pořád nalevačku, ale v čase 1:27 končí veškerá sranda. Z hlučné, nervní a ukřičené masírky jsem vykulenej, jak žába před bouřkou a tak lapám po dechu, krčím se před tou smrští a připadám si ztracenej uprostřed džungle, ze které se nemůžu vymotat. Malým paprskem světla na konci tunelu budiž teprve akustické outro "kingcrimsonovské" nakládačky Vision Fulfilled a tím bych měl za sebou první stranu původního alba.
S následující, do tří strof rozporcované Divinity už je to kapánek lepší, ale pořád ještě je to poměrně neprostupná houština tónů, kterou si klestím cestičku jen pomalu a těžko. Čerstvé krve do žil mi nalije až teprve pět minut dlouhé – a vynikající! – sólo na buben (ex Atomic Rooster bubeník Rick Parnell) a najednou jsem z toho venku. Stojím na břehu oceánu, do tváře mi svítí životodárné slunce, poslouchám šumění vln, křik racků a z dálky ke mě doléhá uklidňující hudba a pomalu sílící sborovej zpěv. Už jsem si myslel, že nedojdu, ale jsem na konci cesty…
Album Sun supreme už mám ve sbírce řadu let, ale nikdy jsem k němu nijak zvlášť nepřilnul. První straně desky bych dal ošoupanou dvojku, druhé slabší čtyřku a tak mi to vychází na bídné tři. Ovšem fanouškům poněkud náročnějšího art rocku ve stylu raných Yes, nebo King Crimson by se mohlo zamlouvat. Stačí zkusit.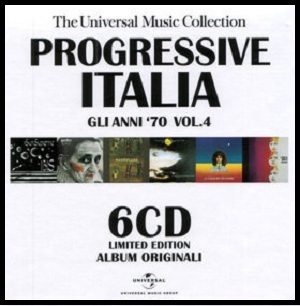 Moje cédéčko je součástí box setu Progressive Italia gli anni ´70 vol. 4, zasunuté v jednoduché papírové obálce a bez bookletu. Ale hraje pěkně, to zase jo…

OIGINAL EDITION:
Lato A
1. Divine Mountain/Journey of Life (Swift River Rushing, Flowing)
…..Part 1 – Vision of Majesty
…..Part 2 – Travelling the Spectrum of the Soul
………………….a) Flow of the River of the Mind
………………….b) A Magical Cavern
………………….c) On the Edge of It All
…..Part 3 – The Valley of Mists
………………….a) Song of the Valley Deep
………………….b) The Elements Clash – Storm of Life
…..Part 4 – Vision Fulfilled
………………….a) Jungle – Rhythm Color (Steam, Sweat, Pulse, Throb, Vibrate)
………………….b) Over the Crest
Lato B
2. Divinity (Dedicated to Satguru Maharaji and His Followers)
…..Part 1
…..Part 2
…..Part 3
CD UNIVERSAL:
1. Divine Mountain / Journey of Life (Part 1 – Vision Of Majesty) 3:41
2. Divine Mountain / Journey of Life (Part 2 – Travelling The Spectrum Of The Soul) 5:56
3. Divine Mountain / Journey of Life (Part 3 – The Valley Of Mists) 4:54
4. Divine Mountain / Journey of Life (Part 4 – Vision Fulfilled) 4:38
5. Divinity (Part 1) 3:59
6. Divinity (Part 2) 7:16
7. Divinity (Part 3) 5:57
SESTAVA:
Nico Di Palo – chitarra e voce solista
Maurizio Salvi – tastiere (pianoforte, Fender Rhodes, Clavinet Hohner, Hammond b3, Arp Synth, Moog, Clavicembalo, Eminent, Mellotron)
Frank Laugelli – basso
Rick Parnell – batteria e voce 
Sun Supreme
Ibis
Prog Rock
Polydor
1974
LP
2
Box Set Universal Music Italia s.r.l. – 0602527319346 /2010/