Spomedzi výborných skupín, ktoré sa však v našich socializmom pokrivených končinách takmer nespomínajú, a aj v súčasnosti sa im pozornosť rockových fanúšikov vyhýba, vyniká napríklad Juicy Lucy. Tvrdý blues rock s malým presahom do amerických prérií stojí za pozornosť na všetkých štyroch albumoch z počiatku 70. rokov.
Megahit Who Do You Love im zabezpečil popularitu, ale povedzme si pravdu, celá tvorba je parádna. Obaja speváci, Owen i Williams, boli úžasní, v zostave hralo kvantum známych hráčov, Keith Ellis, Chris Mercer, Mick Moody, Rod Coombes, Andy Pyle…
A hoci sa kapela v rôznych podobách reunionovala, dnes po nej pes neštekne. Aj preto počúvam všetky tri albumy, Juicy Lucy (1969), Lie Back And Enjoy It (1970) a Get A Whiff A This (1971),  ktoré mám v zbierke. Hudobný zážitok nesmierny, vizuálny hrozný. Máloktorá kapela dokázala produkovať tak nepekné obaly…
Pred jedenástimi rokmi som kapele venoval biografiu na progboarde, tak ju sem prikladám. Raz ju upravím aj pre rockovicu:
Anglická skupina Juicy Lucy sa nepreslávila záľubou vo vlastných veciach a ani stálosťou zostavy. Naopak, vystriedalo sa v nej viacero hudobníkov, ktorí hrali vo veľmi známych skupinách (Van Der Graaf Generator, Tempest, Savoy Brown, Whitesnake a tak) a jej najväčší hit bol notorický McDanielsov song Who do you love.
Ale poporiadku. V roku 1969 zaniká skupina The Misunderstood. Jej členovia, steel gitarista Glen "Ross" Campbell, spevák Ray Owen a saxofonista Chris Mercer sformovali skupinu Juicy Lucy. Doplnili ich basák Keith Ellis (ex-Van Der Graaf Generator), gitarista Neil Hubbard a bubeník Peter Dobson. Názov skupiny je podľa postavy z diela Virgin Soldiers od Leslieho Thomasa. Podarilo sa jej uzavrieť zmluvu so značkou Vertigo, kde vychádza eponymný debut (stále sa píše rok 1969). Úspešný singel Who do you love/Walking down the highway však nezabránil prvej z mnohých personálnych zmien.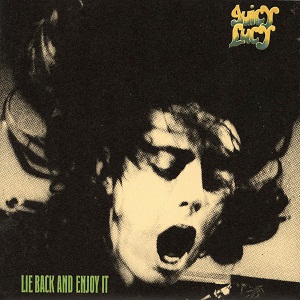 Ray Owen, Peter Dobson a Neil Hubbard odišli (posledný menovaný neskôr spolupracoval napríklad s Brianom Ferrym, Alvinom Leem a Robertom Palmerom) a ich náhradou sa stali Paul Williams (spev) z Zoot Money and the Big Roll Band, Mick Moody (gitara) z Tramline (a neskôr Snafu a Whitesnake) a Rod Coombes (bicie). Následne vydali singel Oh pretty woman/I'm a thief a v roku 1970 aj album Lie back and enjoy it. Po jeho vydaní odchádza Keith Ellis (neskôr Spooky Tooth, Boxer) a z Fat Mattress prichádza basák Jim Leverton.
V tejto zostave vychádza v roku 1971 na značke Bronze Records album Get a whiff a this.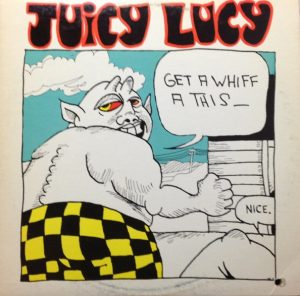 Následne prichádza tradičný pretras v zostave, keď odchádza Leverton (neskôr spolupracoval so Stevem Ellisom a Jimom Capaldim), Coombes (neskôr Stealers Wheel, The Strawbs) a aj Campbell s Mercerom. Nahradili ich ex-členovia Blodwyn Pig, Andy Pyle (basa) a Ron Berg (bicie) a tiež štúdiový klávesák Jean Roussel. V tejto zostave vychádza posledný album Pieces (1972) a singel It ain't easy/Promised land.
V roku 1972 skupina zaniká. Paul Williams sa sáva na sólovú dráhu a je aj členom Hisemanovej skupiny Tempest. Mick Moody formuje Snafu, neskôr aj Young and Moody Band a Whitesnake. Andy Pyle sa stáva členom Savoy Brown a neskôr spolupracuje aj s The Kinks, Alvinom Leem alebo Gary Mooreom.
História Juicy Lucy naberá nový obrat v roku 1994. Spevák Ray Owen obnovuje skupinu, ďalší členovia sú Mike Jarvis (gitara), Spencer Blackledge (bicie) a Andy Doughty (basa). Vydávajú album, Here she comes again (1995), ale neúspech znamená v roku 1997 rozpad. V roku 1996 vychádza pod hlavičkou Juicy Lucy album Blue thunder, na ktorom hrajú Paul Williams a Mick Moody. Kvôli právnym nezrovnalostiam nemôže Ray Owen používať meno Juicy Lucy, takže vzniká skupina Ray Owen's Moon. V roku 2004 konečne môže zmeniť meno na Juicy Lucy a v roku 2006 dokonca vydáva album Do that and you'll lose it. V roku 2008 Owen vážne ochorie, takže zo skupiny sa stáva trio (Mr. Fish: gitara, spev, James: basa, Fletch: bicie) a v roku 2009 Owen definitívne vzdáva svoju účasť v skupine.
DISKOGRAFIA:
1969 – Juicy Lucy
1970 – Lie Back And Enjoy It
1971 – Get A Whiff A This
1972 – Pieces
1995 – Here She Comes Again
1996 – Blue Thunder
2006 – Do That And You'll Lose It