Lynyrd Skynyrd – to je výstavní zboží jižanského rocku. Poznal jsem je až po The Allman Brothers Band, ale nadchl jsem se pro jejich plnokrevné a živočišné muzikantství už dávno. Škoda, že u nás nemohli v sedmdesátých letech hrát. Myslím, že by byli ozdobou těch několika festivalů, které se u nás odehrály. Zato se stali inspirací pro domácí kapely jako Žlutý pes, Pumpa, Beatover, kteří jejich skladby občas přebírali do svého repertoáru.
Obal alba Second Helping má v sobě tu jižanskou barevnost a pospolitost. Třebaže jeho ztvárnění balancuje na pokraji výtvarného kýče, tahle okolnost mě ale naštěstí neodradila a tak nechávám tu atmosféru jižanské pospolitosti a melodické šťavnatosti na sebe znovu působit.
SWEET HOME ALABAMA – Svižné kytarové intro, které vás svým riffem pohltí už odpočátku. Štavnaté a elastické elektrické kytary bez jakýchkoliv zkreslení nám tady servírují jednu z nejslavnější skladeb jižanského rocku vůbec a klíčovou skladbu repertoáru Lynyrd Skynyrd. Tohle je bezproblémové bigbít, který je schopen rozdávat radost, pohodu a přinést do zamračeného dne slunce. Možná v něm tihle Jižani deklarují svoji nadměrnou lokálně nacionalistickou příslušnost, ale my ze střední Evropy se tímhle trápit nemusíme. Ed King nám předvádí svoje kytarové umění a vedle něho vnímám i svižné klavírní běhy Billyho Powella a správně odpíchnuté vokály Clydie King (milenky Boba Dylana v osmdesátých letech), ale i Merry Clayton, která spolupracovala s Rolling Stones. Prostě paráda!
I NEED YOU – Výrazně pomalá balada s kytarovým podílem dvou sólistů – Allena Collinse a Garyho Rossingtona. Vroucná interpretace a táhlá valivá melodie musí sáhnout na duši nejen jižanským drsňákům, ale i běžnému posluchači. Dobře vystavěná melodie je příležitostí pro zpívajícího Ronnieho Van Zanta. Kdybych mohl vyslovit neskromné přání, myslím, že by skladbě v mezihře slušelo, kdyby Billy Powell vstoupil do tématu sólem na hammondky. Myslím, že i producent Al Kooper by zde sehrál významnou roli. No je to jenom představa. Zdařilá balada, ke konci na mě trochu rušivě působí dlouhé kvílení kytary.
DON'T ASK ME NO QUESTIONS – Klasický bigbítový nástup s dobře odšlápnutou rytmikou, kdy baskytara nasadí melodickou linku a Burnsovy bicí šlapou podle standardního modelu doprovodu. Dechová sekce v jižanské muzice není úplně běžným modelem, ale Bobby Keys, Trevor Lawrence a Steve Madaio jsou jména, která nic nezkazí. Al Kooper si zde zahraje na klavír a tak tady máme další bezproblémovou skladbu se slide kytarou Eda Kinga.
WORKIN' FOR MCA – Tady se evidentně přitlačí na pilu a Lynyrd Skynyrd hraje v rychlejším a dravějším stylu. Van Zantův hlas je zvláštně potlačen a myslím, že ho instrumentace nějak tlačí do kouta. Rossington a Collins rozbalí svoje dvě sólové kytary a na elektrické piano se výtečně snaží i Powell. Zatím nejdravější skladba na albu s dobře propracovanými aranžemi kytarových témat. Nevím, jestli je název skladby narážkou na label, na kterém vydávají alba, ale možná je to jakýsi výraz vděku, kdy poměrně velká americká firma vzala tyhle Jižany pod svá křídla. Kdo hledá rozpoutanou energii a odvaz, myslím, že tady tyhle termíny ho po poslechu uspokojí.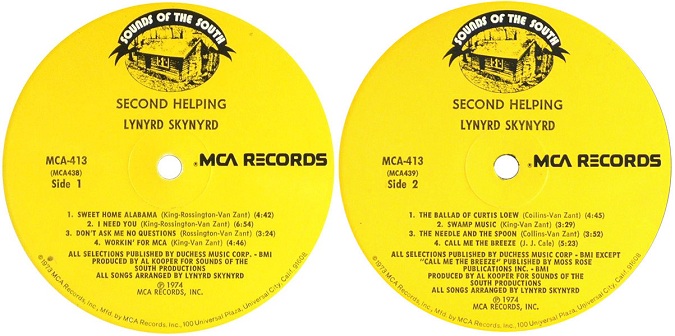 THE BALLAD OF CURTIS LOEW – Balada spíš subtilního typu. Ed King hraje na slide kytaru. Druhé sólo nahrál Gary Rossington a nechybí ani klavír a akustická kytara Ala Koopera. Rytmika je hutná, ale neprosazuje se za každou cenu, poskytuje dost terénu pro kytarová kouzlení a vroucný pěvecký projev Van Zanta. Skladba nemá nějakou komplikovanou harmonickou strukturu, ale jasné melodické obraty kytarových akordů. Místy se přibližuje ke countryovým tématům, ale s rockovými základy – žádné nashvillské kýče. Uvolněné a zpěvné. Ronnie Van Zant je dobrý zpěvák, ale v interpretaci za takovým Greggem Allmanem přece jenom zaostává.
SWAMP MUSIC – Tohle je pořádně odpíchnutá skladba – dobře vedená rytmická linka basů a bicích a aranžmá kytarových prolínaček dodává téhle "močálové hudbě" tu správnou šťávu. Jestli je tohle oslava floridské rezervace Everglades, nevím, ale přesně to vypovídá o Lynyrd Skynyrd, jako identické výtečně sehrané partě. Velmi zajímavé se mi jeví rytmické proměny a akcenty v hráčských postupech. Řekl bych, že tahle skladba patří mezi to muzikantsky nejzajímavější, co se na albu objevuje.
THE NEEDLE AND THE SPOON – Velmi jednoduchá harmonická struktura a čitelnost akordů je téměř odzbrojující. Podíl klávesových nástrojů je na albu zasunut do pozadí a jak jinak, kytarové jízdy zde vévodí. Aranžmá je ale víceméně jasné od začátku a tak se můžeme těšit spíš na jednotlivosti, než na nějakou skladatelskou mimořádnost. Allen Collins vlastní wah wah pedál a nezapomene nás o tom v téhle skladbě přesvědčit. Odvázaný bigbít v závěru získává ještě větší dynamický potenciál a je příležitost se předvést v tom dobrém slova smyslu.
CALL ME THE BREEZE – Vyvrcholení přichází s poslední skladbou, coververzí od J. J. Calea. Zatímco spíše subtilnější vyznění od Calea nás pohladí svým kouzlem nechtěného, tady se kapela dokáže proměnit v pořádně říznou rockandrollovou partu, kde to duní zemitými bicími i hutnou baskytarou. Rossington rozbalí dané téma pořádně odvázanou kytarovou jízdou, Billy Powell za klavírem je trochu víc v popředí a řádí na nástroji jako Jerry Lee Lewis. Samozřejmě, nechybí ani již dříve zmiňované trio dechařů. Strhující model plnotučného jižanského rocku má spoustu energie i dravosti a mírně pompézní závěr ukončuje celé album.
Myslím, že Lynyrd Skynyrd albem Second Helping potvrdili zcela neomylně pozici jedné z nejlepších kapel jižanského rocku a proto je třeba ocenit jejich instrumentální a aranžérské dovednosti plným počtem hvězdiček. Výtečná produkce Ala Koopera se na albu projevila a dodnes si myslím, že patří tohle jejich druhé studiové album k tomu nejlepšími co tyhle jižanské vlasaté bigbítové máničky natočily. Mám-li být ale upřímný, The Allman Brothers Band mám přece jenom ještě o nějaký kousek raději…
SKLADBY:
01. Sweet Home Alabama – 4:43
(Ed King / Gary Rossington / Ronnie Van Zant)
02. I Need You – 6:55
(Ed King / Gary Rossington / Ronnie Van Zant)
03. Don't Ask Me No Questions – 3:26
(Gary Rossington / Ronnie Van Zant)
04. Workin' For MCA – 4:49
(Ed King / Ronnie Van Zant)
05. The Ballad of Curtis Loew – 4:51
(Allen Collins / Ronnie Van Zant)
06. Swamp Music – 3:31
(Ed King / Ronnie Van Zant)
07. The Needle And The Spoon – 3:53
(Allen Collins / Ronnie Van Zant)
08. Call Me The Breeze – 5:09
(J.J. Cale)
SESTAVA:
Ronnie Van Zant – lead vocals
Gary Rossington – lead & rhythm guitar
Allen Collins – lead & rhythm guitar
Ed King – lead, rhythm & slide guitar; bass (I Need You, Don't Ask Me No Questions & Was I Right Or Wrong)
Billy Powell – piano & keyboards
Leon Wilkeson – bass guitar & background vocals
Bob Burns – drums
+
Al Kooper – piano (Don't Ask Me No Questions); acoustic guitar & piano (The Ballad Of Curtis Loew); horn arrangement (Don't Ask Me No Questions & Call Me The Breeze); background vocals
Mike Porter – drums (I Need You)
Clydie King, Merry Clayton & Friends – background vocals (Sweet Home Alabama)
Bobby Keys, Trevor Lawrence & Steve Madiao – horns (Don't Ask Me No Questions & Call Me The Breeze)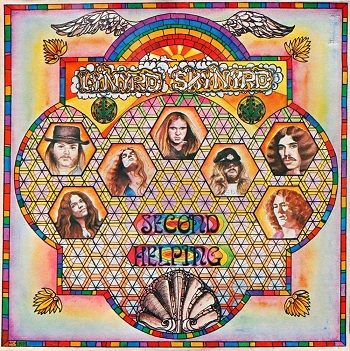 Second Helping
Lynyrd Skynyrd
Southern Rock
Sounds Of The South, MCA Records
1974
LP
8