Tak tohle je přesně ono. To jsem si pomyslel, když jsem poprvé slyšel tuto vynikající nahrávku. Vznikla z toho láska, která mě drží již skoro tři desetiletí a na kterou nedám dopustit. Janis Joplin sice za svou krátkou, ale o to zářivější kariéru natočila i jiné desky, ale zde podle mě dosáhla svého tvůrčího vrcholu. Vrcholu, jehož kvalit dosahuje snad jenom posmrtné album Pearl, ale rozhodně ho nepřekonává.
Album bylo nahráno během března až května roku 1968 a 8 týdnů bylo číslem jedna v žebříčku Billboardu. Jedná se o poslední studiovou nahrávku Janis Joplin se skupinou Big Brother And The Holding Company. Na konci téhož roku zpěvačka formaci opouští a vydává se na sólovou dráhu.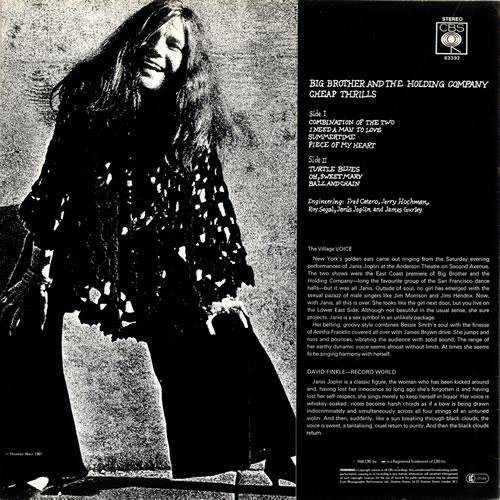 Hned úvodní skladba Combination of The Two je neskutečná jízda. I když je zde Janis součástí celku a hodně pěveckého prostoru zde dostávají oba kytaristi, tak bez ní by celkové vyznění skladby bylo asi jiné. V následujícím blues I Need A Man To Love již má zpěvačka dostatek prostoru, aby mohla ukázat, co se svým drsným hlasem dokáže. Obě kytary ji podbarvují tu drsněji, tu něžněji podle toho, jak je potřeba. A pak přijde Gershwinovo Sumertime, které do svého repertoáru zařadilo velké množství zpěvaček, ale jen málokteré z nich se podařilo písni vtisknout onu procítěnost a naléhavost jako Janis Joplin.
První stranu alba zakončí skvělá Piece of My Heart, píseň, kterou mám nesmazatelně spojenou s představou toho, co bylo květinové hnutí, a při jejímž poslechu mám pocit absolutní svobody a volnosti.
Druhá strana začne skvělým syrovým Turtle Blues, skladbou, jejíž autorkou je sama Janis. Její hlas je opět velmi naléhavý a při poslechu mám pocit, jako bych seděl někde v zakouřeném baru, ve kterém hraje slušná kapela s vynikající vokalistkou, já piju whisky a pomalu se nechám unášet atmosférou, která se line z pódia. Předposlední písní alba je Oh, Sweet Mary, lehce psychedelická záležitost, ve které kromě Janis zpívá i kytarista Sam Andrew. Pro skladbu je charakteristické střídání rychlých a pomalých pasáží a donekonečna protahované kytarové sólo. Ta kytara se posluchači přímo zařezává do uší.
Poslední skladbou je ta o "kouli a řetězu", tedy Ball and Chain. Po úvodním elektrickém hromobití se připojí Janis, která zpočátku šeptá, ale postupně přidává na intenzitě a opět předvádí možnosti svého skvělého hlasu. Kapela se drží v pozadí, aby v polovině skladby nastoupila v plné síle. Po nějaké chvíli však hlavní roli přebírá opět Janis, střídá hlasové polohy a udržuje fascinovaného posluchače v napětí.
Ano, tohle album a zpěvačku Janis Joplin miluji. Jenom doufám, že si tohle vyznání nepřečte moje manželka. Ale stejně si myslím, že to ví.
Skladby:
1. Combination Of The Two 5:47
2. I Need A Man To Love 4:53
3. Summertime 3:58
4. Piece Of My Heart 4:13
5. Turtle Blues 4:21
6. Oh, Sweet Mary 4:14
7. Ball And Chain 9:28
Sestava:
Janis Joplin: vocals
Sam Andrew: guitar, bass on 'Oh, Sweet Mary', vocals
James Gurley: guitar
Peter Albin: bass, lead guitar on 'Oh, Sweet Mary', lead acoustic guitar on 'Turtle Blues'.
David Getz: drums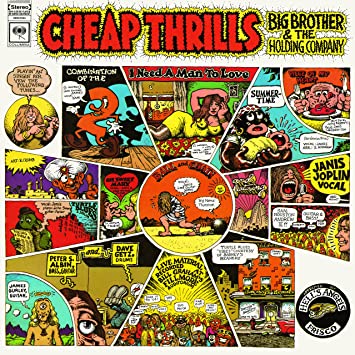 Cheap Thrills
Big Brother & The Holding Company
Blues rock, psychedelic rock
Columbia
1968
LP
7
CD Sony Music