Život je niekedy srandovný. O koncerte kapely Rowana Robertsona v bratislavskom Múzeu obchodu som sa dozvedel čistou náhodou, doslova iba hodiny pred jeho konaním. Niekedy Facebook vie byť aj nápomocný, a tak malé bezvýznamné poďakovanie jeho algoritmom za to, že mi pri scrollovaní zobrazili plagát s koncertom.
Anglický džentlmen
Anglický rodák Rowan Robertson by mal byť známy predovšetkým fanúšikom Ronnieho Jamesa Dia. Ten si ho, vtedy ešte sedemnásťročného gitaristu, vybral do svojej kapely Dio na sklonku 80. rokov a nahral s ním album Lock Up the Wolves (1990). Turné s rovnomenným názvom priviedlo formáciu Rowan Robertson Band aj do Bratislavy a tak som si tento koncert nenechal ujsť.
Rowana som stretol takmer presne pred 10 rokmi v austrálskom Sydney, kde odohral turné s domácimi metalovými psancami z Heaven. Pred koncertom sme stihli chvíľu pokecať a zaspomínať, no a samozrejme som ho nezabudol obdarovať aj niečím tuzemským – najstaršou slovenskou borovičkou Juniperus, navyše z môjho rodného kraja. Ak by niekto tipoval spojitosť Angličan – gin – borievka – borovička, tipoval by správne.
Koncert
Po prvýkrát som v Múzeu obchodu zažil predkapelu. Táto informácia prekvapila aj organizátora, keďže sa o nej dozvedel tiež len v deň koncertu. Talianska rocková skupina s názvom Flemt odštartovala večer približne o pol ôsmej a ponúkla niečo vyše 20-minútový energický set s piatimi kúskami. Opísal by som ju ako moderný rock s melodickým spevom. Svoj účel – zahriatie publika, splnila a bolo to aj počúvateľné.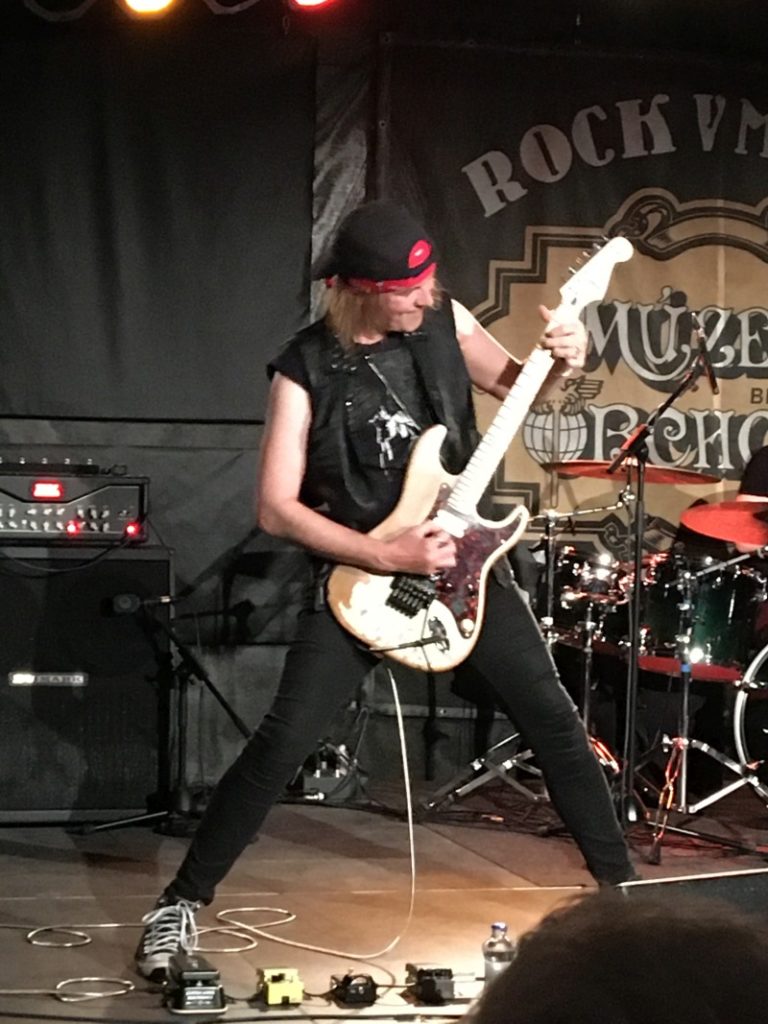 Hlavnou hviezdou večera však bol gitarový shredder Rowan Robertson, ktorého doprevádzalo trio Talianov (siaham po CD, ktoré som si zakúpil): Piero Leporale (spev), Francesco Caporaletti (basa) a Roberto Pirami (bicie). Tí ponúkli približne 90-minútový set tvorený viacerými piesňami z albumu Lock Up the Wolves a výberom kariérnych hitov Ronnieho Jamesa Dia z jeho pôsobenia v kapelách Black Sabbath, Rainbow a Dio.
Mne sa najviac páčilo číslo Long Live Rock 'n' Roll, ktorého chytľavý rytmus v kombinácii s odozvou/spevom publika presne vystihoval dôvod, prečo mnohí hudbu tohto typu milujú.
Od prvého momentu bolo jasné každému, kto vrhol svoj pohľad na Rowana Robertsona, že sa jedná o gitaristu z najvyššej ligy. Ľahkosť s akou hrá a jeho pohyby i mimika nie sú v tunajších končinách každodennou záležitosťou. A zdatne mu sekundovala aj kapela. Spevák, nie náhodou pripomínajúci zosnulú metalovú legendu, svojím vokálnym výkonom Diovi hanbu isto nespravil. A rytmické duo rozpohybovalo končatiny prítomných.
Hľadisko síce bolo naplnené tak z dvoch tretín, ale štandardne dobrý zvuk a atmosféra (ktorú si užívala aj kapela) to vykompenzovala. Spevák veľmi dobre narábal s publikom a často ho zapájal do diania nielen tlieskaním do rytmu, ale aj spevom. Jeden a pol hodiny ubehlo ako voda, a dva prídavky v podobe Rainbow in the Dark a Holy Diver zavŕšili koncertný večer, po ktorom nadšené publikum kapelu vytlieskalo po druhýkrát.
Záver
Pred rozlúčkou som ešte stihol pomôcť Rowanovi s balením a dali sme aj spoločnú fotku. Tak snáď najbližšie stretnutie bude skorej ako o dekádu.
Setlist *
1. Wild One
2. Children of the Sea †
3. Man on the Silver Mountain / Tarot Woman ‡
4. Stargazer / Long Live Rock 'n' Roll ‡
5. Born on the Sun
6. Stand Up and Shout
7. Why Are They Watching Me
8. Take a Look at Yourself °
9. Soldier of Fortune ^
10. Don't Talk to Strangers
11. Lock Up the Wolves
12. The Last in Line
13. Heaven and Hell †
14. Rainbow in the Dark
15. Holy Diver
* Setlist je z koncertu v Nemecku, ale mal by byť viac-menej totožný
† Black Sabbath   ‡ Rainbow   ° Coverdale/Page   ^ Deep Purple  zvyšok Dio
Rowan Robertson – gitara
Piero Leporale – spev
Francesco Caporaletti – basa
Roberto Pirami – bicie
Múzeum obchodu Bratislava (25.4.2022)
Rowan Robertson Band
Hard rock / metal
2022
15